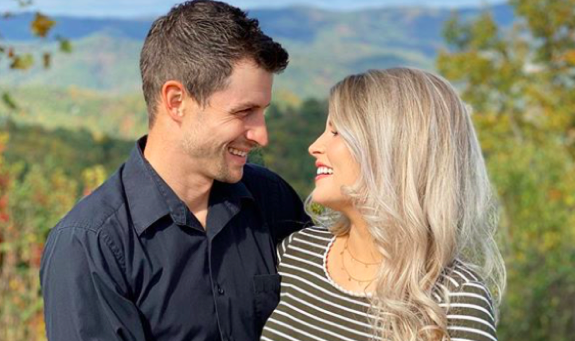 The Bates Family has welcomed another baby to their bunch! (That's a sentence we've written almost too many times to count at this point.)
Bringing Up Bates stars Erin and Chad Paine welcomed their fourth child, daughter Holland Grace, on Tuesday, November 26. People broke the news that the baby girl was born at 5:24 a.m., weighing 5lbs., 5oz.
"Our hearts are overflowing with happiness and love as we embrace our newest gift, Holland Grace. The thrill of welcoming a baby into a family never gets old, and with the added excitement of big brother and sister, the thrill has only escalated," the couple wrote on their joint Instagram account.
The family said that with the new addition, they will be extra thankful this Thanksgiving.
"We are especially grateful this Thanksgiving season with the delivery of a healthy baby, surrounded by loving family and friends," they told People. "We are already so in love with this new chapter in our lives! We're blessed."
Erin and Chad are already parents to three other children: four-year-old Charles Steven IV (whom they call "Carson" for some reason), three-year-old Brooklyn Elise, and 19-month-old Everly Hope.
Erin is the third of Gil and Kathy Jo Bates' 19 children. She and Chad tied the knot in 2013. Unlike some of her siblings, though, making babies didn't come easy for Erin at first.
Her struggle to have children was featured on UPtv in the past as Erin suffered from a blood-clotting illness and endured several miscarriages.
"I think I will always have a certain level of fear during pregnancy since I have had miscarriages in the past, but I know I have a great doctor who reassures me that we are doing everything to keep baby and mom safe and healthy through this," she previously said.
In early 2019, the couple released a statement through UPtv announcing their excitement for their fourth child.
"We know that life is fixing to get even crazier but we're getting ready for more laughs and love and celebrating every moment along the way," they said.
Baby Holland will have plenty of cousins around her age. Earlier this month, Erin's brother Zach and his wife Whitney welcomed daughter Khloe and in July, Erin's younger sister Josie and her husband Kelton Balka welcomed daughter Willow. In addition, two of Erin's other siblings are currently expecting. Carlin Bates Stewart and her husband Evan are expecting their first child in February 2020, while Tori Bates is currently pregnant with her second child. She and her husband Bobby Smith will welcome that baby in April 2020.
'Bringing Up Bates' will return to UPtv for Season 9 in 2020.
RELATED STORY: 'Bringing Up Bates' Star Tori Bates Smith & Her Husband Bobby Expecting Second Child, Less Than a Year After Welcoming First Son
(Photos: Instagram)