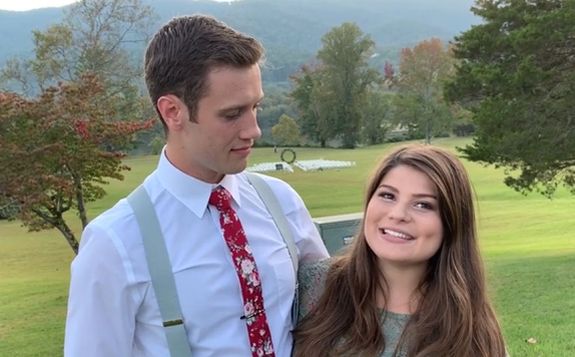 The Bates Family baby bonanza continues!
Tori Bates Smith and her husband Bobby Smith announced on Friday that Tori is pregnant with their second child. This pregnancy comes less than a year after Tori gave birth to their son, Kade. (He will turn one in November.)
Tori and Bobby spoke to Us Weekly about their new bundle of joy, stating that, now that their son is a year old, it's about time to add another blessing to their family.
"Our little Kade is almost a year old already, and these months have flown by so quickly," Tori said. "It has been so much fun having him in our lives and we are absolutely thrilled to announce that God has blessed us with another baby boy coming April 2020."
Tori, 23, revealed that the couple already has a name picked out for their second son and it's, um, interesting…
"We are eagerly anticipating the day that we get to welcome to our family little Kolter Grey!" Tori said.
Tori and Bobby announced the pregnancy on their Instagram on Friday.
"Mischievous giggles, hilarious moments, heart-melting smiles, and cozy little hugs…all elements of our life for the past year with little Kade," the couple captioned a photo of them with Kade. "We are so excited that our life after April 2020 will hold twice the adventures, giggles, grins, and hugs when we get to meet our second little boy, Kolter Grey! Most importantly, we are so thankful and in awe for the opportunity to raise two little boys that we already pray will become mighty men of God. We can't wait to step into this next crazy adventure."
Tori and Bobby's extra-large family was thrilled to be adding another kid to their crew.
"Yahoo! Finally another boy in the family lol!!!!! We are so happy for you….boy or girl- every little child is a gift from Heaven," Tori's parents Gil and Kelly wrote in the comment section of the post.
"These photos are so cute! Congratulations! We can't wait to meet our new little nephew," Tori's sister Alyssa Webster wrote.
Tori is not the only Bates gal who will have her feet up in the maternity stirrups in the next few months. Her sister Carlin Bates Stewart announced last month that she and her husband Evan are expecting their first child. (She got pregnant just a few months after her wedding, naturally.) Tori's other sister Erin Bates Paine and her husband Chad are expecting baby number four, and Whitney Bates, the wife of Tori's brother Zach, is set to give birth to their third child soon.
RELATED STORY: 'Bringing Up Bates' Stars Carlin Bates & Evan Stewart Expecting Their First Child, Three Months After Getting Married
(Photos: UP Network; Instagram)