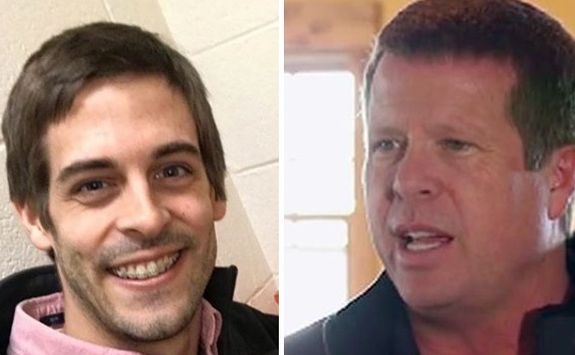 Over a year after Derick Dillard spilled some secrets online about his wife Jill's famous family, the former Counting On star is once again sharing some tea!
The Duggar Family son-in-law recently provided some interesting answers to money- (and Jim-Bob-) related questions on Twitter. He seemingly still maintains that Jill's father keeps the profits from the family's reality show and does not share them with his adult children and their spouses.
When one person asked Derick, "Why does Jim Bob get all the money for the show and doesn't give any to the his children? The actual stars of the show."
(This is what Derick stated back in 2018 in a series of tweets, claiming that he and Jill were not paid for appearing on 'Counting On,' or for the magazine interviews they did, and were basically "volunteers.")
Derick's answer made it clear that not much has changed in the Duggar Clan in terms of how the paychecks are being dived up.
"I don't know," Derick told the person who asked why Jim Bob allegedly keeps all the cash. "You would have to ask him that."
When another person brought up the rumor that Derick and Jim Bob had a falling out and said, "I hope it's not true," Derick did not dispute it. In fact, he asked, "Why do you hope it's not true?" (He also tagged the official Duggar Family Twitter account in response, bringing an extra level of iciness!)
(The original tweet has since been deleted.)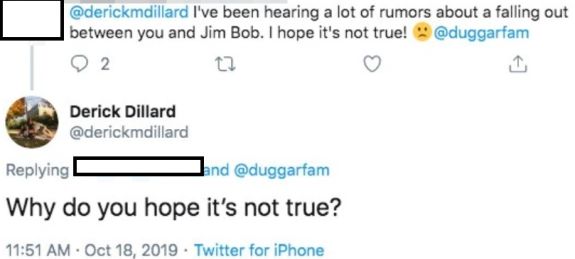 During his 2018 Duggar Tea Spilling session, Derick also stated that he and Jill had asked TLC– the network that airs 'Counting On' and its predecessor 19 Kids & Counting— for help with the medical bills they incurred while their son was in the NICU after his birth. Derick claimed TLC refused to help, despite the fact that they turned the incident into a "Very Special Episode" of the family's show.
On Thursday, Derick once again brought up TLC's refusal.
"I thought it was fair to ask in negotiating… TLC made lots of money in filming a birth special episode, and they had not offered to pay us anything," Derick wrote. "So I thought, at the very least, they could reimburse 5-10K for medical expenses. TLC sure made more than that off of us."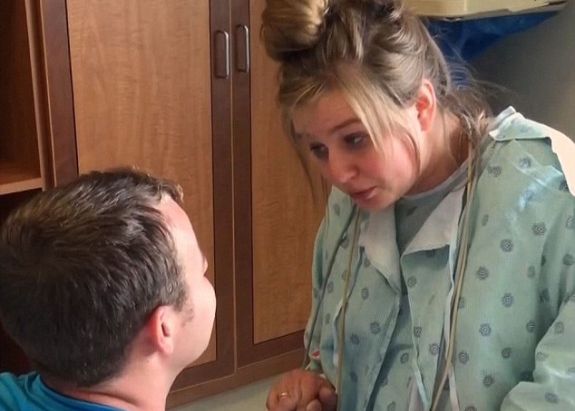 When a fan asked him why they don't believe in health insurance, Derick denied any truth to that rumor.
"We do, but there are still deductibles," he wrote.
Jill and Derick no longer appear on 'Counting On,' (although Jill– and her trusty midwife doppler– did make a "special" appearance during her sister Joy Forsyth's birthing episode.)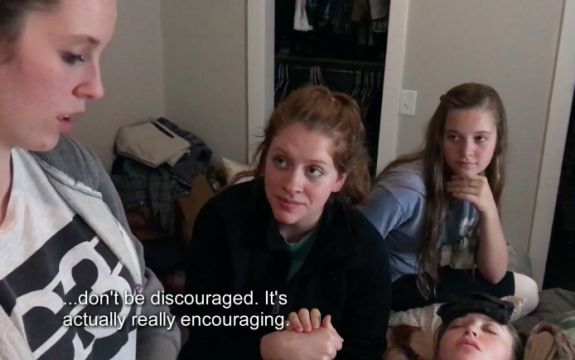 Over the past year or so, the Dillards have seemingly distanced themselves from the Duggar clan. They have not gone on the recent family vacations, and are not often seen in family photos posted online.
When one person asked Derick, "Is Jim Bob still your voice?" Derick gave a very matter-of-fact answer.
"No, and never has been," he wrote.
It is not known where Derick stands in terms of his relationships with Jill's family and siblings. He currently follows most of the Duggar Family on Instagram, though.
Derick's recent Twitter postings were likely spurred by the fact that a new season of 'Counting On' premiered this week. To read The Ashley's recap of the most-recent 'Counting On' episode, click here!
(Photos: TLC; Twitter; Instagram)