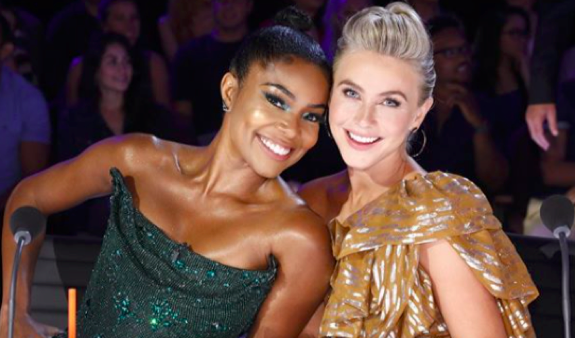 Less than a week after it was announced that Julianne Hough and Gabrielle Union, the newest additions to the America's Got Talent judging panel, wouldn't be returning for a second season, a possible explanation for their exit may have been revealed.
According to a new bombshell report by Variety, when Jay Leno was visiting the show as a guest judge in April, he made an offensive comment while filming a segment that resulted in Gabrielle urging producers to report the "joke" to NBC Human Resources.
According to Variety, Jay's (alleged) off-color comment was made about a painting of 'AGT' judge and executive producer Simon Cowell and his dogs, which Jay said resembled something one would find "on the menu at a Korean restaurant." Individuals on-set reportedly found the joke offensive, including "the very few Asian staffers" of the show, one of whom was present when Jay delivered the line on-camera.
While Jay's comment was ultimately cut from the episode when it aired on August 6, Variety reports that Gabrielle's request to have the incident reported to Human Resources was addressed with an NBC executive on-set, but never made its way to HR.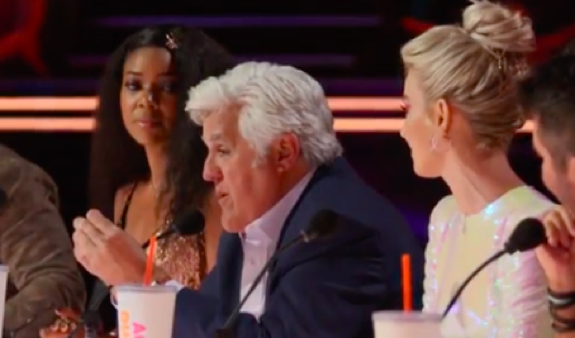 In addition to the incident involving Jay, the site's sources claimed both Gabrielle and Julianne received excessive notes on their physical appearance while fulfilling their judging-panel duties this season, only adding to the alleged "toxic culture" on the show set.
"Two insiders familiar with the set said Hough had received consistent criticism on hair, makeup and wardrobe, which impacted her morale and led to tensions," the site reports, adding that Julianne has since denied these claims.
"I had a wonderful time on 'America's Got Talent,' I loved working with the cast, crew and producers. I am happy to continue my working relationship with NBC," Julianne said in a statement, noting her excitement for two upcoming holiday programs on NBC that she'll be featured in. "I'm looking forward to what the future holds."
While Julianne denied receiving any criticism on her appearance, a source said Gabrielle was told more than six times that many of her changing hairstyles were "too black" for the 'AGT' audience. According to Variety, however, a network insider said there was only feedback about the hair continuity for both judges.
Variety's report comes on heels of a report made by the site Love B Scott. The site reported that 'AGT' has had a history replacing "women and blacks at Simon's whim." The site also pointed to the issues former AGT' host Nick Cannon had with the network that led him to leave the show in 2017.
After the news of the changes being made next season to the 'AGT' judging panel, Gabrielle's husband NBA player Dwyane Wade— who also served as a guest judge last season on 'AGT'— spoke out on Twitter about his wife "being fired."
"So when I got the news that my wife was being fired — my first question was obviously why!? I am still waiting on a good answer to that question. But if anyone knows @itsgabrielleu or have heard of her you know she's an advocate for our community and culture," he wrote. "As proud as I were of her being selected as a judge on #AGT — I am more proud of her standing up for what she stands for and that's US."
Dwyane went on to compliment his wife for "not losing sight of the lessons we've talked about teaching our daughter and for kicking a** while you were on that platform."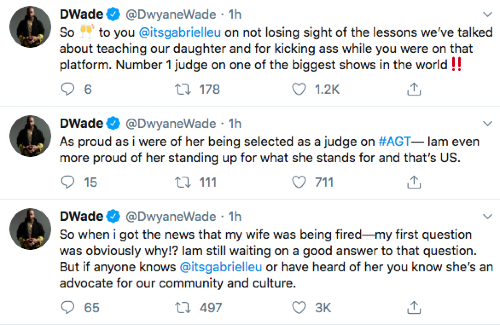 As The Ashley previously told you, though Gabrielle and Julianne will not return to 'AGT' in 2020, longtime judges Simon and Howie Mandel are expected to return, along with host Terry Crews.
As of press time, NBC has yet to respond to Dwayne's statements. However, the network, along with Fremantle Productions, released a joint statement on Tuesday, denying an issues like the ones named in the Variety article.
"'America's Got Talent' has a long history of inclusivity and diversity in both our talent and the acts championed by the show. The judging and host line-up has been regularly refreshed over the years and that is one of the reasons for 'AGT"s enduring popularity. NBC and the producers take any issues on set seriously."
RELATED STORY: 'AGT' Shakeup! Julianne Hough & Gabrielle Union Will Not Return to the 'America's Got Talent' Judging Panel Next Season
(Photos: Instagram; NBC; Twitter)