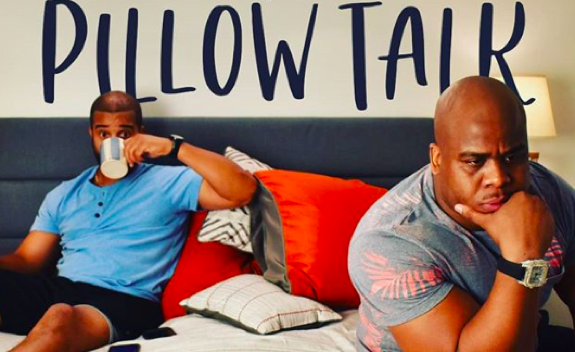 Tarik Myers is calling out his brother Dean Hashim regarding what really led to them getting the boot from TLC's 90 Day Fiancé: Pillow Talk… and Tarik's 90 Day Fiancé: Before the 90 Days co-star Tim Malcolm is challenging Dean's claims as well.
As The Ashley told you last week, rumors began to swirl that Tarik and Dean were removed from 'Pillow Talk' as a result of some comments Dean made about Tim on a podcast, namely accusing him of being gay or transgender.
Dean defended his statements on Instagram Live, claiming that what he said wasn't considered bullying and that he was actually still on good terms with TLC—so much so, in fact, that he hinted his involvement on another show in the '90 Day' franchise.
Not all "Pillow Talk" fans believed Dean's explanation, and Tarik seemed to be disputing it in a recent Instagram post.
"When family lies on you, smiles in ya face but stabs you in the back, fux up the bag, blocks you and your girls without warning, but on social media acts like y'all still kool so her won't lose his IG following … Me and Hazel be just like Jeezy and Jeannie," his post stated.
When a fan commented on Tarik's post, discouraging him from sharing family drama online, Tarik replied, "If you knew what really happened you wouldn't."
In response to another person who asked whether or not Tarik would return to 'Pillow Talk', he said he had already said too much "and much more than I told the bosses I would."
"Unfortunately you'll have to read between the lines," he continued. " … All I CAN do is cut the grass down some so people can see the snake. Snake me behind the scenes but fake the perception that we're kool bc it helps you? Nah."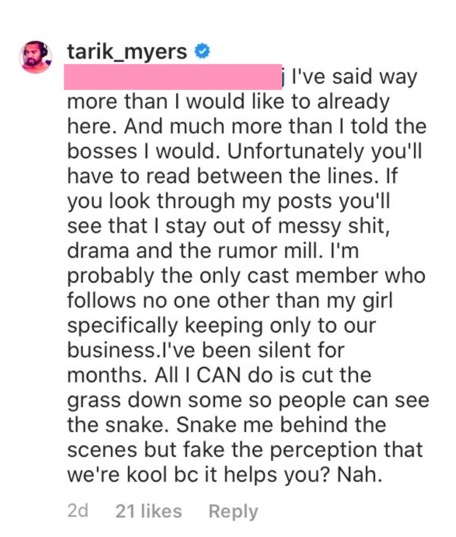 As for Tim, he also addressed the matter on his own Instagram page in a heated video directed at Dean. In the video, Tim said he was tired of getting online and reading about Dean running his mouth. He also said that when TLC executives referenced some of the transphobic comments Dean made in the past, he had actually come to Dean's defense.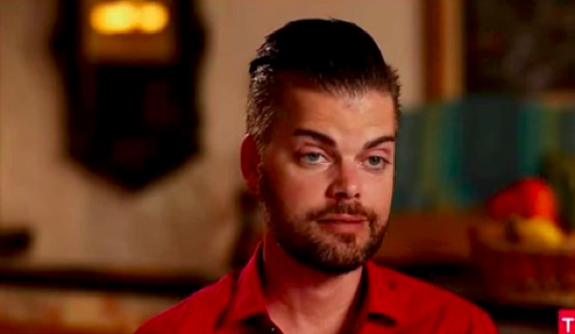 " … I begged them not to fire your a**," he said. "I told them I was f**king fine, I didn't need any disciplinary action [taken against you], I told them I don't want to be a snitch. I wasn't trying to get you in trouble and I asked them not to f**king fire you."
Tim said he was taking the high road by not responding to Dean's apology and went on to accuse Dean of using his name to get in the news.
Take a listen to Tim's full video below (but be warned, the language is NSFW).
RELATED STORY: Dean Hashim Denies Him Comments About Tim Malcolm Being Transgender Got Him Cut from "90 Day Fiancé: Pillow Talk"; Hints That He'll Appear on Another TLC Show
(Photos: TLC, Instagram)