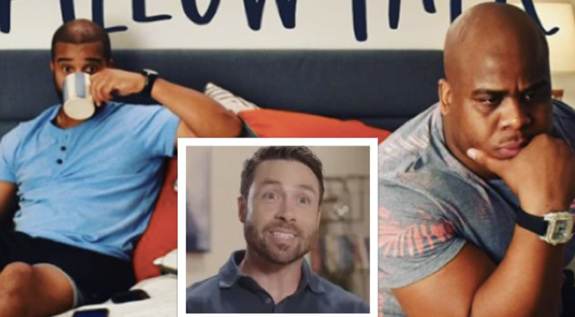 During a cook-off/interview on The Dominick Nati Show this week, controversial TLC star Geoffrey Paschel brought up the alleged removal of a former 90 Day Fiancé: Pillow Talk star, joking that host Dom was the reason an individual had been removed from the show.
"Didn't you get somebody fired from 'Pillow Talk,'" the Before the 90 Days star asked Dom towards the end of the clip.
Dom went on to mention that there was a rumor that after Dean Hashim did an interview on his show, he was fired from 'Pillow Talk' because Dom had asked him "about that guy Tim" – Tim being Tim Malcolm.
"You did," Geoffrey replied. "You got him fired, that is the truth. You got him fired. Tim got all up in his little b**llsack and got all upset and then went and complained to TLC and [Dean] got fired, it's true.
"I know you got all up in his little ego and he reached out to TLC and he was like, 'Hey, umm supposedly Dean said this,' and then they fired him – absolutely," Geoffrey continued.
As fans may recall, during an episode of The Dominick Nati Show that aired in September 2019, Dean made some offensive comments about Tim when asked if he believed the "90 Day Fiancé" star was gay. Dean went on to mention the way in which Tim crosses his legs as if he doesn't have "a pair of balls between them."
"I don't know man cause look, I can't even cross my legs like that," he said. "Hey man, I'm blessed, ya know what I mean? I can't cross my legs like that man."
Dean was then asked on the episode if he believed Tim was transgender.
"Man, me and my brother was just saying that the other day, we was like, 'I think that used to be a female that turned himself into a man.' He tryna grow a peter, ya know? It ain't ready. It ain't fresh out the oven yet, he can't pull his pants down yet, man," Dean said, speaking to Tim's decision on "90 Day Fiancé" to abstain from sex.
(Tim addressed many of these rumors in October 2019, admitting that he does "have some feminine traits," but insisting he's not transgender.)
Geoffrey went on in his interview to make fun of Tim for going on Instagram Live, claiming that he asked TLC not to fire Dean.
" … I begged them not to fire your a**," Tim said on Instagram back in December 2019. "I told them I was f**king fine, I didn't need any disciplinary action [taken against you], I told them I don't want to be a snitch. I wasn't trying to get you in trouble and I asked them not to f**king fire you."
You can watch the (NSFW) clip below.
That same month, Dean had denied that his comments about Tim were the reason he and his brother Tarik Myers were no longer part of the 'Pillow Talk' cast and hinted that he would appear on another TLC show in the future. However, Dean's brother seemed to dispute these claims at the time, while also hinting at some family drama going on behind the scenes. (Dean went on to appear on 90 Day Fiancé: Self-Quarantined, while Tarik and his fiancé Hazel are featured on the current season of "90 Day Fiancé.")
By January 2020, Tim and Dean had publicly ended their feud on social media.
"2020 means new beginnings no grudges..no bs," Dean wrote on Instagram.
" … Life is too short to spend it angry or resentful," Tim shared on his own page. "If you want to clean your soul for 2020… forgive someone and move on."
While adding his closing thoughts on the whole Dean/Tim issue, Geoffrey threw in the fact that people have been trying to hook him up with Tim's ex, though he doesn't specify which one.
" … but I've only hooked up with her twice so … I mean, very attractive girl," he added.
Check out the full interview below.
RELATED STORY: "90 Day Fiancé" Star Jihoon Lee Lawyers Up & Prepares for Custody Battle Against Estranged Wife Deavan Clegg
(Photos: TLC; Instagram; YouTube)