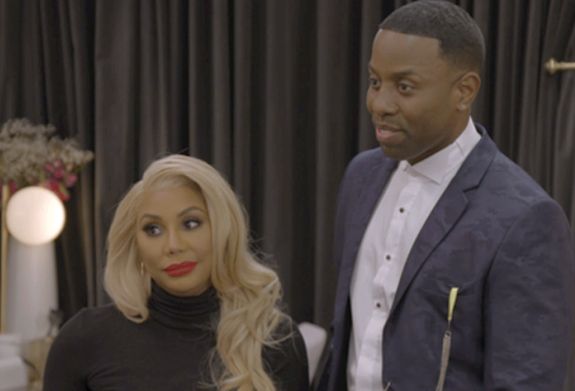 Did your hairstylist do your 'do dirty and you don't know what to do about it? Maybe Tamar Braxton can help.
Starting May 25, the Braxton Family Values star will host VH1's new series To Catch a Beautician, where offending hairstylists will be confronted by their unhappy clients and then sent to bootcamp where they'll learn how to fix their clients' hair disasters.
Tamar will be joined on the show by celebrity hairstylist Johnny Wright, whose client roster includes former First Lady Michelle Obama, talk show host Tamron Hall, and writer, director and activist Janet Mock.
Variety broke the news in an exclusive interview with Tamar on last week.
"To meet so many amazing people and to be able to inspire and be inspired at the same time, it's such a feel good show. … You crack up, but you feel good about yourself after watching it," Tamar told the magazine. "I'm just really, really grateful to be a part of that."
During a live interview with Variety, Tamar talked about how lucky she feels that 'To Catch a Beautician' was in production before the C0VID-19 global pandemic put most reality TV show filming and production on indefinite hiatus.
"I am grateful that 'To Catch a Beautician' has an air date, it's coming out, because a lot of television shows are actually really stagnant in when they're coming out and when they're moving," Tamar said. "I'm just really excited to be out on May 25 at 9 o'clock."
Tamar has been hosting her live talk show on YouTube, Tamar Takes, throughout the quarantine, with Johnny as her co-host. The two talked about 'To Catch a Beautician' on the April 21st episode of the show.
"It's about the beauty industry, something that I feel has been overlooked for so long and finally, finally, finally, finally is going to get the recognition it deserves," Tamar said of the new show. "[It's about] the fun and the ins and outs that everybody wants to know about, that needs to know about. It deserves this kind of publicity and also this kind of knowledge."
Tamar admitted that she is no beautician herself…although she says she has an eye for bad 'dos.
"Hair's never been my strongest suit, although I can tell you what's good and what's not good, I just can't do it myself," she said.
Tamar also shared the news with her Instagram followers last week, writing, "This is the show you wanna see me in May25th 9pm @vh1 @scout.productions so grateful."
https://www.instagram.com/p/B_SBHz4BgV0/?utm_source=ig_web_copy_link
'To Catch a Beautician' is produced by Scout Productions, the company behind Queer Eye. Back in March 2019, Scout shared a behind-the-scenes picture of Tamar being filmed in front of a green screen with the caption, "It's Braxton. Ms. Braxton if you're sassy. #scoutproductions #tamarbraxton." The company did not reveal what Tamar had been filming, though.
'To Catch a Beautician' premieres May 25 on VH-1.
(Photos: Instagram; YouTube)