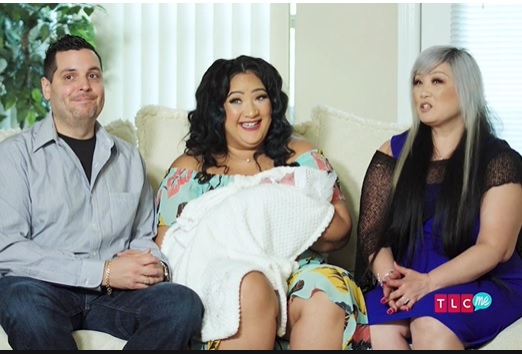 On Sunday night's Season 2 finale of sMothered, Angelica revealed to her shocked fiance Jason (and the show's viewers) that she was pregnant with their first child. In a video posted to TLCMe on Monday, the trio…. er, foursome (because we have to naturally include Angelica's mother Sunhe), revealed that Angelica has already given birth!
"We're so happy and we're so excited to announce our little miracle, Amara" Angelica says in the video. (Naturally her mother, Sunhe, is seated right next to her.)
"Amara Jael is now into the world— surprise!" Jason adds.
The baby— who was born on June 10— came a few weeks before her actual due date. She weighed in at 4 lbs., 2 oz. and measured 18 inches long.
"I was definitely surprised that Amara came early," Angelica says. "We weren't ready at all. It's a little upsetting because you have all this time [before your due date] and then all of a sudden you don't have any more time. Nothing was ready."
In true 'Smothered' fashion, it was Sunhe who picked the baby's name when Angelica and Jason couldn't decide.
"Who do we go to? We went to my mom," Angelica said. "She had tons of names, but the one that we have for Amara really stuck out to all three of us."
Jason assured us that his wife and mother-in-law "did ask for my input" on the baby name, but he said he agreed with them on Amara.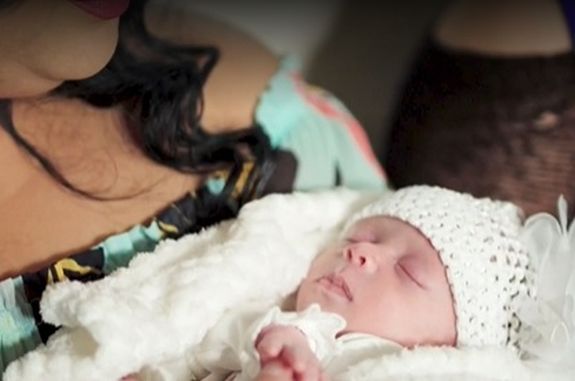 It sounds like Baby Amara also got something else from her grandmother— her outgoing personality.
"Amara's so animated. She has so much personality for this age," Jason said.
"She communicates very well," Angelica added. "If she doesn't like something, she lets you know!"
Jason also confirmed that the grandma 'Smother'ing has already begun.
"Grandma's already spoiling her!" he said. "It's too early!"
Angelica said that Sunhe is already starting to mention getting Amara into pageants, but the baby's parents aren't exactly on-board with the idea yet.
Watch the entire baby reveal video below!
(Photos: TLC)