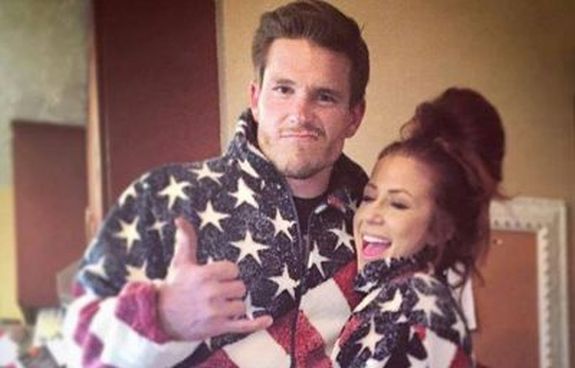 Break out the plaid flannel baby blankets – Chelsea Houska and Cole DeBoer are expecting!
Chelsea revealed Wednesday on social media that "one more DeBoer" will be making its arrival in early 2021 – making baby number four for the Teen Mom 2 star.
Cole shared the same announcement on his own Instagram, adding "The Grand Finale! (We Think) Baby #4."
Chelsea told MTV News everything has "been going very smooth" and she confirmed the baby is doing good.
"Everyone is very excited," she added.
Baby DeBoer #4 will join 10-year-old Aubree, three-year-old Watson and Layne, who turns two later this month.
Despite this being her fourth baby, Chelsea said this pregnancy is different and definitely "a little harder."
"This has definitely been the most 'pregnant' I've ever felt, like the most classic pregnancy symptoms with this one," she explained. "This is most likely our last baby, so we joke that this one is making it a little harder — making me a little sicker so that we are okay with being done after this one!"
While Chelsea and Cole planned to wait until the pandemic had ended before trying for baby number four, they changed their minds after talking to Chelsea's doctor.
"She said that no one knows when [C0VID-19] is going to be over, so if you want to start trying, you should!" Chelsea said. "And here we are!"
Chelsea added she's doing "just fine" and doesn't seem to mind being pregnant during this unprecedented time.
"I love having a reason to stay home," she said.
Just last week, Chelsea's 'Teen Mom 2' co-star Kail Lowry welcomed her fourth child, a son, with ex-boyfriend Chris Lopez.
RELATED STORY: 'Teen Mom 2' Star Kailyn Lowry Welcomes Her Fourth Son: Get the Details!
(Photos: Instagram)