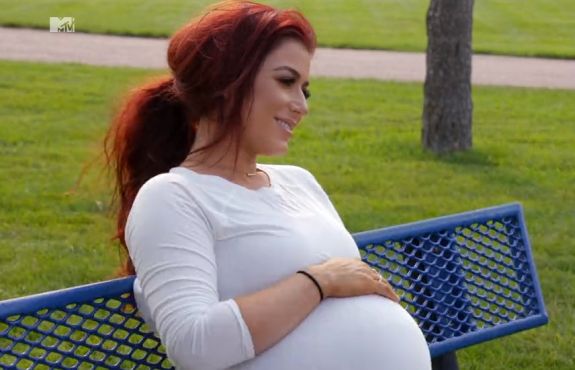 Break out the giant baby bows!
Chelsea Houska— who recently announced she's expecting her fourth child— revealed on Friday that she and husband Cole DeBoer will soon be welcoming a baby girl!
In a photo posted to Instagram, the Teen Mom 2 star and her family (which includes daughters Aubree and Layne and son Watson) are shown standing in front of the new house they're building, celebrating as pink streamers are released!
"Baby…..GIRL!" Chelsea wrote in the caption of the photo.
Cole posted the same photo, along with the caption, "So in love!"
Chelsea stated on Instagram that she found out the baby's gender so early through a blood test.
Chelsea and Cole have indicated that this baby will be the "grand finale"; however Chelsea stated in Instagram comments earlier this week that there may be another DeBoer after this one.
"This little babe will probably complete the fam!" Chelsea told one of her followers. "I mean, I'm 98.5% sure but maybe we'll get a wild hair in like 5 years, who knows!"
Chelsea also addressed her anxiety—- a topic covered during the last season of 'Teen Mom 2'— and how her pregnancy is affecting it.
"In the past I was sooo hard on myself for breastfeeding or not," Chelsea said. "This time I feel confident just knowing I want to do what's best for my mental health and that baby will be fine either way!
"I'm gonna start off nursing but if it gets to the point it was last time, I'm not going to be too hard on myself and [I'll] do what's best for my mental health," she continued. "But honestly after I stopped breastfeeding Layne my anxiety got 3000% better. So I'm not sure if it was related to those hormones and everything that goes along with nursing but I've been feeling great and feel good knowing what to look for postpartum this go around."
Chelsea has stated that Baby No. 4 is due in early 2021.
Chelsea, Cole and the whole DeBoer gang (and the other 'Teen Mom 2' gals) will be back on our TVs starting September 1. Click here to watch the Season 10 trailer!
RELATED STORY: 'Teen Mom 2' Star Chelsea Houska Announces She's Pregnant With Her Fourth Child
(Photos: MTV; Instagram)