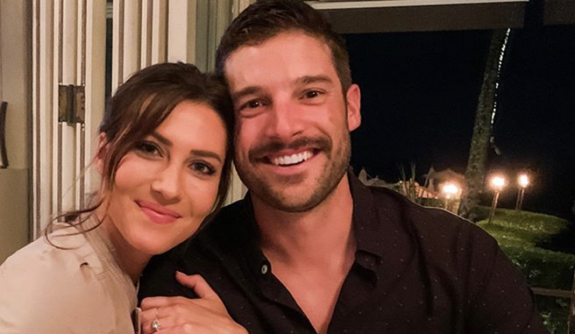 Former Bachelorette Becca Kufrin and her made-for-TV fiancé Garrett Yrigoyen have ended their nearly two-year engagement.
Becca confirmed the split on her podcast, Bachelor Happy Hour, which she co-hosts with former 'Bachelorette' Rachel Lindsey. Rachel, however, was not present during Becca's statement as Becca "didn't think it was fitting to bring anyone else into this conversation when my relationship was only made up of two people: myself and Garrett."
"I don't think it's going to come as a shock to anyone, but Garrett and I have decided to end our engagement," Becca told listeners, acknowledging Garrett's recent absence from her social media posts. "Garrett and I came to this decision after many conversations. It wasn't just something we just arrived at one night. It wasn't based solely off of one Instagram post or somebody else's opinions or comments. There's much more to it. To any relationship, there's a lot of layers. It's not for me to divulge details. It's no one's business other than what I'm telling you right now."
Becca said the couple, who got engaged on the finale of her her 2018 season of The Bachelorette, have "finally comes to terms" with their breakup and have "realized that we still have so much love and kindness and compassion in our hearts for the other person, but sometimes people's paths just go different ways."
Becca also shared the news on Instagram, writing that she and Garrett had "come to the loving conclusion" to end their engagement.
" … While we've arrived at this point, it doesn't diminish the countless, amazing memories made together," she continued. "We hope that everyone can allow us grace, respect and the time to heal our hearts as we navigate this next chapter in our lives."
In May, Becca gave Garrett an anniversary shout-out on social media, writing "Two years down, hopefully 68 more to go."
Back in June, Becca revealed she didn't know the status of her relationship with Garrett following his support of law enforcement in the wake of national protests against racism and police brutality. On an episode of her podcast, Becca addressed Garrett's comments and apologized to her cohost – the first Black female lead of the Bachelor franchise –for how she had handled herself while discussing race in America during a previous segment on their podcast. Becca said she felt she could have done better and given the conversation her "undivided attention" and admitted that "Black lives do matter."
"For those who are curious about my relationship with Garrett at this point, all I can say right now is that I don't know," she said at the time. "I can't give anything more than that."
On the podcast episode that aired hours after Garrett's law enforcement statement was posted to social media, Becca said she did not agree with Garrett's post; however she noted that she did not "think he meant it in a malicious way."
"I do think it was tone-deaf and it was the wrong time and message and sentiment," she continued, adding that one of Garrett's friends is a police officer and he had been "shot in the back of the head during one of these riots."
On this week's podcast, Becca said both she and Garrett needed time to heal, noting that "2020 has been a hell of a year."
" … but I'm not the only one who's had to deal with this," she continued. "I'm not the only one who will have to deal with this. It's important now more than ever to lean on each other and just to give out kindness and grace to others out there, because we could all use it with everything going on."
Garrett has yet to comment publicly on the split.
RELATED STORY: Former 'Bachelor' Colton Underwood Reveals Why He's "Not in a Good Place" With the ABC Franchise; Claims His Ex Cassie Randolph Was "Taken Advantage Of" During Recent Appearance
(Photos: Instagram)