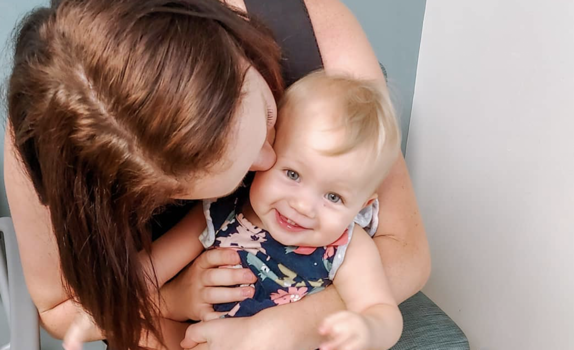 A week after revealing her daughter had undergone foot amputation surgery, Sister Wives star Maddie Brown is defending her choice, telling social media followers she and husband Caleb Brush spent "the better part of the last year" educating themselves before making their decision. She insisted that she and her husband didn't just "cut off" her daughter's foot, as some followers on Instagram have suggested.
Maddie shared on Evie's first birthday that the one-year-old – who is the youngest grandchild of Kody and Janelle Brown – had undergone a Boyd amputation to her foot, as well as procedures to her hand to increase mobility. The surgery was related to Fibular Aplasia Tibial Campomelia and Oligosyndactyly (FATCO) Syndrome, a genetic disorder she was diagnosed with at birth.
Maddie took to Instagram this week to address some of the questions she has received in the wake of Evie's surgery, revealing that people have questioned the necessity of Evie's foot being amputated.
"'You cut her foot off?' 'If she was functional, why did you amputate?' 'Wait, where is her foot?' 'Was it really necessary to cut her foot off?' These are all questions I have received since Evie's surgery," Madison wrote.
"I understand the questions and at first glance, I would ask the same thing. Evie's left Tibia bone, along with the bowing it had, was also about a 1/3 shorter than her right. When she's little it's not super noticeable unless closely looked at. As she grows though, we were looking at the possibility of a dramatic difference."
Maddie went on to explain that some people opt for lengthening surgery in this situation, however, with Evie, there was a "grey area of if that was even possible or not."
"With at least 4 major surgeries and the possibility of having to amputate in the end, we chose a Boyd amputation," she wrote. "This was not a light-hearted decision, we spent the better part of the last year educating ourselves, talking to doctors, prosthetics, other families, and other amputees as we came to the decision we did."
Maddie admitted that before Evie, she believed people only underwent amputation surgery "if there was no way of saving the limb," but after educating herself on limb difference, she realizes that "sometimes it's about quality of life."
"Due to this, I wanted to give a more in-depth explanation and answer all at once," she concluded. "I hope it will all bring awareness to a part of the #limbdifference world."
Maddie and Caleb previously opened up about their daughter's genetic disorder on Season 14 of 'Sister Wives.'
Following Evie's birth, Maddie explained on the show that because of the FATCO Syndrome, Evie was born without her fibula, a toe, two fingers and a thumb. She also had a bowed tibia, two of her fingers were fused together and another finger was webbed to the two that were fused together.
RELATED STORY: 'Sister Wives' Star Christine Brown Reveals $450,000 Medical Debt From Daughter's 2014 Hospitalization; Fans Slam Kody Brown For Not Having Insurance
(Photos: Instagram)