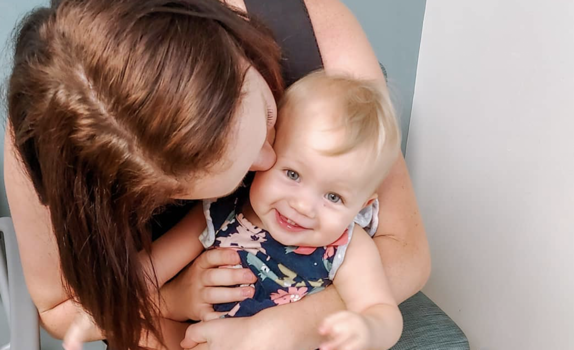 Maddie Brown's daughter Evangalynn Kodi (Evie) is at home recovering after undergoing recent amputation surgery related to a rare genetic disorder.
Maddie took to Instagram to give an update on Evie's health, telling fans the one-year-old (and granddaughter of Sister Wives stars Kody and Janelle Brown) received some "major gifts for her 1st birthday."
"Her surgeon laid the groundwork for her new foot and mobility it will bring, by way of a boyd amputation," she continued. "Another gave her some extra mobility in her hand, by clipping her webbing she had in her right hand. She is home and is recovering beautifully."
Maddie and her husband Caleb Brush opened up about Evie's genetic disorder on Season 14 of 'Sister Wives,' revealing that their daughter was diagnosed with Fibular Aplasia Tibial Campomelia and Oligosyndactyly (FATCO) Syndrome.
Because of the FATCO Syndrome, Maddie explained Evie was born without her fibula, a toe, two fingers and a thumb. She also had a bowed tibia, two of her fingers were fused together and the other was webbed to the two that were fused.
Maddie said they were made aware of some of Evie's issues at their 28-week ultrasound; however, the full scale of Evie's issues were not known until her birth.
"She's special, but I don't think she can't not do something," Maddie said on the show following Evie's birth. "If she wants to do ballet, I don't want her to ever feel like she can't do ballet, like, 'I can't because I have limb difference.' No, you get up and you do the ballet. She's gonna be a fierce fighter."
According to People, Maddie and Caleb had to wait until Evie's first birthday to determine the best way to treat her. The family celebrated the milestone birthday August 20.
"Happy 1st Birthday to my little spitfire ray of sunshine," Maddie posted in honor of her daughter's birthday. "It's crazy how quickly this year flew by."
RELATED STORY: 'Sister Wives' Star Christine Brown Reveals $450,000 Medical Debt From Daughter's 2014 Hospitalization; Fans Slam Kody Brown For Not Having Insurance
(Photos: Instagram)