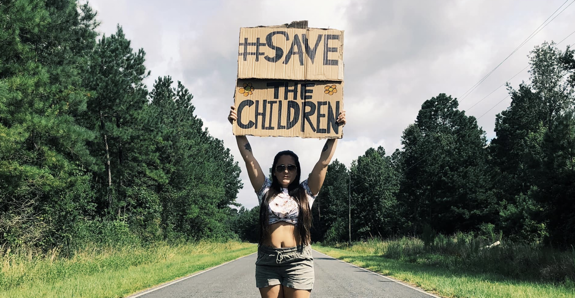 Former Teen Mom 2 star Jenelle Evans took to social media over the weekend to stand in the middle of the road for a photo op stand up against child trafficking – an effort that soon had Jenelle's critics demanding she stand up for the safety of her own children.
Jenelle showed her #SaveTheChildren support on Facebook, sharing two photos of herself standing in the middle of the road, holding up a cardboard sign. In her caption, the mom of three included both "Save the Children" and "Save Our Children," seemingly confused by the exact movement she was setting out to support.
In the comment section of her Facebook post, Jenelle defended her actions— and her husband David Eason against her followers' claims that David abuses her and their kids.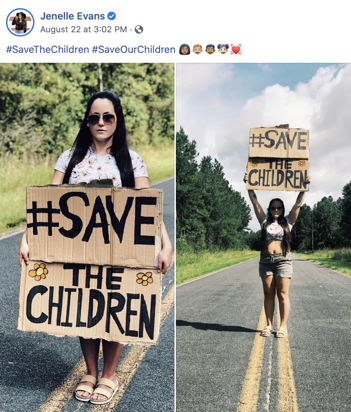 After the posts went live on her social media accounts, comments began to pour in from people telling Jenelle to focus on keeping her own kids safe… and preferably away from her David.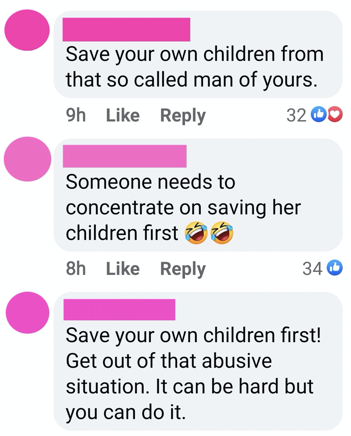 "Save your own children from that so called man of yours," one person wrote.
"Save your own children first! Get out of that abusive situation," another commented. "It can be hard but you can do it."
Jenelle went on to thank those who supported her post, while assuring her "haters" that she protects her kids and that they all "LOVE DAVID."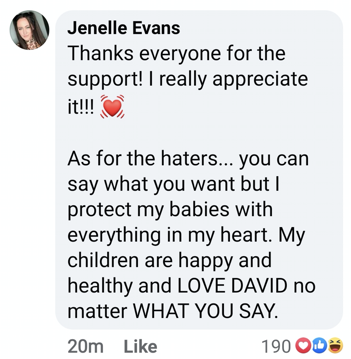 "As for the haters… you can say what you want but I protect my babies with everything in my heart," she wrote. "My children are happy and healthy and LOVE DAVID no matter WHAT YOU SAY."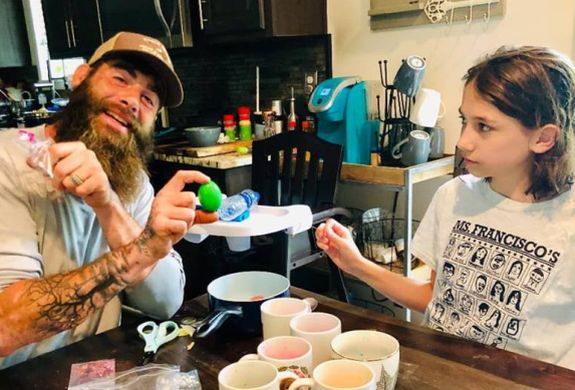 Jenelle's claim brought a wave of additional comments to her original post, with many of Jenelle's so-called "haters" calling out specific incidents from the former 'Teen Mom 2' star's past – almost all of which, Jenelle denied.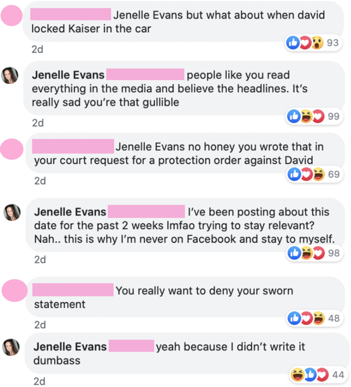 " … but what about when David locked Kaiser in the car," one person wrote on Jenelle's post.
Jenelle accused the person of believing everything they read online, adding, "it's really sad you're that gullible."
The commenter argued that Jenelle "wrote that in [her] court request for a protection order against David," asking if she really wanted "to deny [her] sworn statement."
"Yeah because I didn't write it dumb***," Jenelle replied.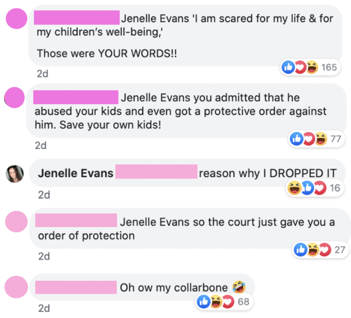 Another person reminded Jenelle that she admitted David abused her children and had in fact filed a protective order against him, however, Jenelle argued the order was dropped. She also blamed her lawyer for what she had filed against David.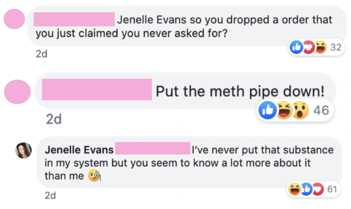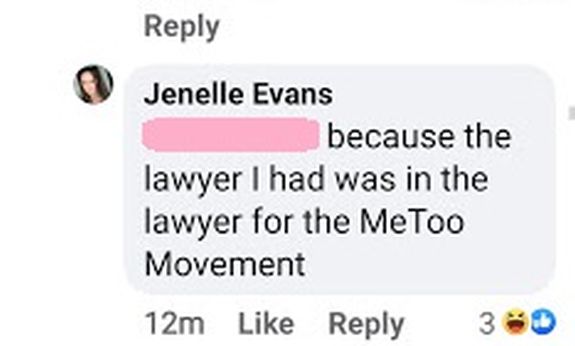 "Because the lawyer I had was in the lawyer for the MeToo Movement," Jenelle argued.
"So you dropped an order that you claimed you never asked for? Put the meth pipe down," the person continued.
"I've never put that substance in my system but you seem to know a lot more about it than me," Jenelle replied.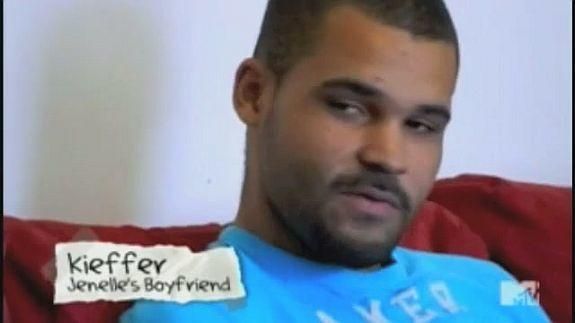 At one point, a couple of Jenelle's "haters" even teamed up, noting that the truth will only come out once Jenelle's children are old enough to speak for themselves.

"Can't wait because they love their parents despite what anyone says," Jenelle chimed in.
One of Jenelle's followers quickly reminded her that her own son (Jace) "legit told [her] he didn't want to live with David," though Jenelle argued that Jace only feels that way because her mom Barbara Evans (with whom Jace lives and is in the custody of) allows him to do whatever he wants.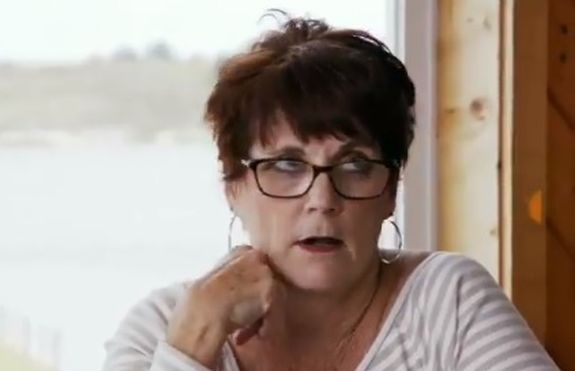 "Because Jace walks all over my mom… like I said there's so much non of you know and now because the show stopped," she added. "It sucks."
Jenelle was then asked if things with David are as good as she claims, why she needed help trying to leave him earlier this year. As you know, this particular David-Jenelle breakup ultimately led to the infamous pistol-whipping incident on The Land.
In response, Jenelle blamed "friends" (aka the friends she brought with her to The Land on the day of the incident) for the drama that ensued.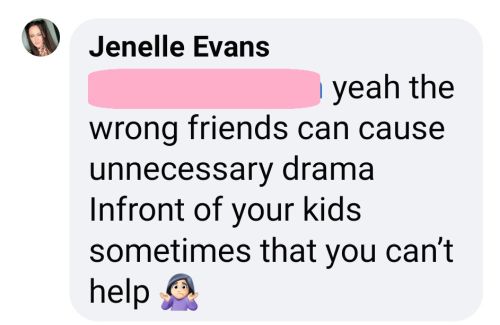 "The wrong friends can cause unnecessary drama in front of your kids sometimes that you can't help," she wrote.
When asked how she could go from divorcing David to "loving him again" in a matter of months, Jenelle maintained that she did it all for her family.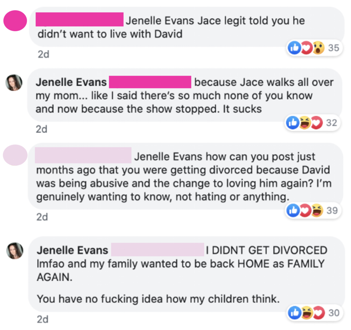 "I DIDN'T GET DIVORCED lmfao and my family wanted to be back HOME as FAMILY AGAIN," she wrote (aggressively, we might add). "You have no f**king idea how my children think."
RELATED STORY: Newly Released Audio/Video of David Eason's Alleged Pistol-Whipping Incident on The Land Reveals Jenelle Evans & Kids Were Present During Alleged Assault
(Photos: Facebook; MTV)