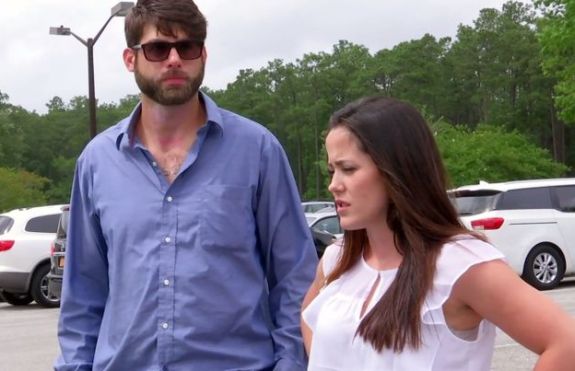 Jenelle Evans is finally opening up about the abuse she says she suffered at the hands of her estranged husband David Eason.
As The Ashley told you earlier today, Jenelle filed for and was granted a restraining order to keep her husband of two years away from her during their separation. E! News has obtained the legal documents she filed on November 4 to request the order, which bars David from coming near her, their daughter Ensley and Jenelle's other two kids Jace and Kaiser. The site reports that Jenelle also claims that David's threats have "escalated" in the days since she announced their separation on October 31.
"Because of his recent threats, his history of violence, his erratic behavior and his large stockpile of weapons, I am scared for my life and my children's well-being," Jenelle wrote, adding that there have been at least 11 alleged incidents of physical and verbal abuse from David in the two years they've been married.
She also claims that David has destroyed her property and killed her dog, Nugget, which he admitted to over the summer after a long, drawn-out scandal.
Jenelle also reportedly detailed an incident in which David deliberately locked Kaiser in a running car, and refused to allow him to get out.
"While Kaiser was trying to unlock it, David continuously locked it again with my spare key, scaring both me and Kaiser," Jenelle wrote.
As The Ashley reported earlier, Jenelle has left the state with her kids and does not plan to return back to The Land to fetch the belongings they left behind. She began her quest to escape David two weeks ago, when she left The Land for New York City while David was asleep.
In the documents, Jenelle claims that David responded by sending her a photo of a man.
"This is your new boyfriend. I'm going to break his neck and feed you his head," Jenelle claims David texted her, later threatening, "My goal in life is to make sure you regret leaving me like this."
Jenelle also claims David threatened suicide if she didn't come home.
"Given his actions and knowing his temperament, I believe he was implying that he would kill himself if I do not come back to him," Jenelle wrote, according to E! News. "For all of these reasons, I'm afraid that David will harm me or my children, and that he will continue to threaten me using text messages, phone calls, or on the internet."
A judge signed off on the protective order request, ruling that David may not contact Jenelle or the kids, and can not post about Jenelle on social media. (This is likely why David removed a post made to Facebook earlier on Tuesday, in which he threatened to file a missing person's report on Jenelle and Ensley because he didn't know where they were.)
E! also reports that she wants David to pay for the attorney fees for the case.
Jenelle and David are set to meet in court later this month.
RELATED STORY: Former 'Teen Mom 2' Star Jenelle Evans Gets Restraining Order on Estranged Husband David Eason; He Threatens to File Missing Person Report for Their Daughter Ensley (Exclusive Details!)
(Photos: MTV; Instagram)