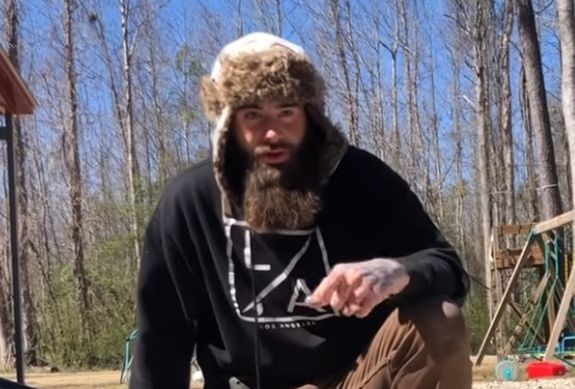 David Eason is claiming someone kidnapped one of his new dogs!
The estranged husband of Jenelle Evans contacted Columbus County, North Carolina, police on Tuesday to report that one of his new Anatolian Shepherd pooches was kidnapped off The Land.
The Ashley has obtained the audio of the phone call David made to police on Tuesday (on the same day he declared on Facebook that he planned to file a missing person's report on Jenelle and his daughter Ensley…he later deleted that post). In the police call, he also confirms his oldest daughter Maryssa is still on The Land with him as of yesterday. (The audio is a the bottom of this post.)
In the audio clip David tells the operator that both dogs, Buddy and Junior,— whom David obtained in July, two months after he killed Jenelle's dog Nugget— were present and accounted in the morning of the alleged dog 'napping.
STOP GIVING UBT MONEY!!! Watch it on the no views sites!!! https://t.co/5Cv1TKHYFc

— Ms Anon Mafioso™ (@Anon_Mafioso) July 14, 2019
"I can tell you what happened," David begins. "Me and my daughter [Maryssa] were going out to my truck so I could take her to school. And both the dogs are right in the front yard. I just had to hook my truck up to the trailer, do a few things before I could leave. And then, I was gonna feed the dogs. When I went to get the dog food, well, after I got it, I started callin' the dogs and they were, like, down the driveway."
As those who have followed the Saga 'o' The Land well know, Jenelle and David's (former) loveshack sits at the end of a long driveway, with a gate that David has claimed to always keep locked (to keep out trespassers) blocking access. Still, though, in the call he claims someone penetrated his fortress to steal his dog.
"Then I heard a car come down the road," David says. "My driveway's really long so I couldn't really see. But I heard a car stop, and I heard the dogs bark a couple of times, and then one dog came running back, but the other dog's been gone ever since."
The police operator didn't sound too concerned about the call. However, it's no surprise, given that in June, law enforcement confirmed that there were least 25 calls made to 911 in the last year in regard to The Land. Columbus County, North Carolina's Emergency Services Department confirmed that at least six of those calls were placed by someone inside Jenelle and David's house who wanted to speak with law enforcement.
As The Ashley previously reported, Jenelle and her kids, Ensley and Kaiser are in hiding and have left the state of North Carolina to escape David.
On Tuesday, David was served a restraining order forbidding him from contacting her or the kids, or from posting about them on social media.
Listen to David's full dog 'nappin' police call below. (By the way, below is the full phone call, minus the beginning when David gave his personal contact information. The only other thing that is not included here is David telling the police operator that, "I think someone stole my dog and I want to make a report" and him struggling to spell the word "Anatolian" for the operator.)
RELATED STORY: Inside the Protective Order Filed Against David Eason by Estranged Wife Jenelle Evans; Former 'Teen Mom 2' Star Claims David Abused Her At Least 11 Times in Two Years
(Photos: YouTube; Instagram)