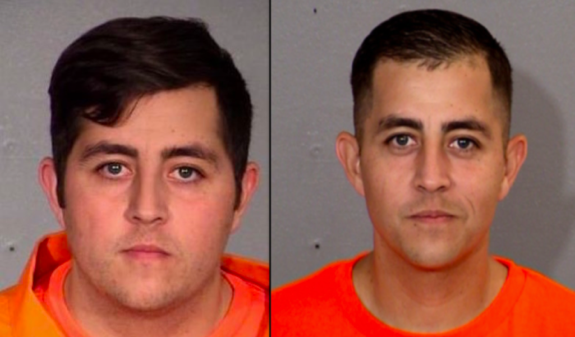 Jorge Nava might be stuck in the Big House, however, the reality star himself is looking a lot smaller.
According to Starcasm, the 90 Day Fiancé star debuted a shiny new mugshot recently — nearly 14 months into his 30-month prison sentence — in which his face was noticeably thinner compared to the mugshot snapped in September 2018. (See photos above for comparison.)
As The Ashley told you last year, Jorge was sentenced to more than two years in prison after he was caught transporting nearly 300 pounds of marijuana in his car. The TLC star, who also appeared on Season 3 of 90 Day Fiancé: Happily Ever After? with his wife Anfisa, began serving his sentence September 13, 2018 at the Arizona State Prison Complex in Phoenix.
According to the prison's online records, Jorge's release date is set for August 9, 2020, with his "maximum end date" listed as March 9, 2021.
Jorge's new leaner look isn't all that surprising given not just his current living situation, but also the fact that his wife is a known fitness guru and competitor.
In addition to her usual fitness content, Anfisa recently shared other ways she's been staying busy since Jorge went to the slammer. In a new video uploaded to her YouTube channel on Sunday, Anfisa stated that she's been focusing a lot of her time on her school work and plans to transfer from a community college to a university after the Spring 2020 semester.
While she was happy to discuss her future college and career plans, Anfisa was less-willing to answer fans' questions about her current relationship status with Jorge.
In response to a fan question on the subject, Anfisa said she wasn't ready to talk about her marriage, adding "maybe someday in the future, maybe not."
"To be honest, I'm not ready to address this topic," Anfisa told her followers. "And I hope you understand it, and I know that you do. Those that really support me, you understand it. And those people who constantly keep asking questions about that, I just feel like, why do you want to know? Do you just want to gossip about it?
"If you support me, you support me no matter what my relationship status is, no matter who I'm with," she continued. "I don't want to have any sort of drama, any sort of gossip, so right now I'm not ready to address this topic."
Watch Anfisa's full Life Update video below!
RELATED STORY: '90 Day Fiancé' Star Jorge Nava Begins His 22-Month Prison Sentence: See How His Wife Anfisa Reacted to His Absence
(Photos: Arizona State Corrections; Instagram; YouTube)