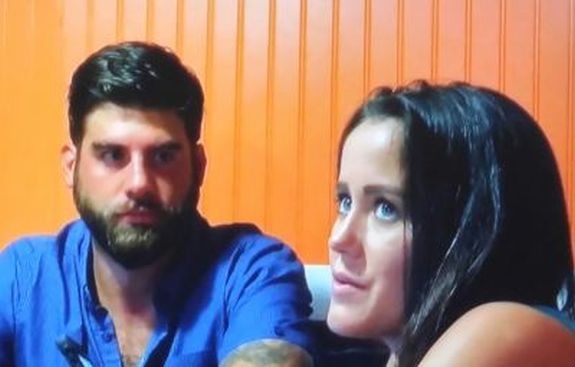 Jenelle Evans has kicked her husband David Eason to the curb…and now she's seeking legal help to make sure he stays there.
The Ashley can confirm that Jenelle filed for and was granted a restraining order to keep her former soulmate from contacting her, or their daughter Ensley for the time being. The Ashley's source tells her that David was just served the temporary order.
"Jenelle is in hiding," the source said. "She has no plans to return to The Land. She has left the state and does not plan to come back to North Carolina for her stuff or anything. The kids are with her."
(The Ashley is not reporting where Jenelle and the kids are, or even what state they are in, so that their safety can be protected.)
"The restraining order was granted because Jenelle was able to show proof [to the judge] that abuse had occurred," the source added. "Now that David's been served, she can begin the divorce proceedings."
On Tuesday, David took to his Facebook page to claim he didn't know where Jenelle or their two-year-old daughter was, so he was going to file a missing persons report for the pair.
"So since Jenelle has disappeared and I have no contact with her or Ensley, I have no option but to file a missing person's report," David wrote.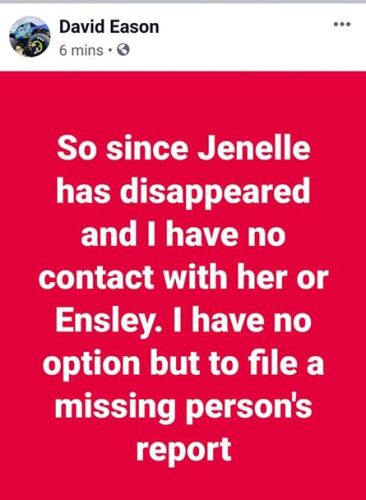 He later told someone in the comment section of the post that Jenelle had not filed for separation yet, and The Ashley's source confirmed that detail.

"She has not filed yet because if she files in North Carolina, she has to wait a full year and be separated before she can file for divorce in that state," the source said. "She is going to file in [another state] so that she can bypass that."
As The Ashley has told you in previous posts, the separation is very real, and not a scheme put together by David and Jenelle to get Jenelle back on 'Teen Mom 2.'
Earlier this week, David declared that Jenelle was "still stupid" after it was reported that she planned to file for full custody of Ensley. He has slowly started to post negative things about Jenelle online.
Radar Online reports that David did follow through (kind of) with his threat to contact authorities about Jenelle and Ensley "going missing."
"Columbus County Emergency Services confirmed to Radar that David contacted authorities on November 5. The Columbus County Sheriff's Office revealed a report had been made, but has not yet been filed," the site reports.
UPDATE! TMZ reports that the call David placed to the police on Tuesday was to report a missing dog. The site claims David believes one of his dogs– which he got over the summer following the Nugget death scandal– was stolen from The Land.
RELATED STORY: David Eason Speaks Out After Jenelle Evans Announces She's Divorcing Him; Calls Her "Stupid" After It's Reported She Wants Full Custody of Their Daughter Ensley
(Photos: MTV, Facebook)