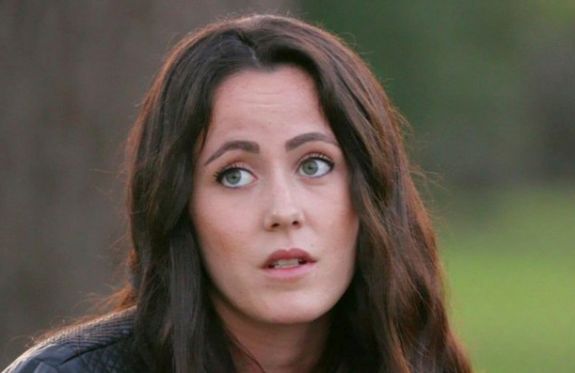 Population on The Land just decreased significantly! Former Teen Mom 2 star Jenelle Evans has revealed she and her kids have moved away and that she plans to divorce husband/soulmate David Eason.
After a couple weeks of near-silence on social media, Jenelle dropped the bomb on Thursday that she was "making some big life decisions"–decisions that do not include David. In a statement released on her social media accounts, Jenelle revealed that she is leaving David. And, The Ashley hears that this is 100 percent legit and not a publicity stunt or a fake separation to get her back on 'Teen Mom 2!'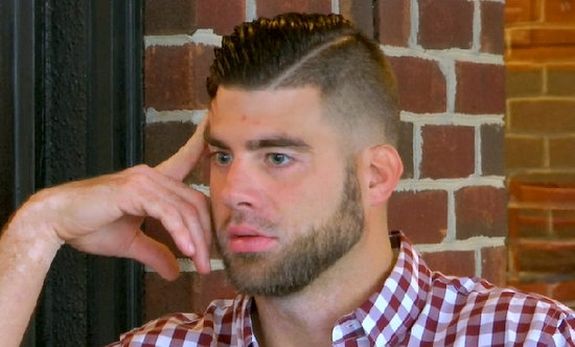 "I've mostly kept off social media the past few days because I've been focused on making some big life decisions," Jenelle shared with fans on social media. "I've lived my life on camera since I was 17 years old. And a lot of it hasn't been pretty. But it's been my life. Like anyone else I want what's best for my kids and I want to be happy. With time away from Teen Mom I've started to look at my life differently and I know I need to make changes. I'm starting that now.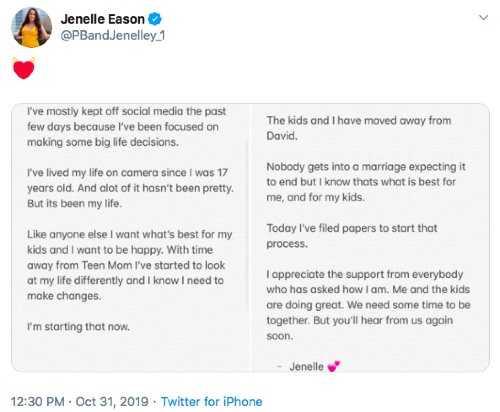 "The kids and I have moved away David," she continued. "Nobody gets into a marriage expecting it to end but I know that's what is best for me, and for my kids. Today I've filed papers to start that process."
The mom-of-three went on to thank fans for supporting her and assured all that both she and the kids "are doing great."
"We need some time to be together. But you'll hear from us again soon," she concluded her announcement.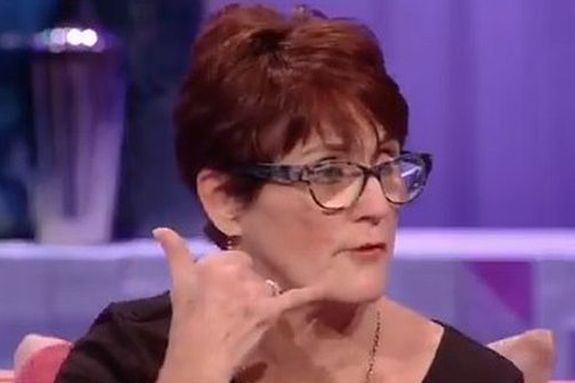 Jenelle's big news comes just days after she made a solo trip to New York City for a meeting with MTV. As The Ashley told you, Jenelle was not in town to make an appearance at the 'Teen Mom 2' Reunion (despite it being filmed the same week), however, sources said the network is considering bringing Jenelle back "in some form or fashion."
As you may recall, Jenelle was fired from 'Teen Mom 2' in May due to the fallout that resulted from her choosing to stay with David after he murdered her dog Nugget. (The network ended it's relationship with David the previous year after he made a series of homophobic comments on Twitter.)
Over the past few days, David has posted a series of melancholy/sarcastic messages on social media that are almost certainly directed at Jenelle. While they started being about how lonely David was, they later turned into him accusing Jenelle of naughty deeds and refusing to come home.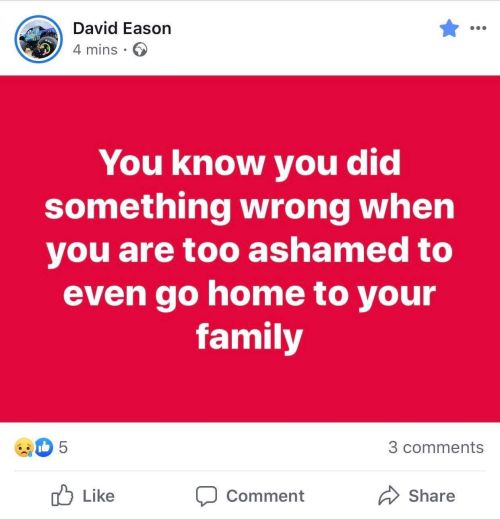 "You know you did something wrong when you are too ashamed to even go home to your family," David wrote.
The Ashley's sources tell her that Jenelle came home from NYC to North Carolina but did not return to The Land, except to fetch Ensley, who had been staying with David while Jenelle was gone.
"David and Jenelle had been fighting constantly over the past few weeks. David had been being decent since the kids came back but now he's back to his usual self, treating her bad, now that the dust has settled from the custody case," the source said. "When Jenelle got the call from [MTV] to come to New York for a meeting, she was thrilled and wanted to go but David didn't want her to, since MTV would not allow him to film with Jenelle even if Jenelle came back to the show," the source said. "So Jenelle basically waited until David was sleeping and essentially snuck off to catch the plane.
"The money has run out, no networks will work with Jenelle and every time she gets a small online promo deal, it gets ruined by her haters," the source said. "She knows she has no other options in terms of making money other than getting back on the show."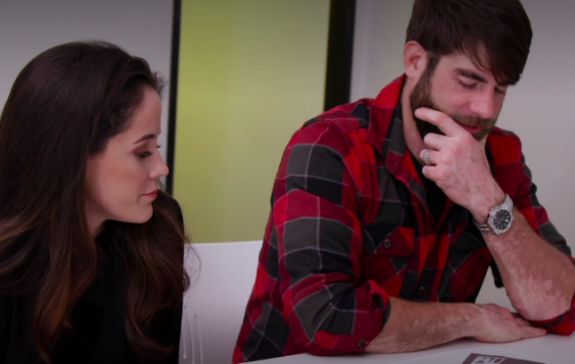 The source said that after she returned to North Carolina, she took all of the kids and has been staying in a location off The Land. (The source says David does not know where Jenelle is currently.)
"When Jenelle went to New York, she knew she was filing for divorce but David had no clue," the source said. "While she was up there, she took care of some of the legal stuff. She was originally going to file a totally different lawsuit against someone else, but now she's focusing on the separation."
As for her coming back to MTV, The Ashley's behind-the-scenes sources tell her that the crew has "no problem with filming Jenelle again, if David is out of the picture."
"Most of the crew found out about the split when Jenelle released the statement today," the crew source said. "Even though Jenelle has put everyone through a lot of crap over the years, we are all really happy for her. Very relieved, and we are very proud of her for finally seeing the light and doing this. We're all pretty nervous for her safety, though, because we've seen David do some crazy stuff."
While Jenelle is trying to cut ties to David, she will have to wait a while to finally unload him. In the state of North Carolina, a couple must be legally separated a whole year before they can divorce. So she hasn't technically "filed for divorce" yet, as she's not legally able to…yet.
Jenelle must be living apart from David for one year before she can file. If Jenelle moves back on The Land at any time, the clock starts over and must run another year before she can file.
And, as The Ashley previously reported back when Jenelle and David got married in 2017… Jenelle did not get a pre-nuptial agreement signed before the wedding; therefore David is entitled to some of her assets, although there is not much left in terms of money, from what The Ashley hears.
This will be Jenelle's second divorce. She was previously married to Courtland Rogers.
The Ashley will update this story when more info is available! However, she feels the need to add this disclaimer to those who are skeptical that Jenelle is leaving David. This is Jenelle, so anything can happen. All The Ashley can confirm is that she did get the legal ball rolling toward separation. Whether she sticks with it and goes through with it is anyone's guess….
RELATED STORY: Former 'Teen Mom 2' Star Jenelle Evans Takes Mysterious Trip to New York City—Here's Why!
(Photos: MTV; Twitter; Instagram)