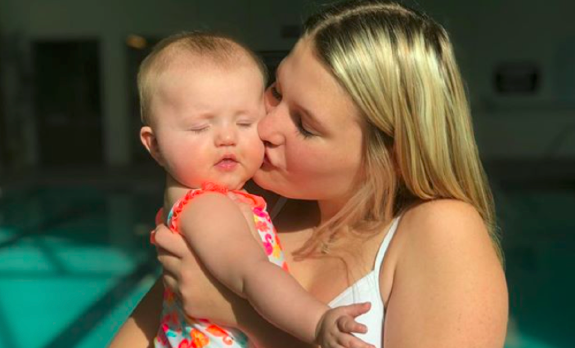 The girls of the Teen Mom franchise are no strangers to having their parenting skills judged by viewers. However, this week's episode of Teen Mom: Young and Pregnant had many people speaking out about the parenting skills (or lack thereof) of cast member Rachel Beaver's sister, Malorie, instead. Now, Malorie is defending herself and explaining her actions to angry 'Teen Mom' fans.
During the episode, viewers watched as Malorie dropped off her infant daughter Emerson at her mom Stephanie's home so that she could partake in a night of child-free fun. While Malorie assured both her mom and sister that she would be back to pick up Emerson the next day by 8 a.m., she ignored her family's phone calls and texts and didn't resurface until that night to fetch her kid.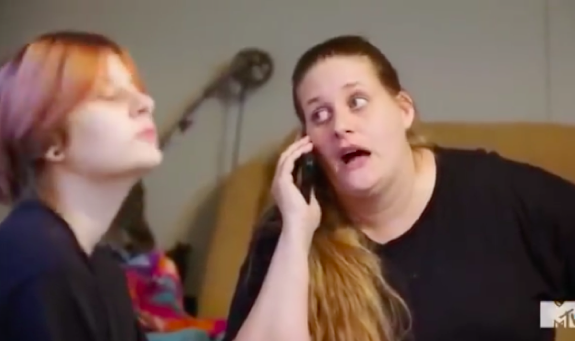 As if Malorie's nearly 24-hour-outing (with no communication to those watching her daughter) wasn't bad enough, after arriving to her mom's house, she told her family that she planned to go out again that night and proceeded to admit that she knew her mom was trying to get in touch with her that day, but had chosen to ignore her calls in order to get some sleep.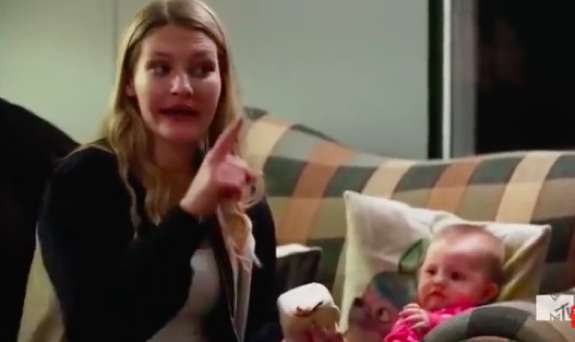 Rachel (who was at the time pregnant with her daughter) criticized her sister for not taking care of her own kid, leading to a verbal argument between the two, during which the sisters accused each other of being sluts (#SisterlyLove) and Malorie warned Rachel that she'd be pulling the same shenanigans once she pops out her own baby.
Malorie's actions led a lot of viewers to call her out online, with some even accusing her of being on drugs.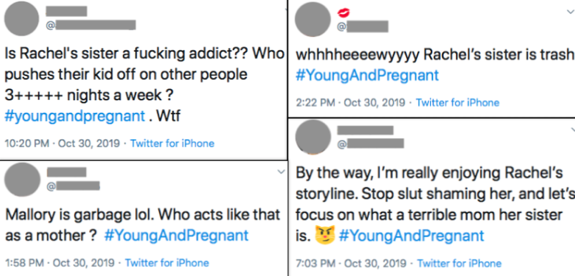 In response to her critics, Malorie took to social media on Wednesday, insisting that she's always loved her daughter but "extreme postpartum depression" caused her to runaway "from everything and everyone."
"I didn't want to get help and I didn't want to fix the problem at the time," she wrote.
" … I am not proud of what I did and I am not proud of how I did things," she continued. "I knew that my daughter at the time would be better off with my mother than me. That's why I did what I did. And it hurt me to know that I couldn't take care of her like I should."
https://www.instagram.com/p/B4Pl1_2jWps/?utm_source=ig_web_copy_link
Malorie went on to explain that she "partied and so forth" as a way to escape, but that she isn't ashamed or embarrassed about having to enlist the help of her mom during that time. She did, however, admit that she's "ashamed of what [she] was doing instead."
" … If anything I hope that girls who are young moms and are struggling with the same thing see this and know that it's OK to feel like that but to get help instead of running away from it," she wrote. "
Malorie told her followers that she raised her daughter from birth to six months by herself, after which she said she "cracked." Despite what viewers gathered from the show, Malorie assured that Emerson was "safe and happy at all times," always with family and that the situation has now improved.
" … So instead of telling me I should get rid of her, I should [kill myself] for being such a bad mom, I'm a worthless POS, try understanding that I had my reasons. And it wasn't handled in the best way but I have changed," she explained. "I have my daughter every day there's never a moment I'm not with her. And I'm her favorite person and I am now better suited to take care of her.
This is what we got to say to all the hate y'all leaving pic.twitter.com/hu9DOYY9Vm

— mal (@KayMalorie) October 30, 2019
"I love my daughter and she loves me. She is safe and happy. That's all that should matter," she concluded.
UPDATE: On Friday, Malorie once again took to Instagram to confess that she was struggling with a drinking problem during the filming of 'Young and Pregnant.'
"Just so everyone knows, last year I had a bad drinking problem," she wrote. "My depression from before pregnancy and the [post-partum depression] led to drinking and partying. One party and one drink led to a lot of parties and not being able to stop drinking."
She insisted that drugs were not a factor in her behavior.
"Leaving Emerson with [my mom] had nothing to do with drugs," Malorie wrote. "It had everything to do with I wasn't mentally or financially stable at the time and couldn't care for like I should. With that said I am now perfectly able to take care of my child it just took me time. She is happy and safe."
RELATED STORY: Brawl Nearly Breaks Out at 'Teen Mom 2' Reunion Involving Cast of 'Teen Mom: Young & Pregnant' (Exclusive Details!)
(Photos: Instagram; MTV; Twitter)