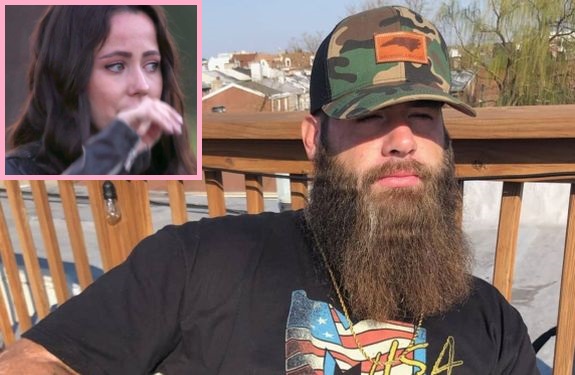 David Eason stayed uncharacteristically quiet in the days following his wife Jenelle Evans' announcement that she's leaving him. However, David is starting to slowly reveal his feelings on social media about Jenelle's actions.
A few days after the former Teen Mom 2 star released a statement saying she's started the process to divorce David and has moved herself and their kids away from him and The Land, David took to Instagram Stories to post a not-so-flattering meme that was almost certainly directed at Jenelle. (The Ashley refuses to post the meme, but if you want to see it, you can click here.)
On Sunday, when a person commented on David's other Instagram account that she was "so glad that Jenelle got smart!" (i.e. by leaving David), David replied that his estranged wife is "still stupid."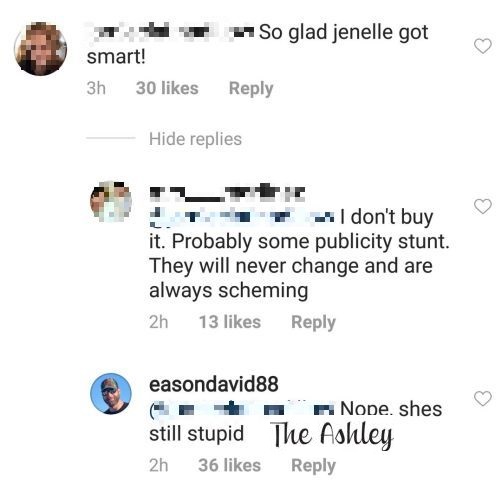 David also posted a screenshot of a TMZ story that states that Jenelle is planning on filing for full custody of their two-year-old daughter Ensley. The story, which was posted on Sunday, states that Jenelle "believes she's the more fit parent of the two, based on David's troubling history."
David posted a screenshot of that story, as well as one of the TMZ story from May 2018 about the time when Jenelle pulled a gun out after a road rage incident with a stranger, while her son Jace was in the car.
"But this is OK?" David wrote on the screenshot, obviously referring to it as an example of Jenelle's own parenting.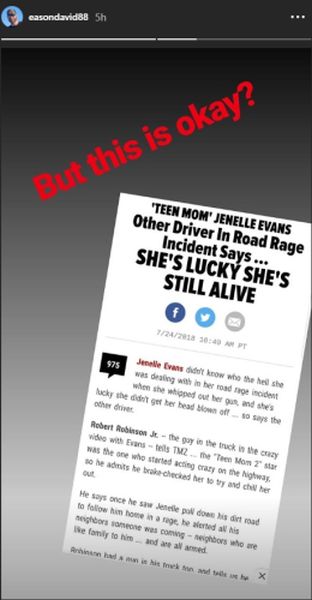 Jenelle has actually refrained from posting negatively about David on social media, a departure from her typical post-breakup behavior. The Ashley's sources still maintain that this split is very real and is not a publicity stunt to help get Jenelle back on 'Teen Mom 2.' Of course, given that we're talking about Jenelle here, fans are skeptical that she'll actually go through with the divorce, but as of right now, The Ashley's sources are saying that she is actually done with David and is moving forward with the necessary steps to separate from him.
RELATED STORY: Jenelle Evans Reveals She's Divorcing David Eason: "Today I've Filed Papers to Start that Process" (Exclusive Details)