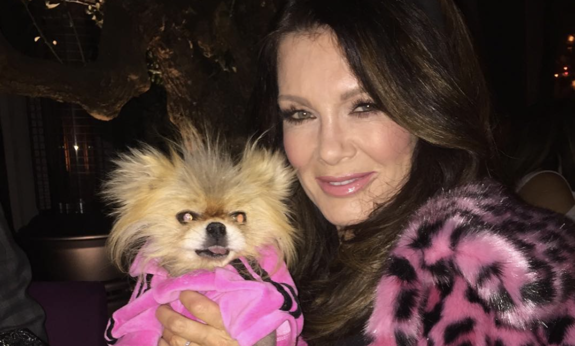 Vanderpump Rules matriarch and former Real Housewives of Beverly Hills star Lisa Vanderpump revealed on social media this weekend that her "incredible, unique" dog Giggy passed away Saturday morning.
According to The Sun, Giggy was just 10 years old.
Lisa paid tribute to her pup, who was frequently seen on Bravo – always dressed to the nines – on social media. She revealed Giggy was the inspiration behind The Vanderpump Dog Foundation , the charity that she and husband Ken Todd started back in 2016.
"We are devastated to say that our beloved Giggy has passed away this morning," Lisa wrote on Saturday. "He was truly loved, and we know how many of you loved him too. Our sweet Gigolo was such an incredible, unique dog, but mainly, because of him, we started The Vanderpump Dog Foundation and embarked on our mission to save as many dogs as possible.
"He inspired us to start our work in rescue, and for that we will always be grateful," she continued. "Giggy's legacy will live on, through every dog @vanderpumpdogs saves."
Based in Los Angeles, Lisa and Ken's foundation works "on both domestic and international fronts to help create a better world for dogs."
Lisa went on to post a second tribute, featuring a photo of herself and Giggy, along with an emotional poem about losing a pet.
Lisa and Ken's daughter, Pandora Vanderpump-Todd, also posted a tribute to Giggy, whom she called "our beloved boy."
"I will miss you always," she added.
Andy Cohen shared his condolences with Lisa and Ken for the loss of Giggy, aka "the First Dog of Bravo." Lisa and Ken also received messages from 'Vanderpump Rules' cast members' Katie Maloney, Scheana Shay and Tom Schwartz.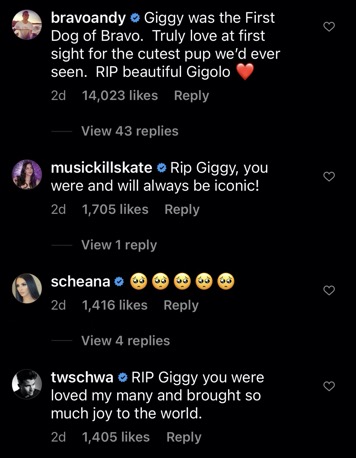 "Rip Giggy, you were and will always be iconic," Katie wrote.
"RIP Giggy you were loved by many and brought so much joy to the world," Tom added.
(Photos: Instagram)