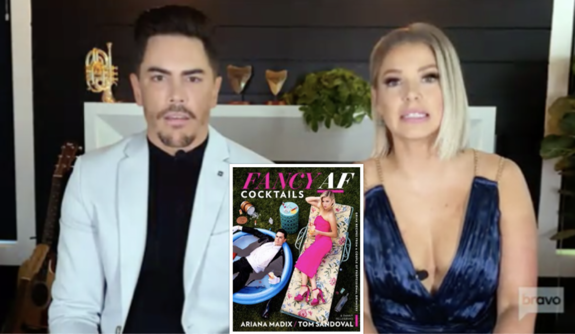 Just a few weeks after celebrating the one-year anniversary of Fancy AF Cocktails: Drink Recipes from a Couple of Professional Drinkers, Vanderpump Rules stars Ariana Madix and Tom Sandoval are being sued over the book… and they are not happy about it!
Author Alison Baker claims in her suit that she and Ariana came up with the idea for a cocktail book in 2016 and she is now seeking damages, Us Weekly reported Thursday.
Ariana and Tom have denied the allegations in Alison's suit, issuing the following statement to People: "The allegations presented are false and frivolous. We will vigorously defend ourselves against these baseless claims."
The author is claiming to have entered into an agreement for services rendered to co-write the book for a fee of $3,000 and 45 percent of the total advance paid by any publisher who ultimately published the cocktail book based on the concept. The agreement also allegedly stated that Alison would earn 45 percent of "actual earned royalties on sales of such book in perpetuity" and a co-writer credit on the title page.
According to the suit, a year after Ariana and Alison entered into this agreement, Tom became involved in the project and a new agreement between the author and two bartenders/reality TV stars was created. Under this new agreement, the three would equally split revenue from the book. The agreement was revised once again, Us Weekly quoted from the court filing, because Ariana and Tom were not "prepared to contribute the level of work necessary to complete the task of successfully writing and self-publishing a book."
In August 2018, Alison learned Ariana and Tom had been putting work into a book when news broke that Fancy AF Cocktails was being published by Houghton Mifflin Harcourt, with comedian and podcaster Danny Pellegrino as the co-writer. The book was released in December 2019.
Alison's suit alleges Fancy AF Cocktails infringes on the idea she and Ariana came up with and that her contract with Ariana has been breached. She wants a full accounting of all money earned from sales of the book as well as damages, attorneys' fees and any additional relief the court sees as fit, according to Us Weekly.
Fancy AF Cocktails currently ranks in the Top 10 on Amazon's listings of bestselling cocktails and mixed drinks books, wine books and alcoholic spirits books. Additionally, Ariana and Tom have partnered with custom container garden retailer Gardenuity on an $89 gift set that features a copy of the book and cocktail garden kit.
RELATED STORY: Faith Stowers Weighs In On Jax Taylor's 'Vanderpump Rules' Exit: "He Got What He Deserved"
(Photos: Bravo; Instagram)