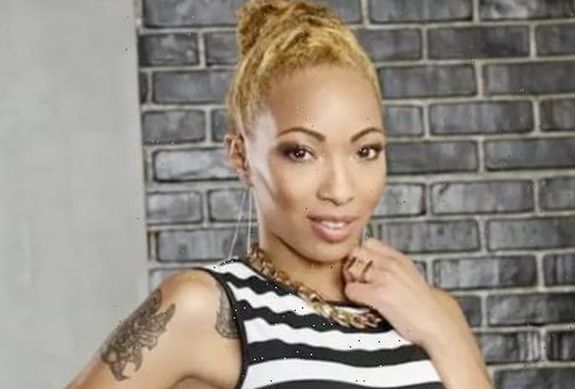 The stars of Bad Girls Club are mourning the loss of one of their own.
Deshayla "Shay" Harris, who starred on the show's final season in 2017, died Friday night after she was hit by a stray bullet during a shootout in Virginia Beach, Virginia. While several relatives of Deshayla posted on social media about Deshayla's death earlier, it was not officially confirmed by the Virginia Beach Police Department until Saturday. (There were two other shootings in the area on Friday night, but all appear to have been unrelated to each other, according to police.)
News of the death of Deshayla— who was known as the "Firecracker Fashionista" on the show— circulated among other 'Bad Girls Club' cast members over the weekend, with many taking to social media to express their grief and pay tribute to Shay.
Keyaira "Key" Hamilton— who later memorialized Shay with several posts on Instagram– left a comment on the @BGCTeaInc Instagram post that announced her death on Saturday. Key revealed that she and Shay recently squashed their beef.
"I literally just talked to her 2 DAYS ago and finally cleared the air about everything," Key wrote. "I spent so much time being mad about some TV s**t that I missed out on us building an actual friendship and that's gonna be the hardest part for me to accept. She didn't deserve this s**t at allll. I asked God cover welcomes her with open arms and that her beautiful spirit rests easy. I send my condolences to all her family and friends and the rest of my BGC sisters."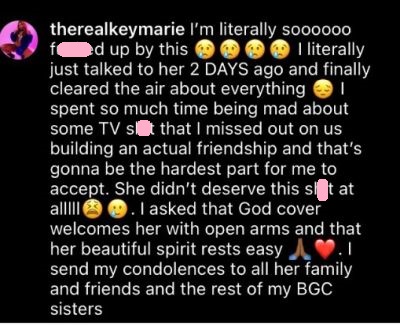 Kiyanna "Kiki" Bygrave, who also starred on Season 17 with Shay, posted a memory to Instagram.
"We were the first to be introduced on the day that forever changed it all 4 years ago & we will be bgc sisters for life, nothing will change that. #restinheavensis until we meet again," she captioned a photo of her and Shay.
Kandyce Hogan of Season 16 also posted about Shay.
"…I will cherish your Good morning text from this week forever they will be the most special ones. I found out I had Covid yesterday and I've been in and out of sleep all week so my communication has been so sh**ty. me and Brit like to tease you about your cute Gm txt but I bet we miss them so bad now.
"You had so many plans….I know whatever happened you were scared…you are just so sweet, soft spoken and delicate I'm just so sorry this happened to you….we met because of BADGIRLSCLUB but we kept our bond way beyond that and I will never forget you Deshayla. Seeing this has ruined the day the week the month… we will miss your face pretty girl."
Shay's mother, Renee Harris, posted to her Facebook page on Monday to mourn Shay's death.
"No I'm not doing ok so dont ask me," she wrote. "I will never be ok, they took something from me no one can ever replace. I will never see her smile nor hear her laugh or feel her skin or hear her call me lady or ma again. Now you tell me would you be ok!!!! But I guess everyone is so used to me being the strong one huh? I can really front!!! I was a single mother I had no choice. So again please respect my wishes."
Shay's last post on Instagram was made on Friday night from Norfolk, Virginia— not far from where she was shot later that night.
Sadly, Shay is not the first 'Bad Girls Club' star to pass away. In December, Season 3's Whitney Collings died at the age of 33. (Her cause of death has not been released.) Just five months before Whitney's death, Demitra "Mimi" Roche— who appeared on Season 8— died in a car accident. In April 2015, Season 12's Linsey "Jade" Berardi died at the age of 22.
(Photos: Oxygen; Instagram)