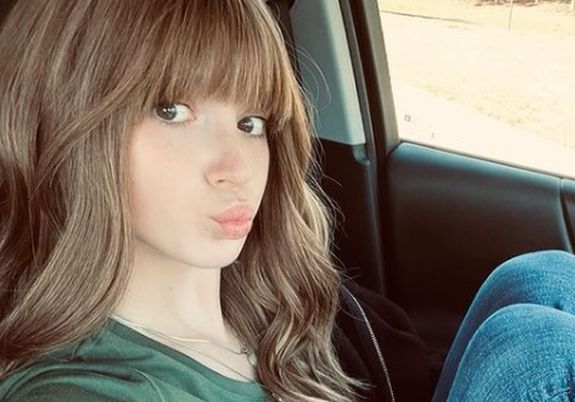 There's another baby on the way for McKayla Adkins!
The former Unexpected star announced on Instagram on Saturday night that she's pregnant with her third child. The pregnancy announcement comes just two weeks after she told her followers that she got engaged to Ethan, her boyfriend of one year.
"I'll be married in 2 weeks and have a baby in 9 months, life couldn't be more complete," McKayla captioned a video showing her positive pregnancy and her tiny baby bump.
McKayla— who already has a son and a daughter by her ex Caelan Morrison— told her followers that she is still very early in her pregnancy.
"I'll be five weeks on Monday," she wrote on Instagram. "We're nervous to share [because] it's so early but we're so excited."
In her Instagram Stories, McKayla told her fans that she was "so nervous to share this with everybody."
"If I have a miscarriage, that's not something I want to explain to the Internet…I took this test before I told everyone," she said holding up a pregnancy test.
In the comment section, 20-year-old McKayla answered questions about her current life and her latest pregnancy. Those who were hoping to see McKayla and her new baby on 'Unexpected' are apparently out of luck, though.
"Nooo," McKayla told a fan who asked if she would return to the show. "Never being on TV again."
Another fan brought up the fact that McKayla had previously stated that she didn't want any more kids.
"Yeah, I let the negative experience from my other pregnanc[ies] get in the way of what I wanted.. but my husband and I are super happy with our decision," she replied.
McKayla has supported herself in recent years by posting adult content to OnlyFans and other subscription sites. On TikTok, she said the pregnancy won't affect her income. In fact, she said, she's already "gotten more subscribers" to her "Forbidden" website, as she says there are "people who enjoy this kind of stuff."
"I'm not worried about my income," she said. "I have plenty of money saved away so we're all good in that department."
In an Instagram Q&A session posted later, McKayla answered other questions from her fans, including one regarding the custody status of her other kids, Timothy and Gracelynn.
"I have full custody of BOTH my kids," she wrote. "They BOTH live with ME and ALWAYS have. I don't know when/why this started becoming a popular question. Also, my grandparents don't take care of my kids. LOL they babysit sometimes [because] they're the only people I trust with my kids. I've been living on my own with my children since 2019."
On TikTok, McKayla stated that this new pregnancy wasn't (pardon the pun) "unexpected."
"My fiancé and I did plan this baby," she said. "For a long time we were preventing it because we weren't ready…"
"I'm about to be married to this man and I've never been more excited for a pregnancy [because] it feels like the right time," McKayla added in a TikTok comment. "I hope I get to share this pregnancy in peace surrounding me [because] I've never had that before. Thank you for all the loving words."
RELATED STORY: Former 'Unexpected' Star McKayla Adkins is Engaged to Boyfriend of One Year; Reveals How He Feels About Her OnlyFans Career
(Photos: Instagram; TikTok)