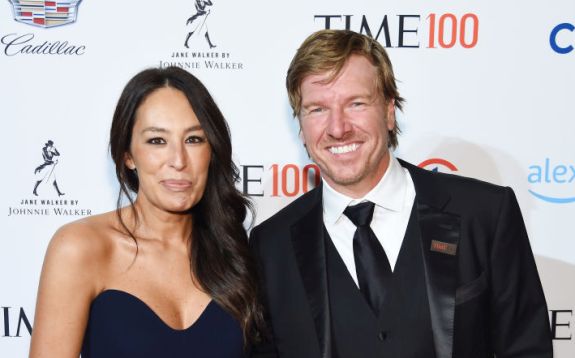 Chip and Joanna Gaines present a sweet, silly, and functional family and professional life on HGTV's Fixer Upper and throughout their entire Magnolia empire. However, over the years, racist and anti-LGBTQIA+ allegations have surfaced more than once against the couple. Chip and Joanna have never really addressed the claims, but are now speaking out about it in a new interview.
"Sometimes I'm like, 'Can I just make a statement?' " Joanna said, tearing up while speaking to The Hollywood Reporter for its latest cover story. "The accusations that get thrown at you, like you're a racist or you don't like people in the LGBTQ community, that's the stuff that really eats my lunch — because it's so far from who we really are. That's the stuff that keeps me up."
The rumors of the Gaines being anti-gay and racist began in 2016, when the couple filmed with the pastor of Antioch Community Church, a nondenominational, evangelical, mission-based megachurch that they attend. It was revealed that the pastor preached against LGBTQIA+ rights and defended conversion therapy. At the time HGTV came out with a statement to Deadline in regards to the hubbub:
"We don't discriminate against members of the LGBT community in any of our shows … HGTV is proud to have a crystal clear, consistent record of including people from all walks of life in its series."
In May of 2021, The Dallas Morning News broke the story that the Gaines supported an anti-critical race theory candidate for the Grapevine-Colleyville ISD School Board in Texas named Shannon Braun, with a donation of $1000. However, Shannon is Chip's sister, something she did not disclose on her website despite using them as celebrity endorsements.
Opposing critical race theory has been labelled by many as inherently racist, as it doesn't support a stance against white supremacy. Not a great look for the Gaines family, especially given Shannon's Facebook post where she said she was in favor of "returning the focus of our curriculum and teaching to academics, rather than filling curriculum with divisive Critical Race Theory."
All this alone is enough to garner attention, never mind the fact that in the original run of 'Fixer Upper,' the Gaines never had a homosexual couple on the show.
The recent interview with The Hollywood Reporter marks the first time Chip and Joanna have commented on the topic, with Chip speaking directly to the fact they want to make their workplace inclusive and diverse.
"As an American white male, it's hard to be perfectly diverse," he said to THR. "In our own company, we've got nearly 700 employees, and one of our biggest passions is making this group represent all people."
The accusations of racism sting particularly hard for Joanna, given that she is half-Korean and her children are all of mixed race as well.
"Growing up as half-Asian, half-Caucasian, I get what that feels like to not be accepted and to not be loved," she stated in the interview. "That's the last thing I want anyone to ever feel."
The jury is out if the shows on the Magnolia Network will represent a more diverse group of talent. It is due to launch on streaming platforms in late July and will be on cable at the beginning of 2022.
(Photos: Instagram; Larry Busacca/Getty Images for TIME)