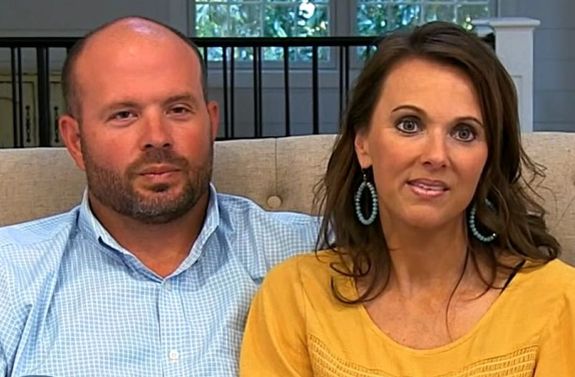 The Waldrop Family , made famous on Sweet Home Sextuplets, is saying goodbye to reality TV after three seasons of filming their TLC reality show.
In a YouTube video posted on July 8, Eric and Courtney Waldrop dropped the news that they would not be doing a fourth season of the show.
Courtney posted on her Instagram account that she would finally be answering the question so many commenters had been asking: will there be a fourth season following them, their sons Wells, Bridge and Saylor, and their sextuplets–Blu, Layke, Tag, Rawlings, Rayne and Rivers.
View this post on Instagram
"[S]haring our journey on national television with all of you has been something I never imagined happening to us!" Courtney wrote. "Getting to share the ups and downs of raising 9 kids…6 of them being sextuplets has been an unexplainable experience that I wouldn't trade for anything! It has sent people our way (like all of you) that continue to send encouragement and love every day. Our Film Crew is like family, and so many blessings have come from stepping out of our comfort zone and sharing our lives publicly."
Courtney then directed fans to a video on the family's YouTube channel, which explained the Waldrops' decision to quit filming, as they had begun to feel that putting their lives on television was taking a toll on their family, particularly their older sons.
"When we were first approached about filming, I was pregnant," Courtney started, "… we had just had the most shocking news that we were pregnant with sextuplets."
"Within a week of announcing we were pregnant with six babies, we were approached about the possibility of doing the show," Eric added.
"That was a really hard decision for us whether or not we wanted to do it," Courtney said, adding that she and Eric promised themselves that if the show ever became hard for their family, they would stop doing it.
The Waldrops said that they have reached a point where they feel it is no longer a good idea for their family to film the show.
"We have filmed for three seasons and we ended last summer. We ended last July, I think. But since then, we have not been filming," Courtney explained. "We have not had any film crews in our house and we have decided that what's best for our family right now, is to not continue with the show. And, that's hard to say because we have the most — you guys are the most loyal and precious fans — I, I cannot even thank you guys enough."
Visibly getting choked up, Courtney went on to explain that they were approached last fall with the idea of a fourth season.
"Eric and I talked about it and at the moment we said we would," she explained.
However, after talking with their older boys about it, they had a change of heart. The parents explained filming was particularly difficult for their boys because they carried so much of the show.
"It's a lot to ask of them," she said.
"It's tough, what with me having a full-time job, a business to run, coaching the kids, and then trying to film," Eric said.
In the end, however, it was all about the happiness of their children.
"We said from the very beginning if filming ever made our kids unhappy, then we would have to stop," Courtney said. "If we continued then we were afraid that's where we were going."
Wanting to preserve what was left of their older boys' childhood, the parents ultimately made the decision to pull the plug.
"We were not willing to sacrifice that," Eric said. "We wouldn't have ever taken that away from their childhood."
"When we would end the day, and not feel like we were the parents we needed to be, because we felt we were being pulled all different kinds of directions— that would just crush me sometimes," Courtney said. "…we didn't want to look back and regret anything we had missed with our kids because we were having to do other things.
"We had to make the decision in our head that our priority was not filming. That was not our top priority. It was a priority because it was a job— it was one of our jobs– but our kids were our top priority."
The Waldrops said it was the network that ultimately made the decision to pull the plug on the show; however, they stated that the decision came as a relief.
"That was God's way of shutting that door, because we were already having reservations," Courtney said, later adding, "it does make me sad to tell you that we will not be coming back on."
The couple thanked their fans for everything and for how good they have been to their family. Courtney posted again on Instagram after the video dropped due to fan reaction.
"Your outpouring of loving, sweet, understanding, encouraging comments, and messages these past few days after publicly announcing we would not be returning to TLC with Sweet Home Sextuplets has really touched our hearts and your words have meant so much to us!! I wished I could respond each of you individually and say THANK YOU!! But know how thankful we are for all of you!!❤️ We definitely aren't going anywhere!! You know me and you know I love to take pictures and will still post videos…🥰 I want you all to get to continue to watch these sweet babies and 9 kiddos grow up!!"
You can watch Courtney and Eric's video below!
(Photos: TLC; Instagram)