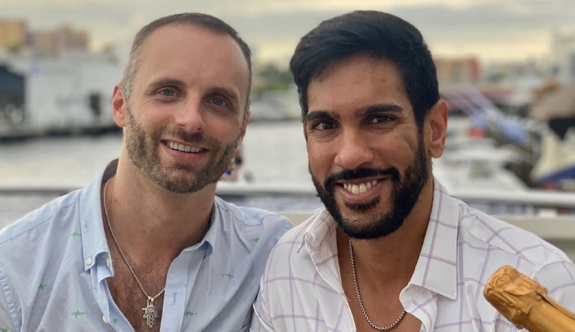 Amrit Kapai popped the question to longtime boyfriend Nicholas Kouchoukos on this week's episode of Family Karma; however, not long after the couple shared their big moment with viewers, Nicholas was allegedly attacked by a stranger.
After seeing Amrit reveal to friends and family earlier this season his plans to propose to Nicholas – his boyfriend of nine years – viewers finally got to see the happy couple get engaged on Wednesday's episode. Amrit and Nicholas attended a viewing party at Chicago's Zea Salon to watch the episode, and Amrit claims the random assault on Nicholas happened outside the party.
The romantic proposal went down during a boat day organized by Bali Chainani, who was on-board to celebrate with the couple, along with Vishal Parvani and Richa Sadana.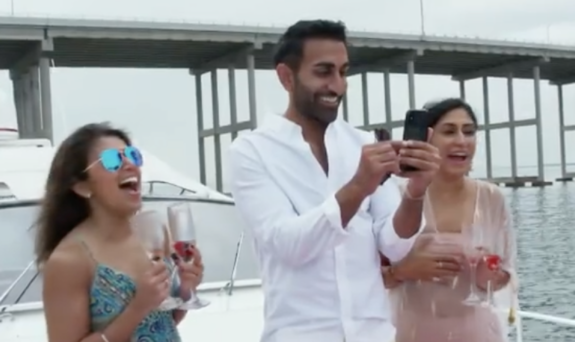 Unfortunately, moments after the couple's beautiful proposal aired on TV, Nicholas was allegedly assaulted on the street by a random man. Amrit shared what happened in an Instagram Story that was later deleted.
"Tonight after our proposal watch party Nicholas was walking down the street in Boystown to meet me," he wrote. "A man got out of his car and punched Nicholas in the face. I have been so clueless. This is not OK. We do not feel safe in the #Northhalsted neighborhood. I will not stay silent."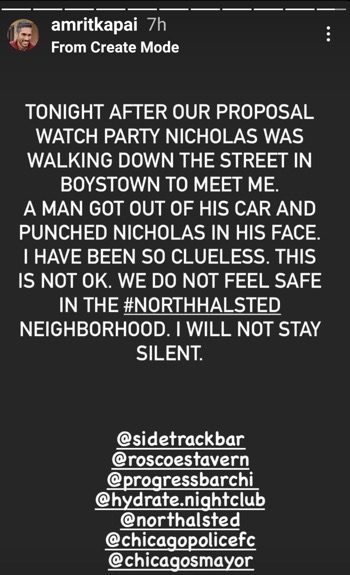 Amrit tagged a few local bars in his story, as well as the Northalsted Instagram page, the Chicago Police and Chicago Mayor.
Bali posted a screenshot of Amrit's Instagram Story, adding "what should have been a long night of celebrating love, ended in hate and fear."
"I'm so sorry [Nicholas and Amrit]," she continued. "NO ONE deserves this! Love you both and sending you love and light. Remember, you are #brahma #loveislove"
Later on Thursday, Amrit addressed the innocent on his Instagram account again.
"This is what we will remember from the night," Amrit captioned a photo of him and Nicholas at the viewing party. "A room full of love, friends, and laughter. Despite the cruel and unnecessary act of violence against Nicholas, he and I are both doing ok and ready to move forward stronger than ever.
"We seriously appreciate all the love and support from everyone. At the end of the day, love will always prevail over hate."
On Instagram Stories, Amrit gave another update, letting 'Family Karma' fans that he and Nicholas are alright after the assault.
"Hi IG family," he wrote. "Nicholas and I are both OK. We've processed what happened last night and are marching forward. Thanks for all the love."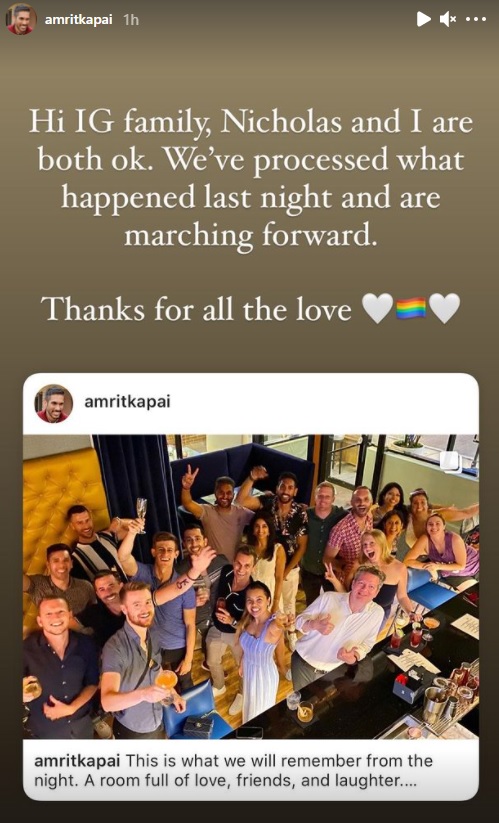 Nicholas has yet to speak out. However, many fans of the husbands-to-be headed to Nicholas' latest Instagram post to comment on what happened the night before.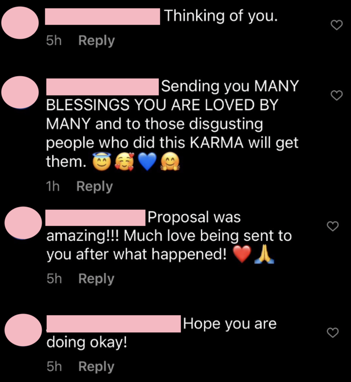 "Sending you MANY BLESSINGS YOU ARE LOVED BY MANY and to those disgusting people who did this KARMA will get them," one person wrote.
"Proposal was amazing!!! Much love being sent to you after what happened," another commented.
According to the Northalsted Business Alliance, the Northalsted neighborhood is "America's first recognized gay village" and the area's bars and clubs are described as "the beating heart of LGBTQ+ nightlife in Chicago."
(Photos: Instagram; Bravo)