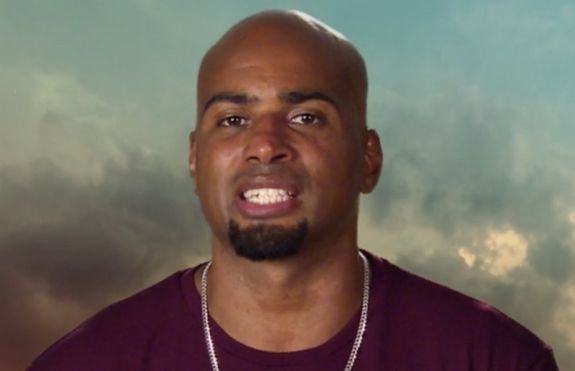 Darrell Taylor apparently went a little too hard last month while celebrating the holidays.
The veteran star (and multiple-season winner) of MTV's The Challenge was arrested and taken to jail in Burbank, California, after he was found lying in the hallway of a random apartment complex on December 15, court records obtained by The Ashley state.
According to TMZ, Darrell was arrested for public intoxication (which is a misdemeanor) after someone called the cops, claiming a very drunk man was ringing doorbells of random apartments and stumbling around. When cops arrived, they found the 42-year-old MTV star lying in the apartment complex hallway, so drunk that the cops took him into custody for his own safety.
According to the court records obtained by The Ashley, Darrell was arrested at 1:30 a.m. and booked into jail at 2:11 a.m. He was released at 6:32 a.m. and given a citation.
Darrell told TMZ that "he was trying to get back to his hotel and got lost. He says he went down the wrong street and apparently ended up at the apartment complex by accident."
This is not the first time Darrell's drinking has caused him problems. During the "Dirty 30" season in 2017, Darrell was eliminated during the very first episode of the season. He later admitted that he had been drinking heavily on the plane ride heading to 'The Challenge' and did not expect to have to compete so soon after arriving.
"I went a little too crazy on the plane, and as soon as we got there, right away it was a challenge," he told Entertainment Weekly. "It was a purge, and I had no idea. Normally when we first meet everybody, we see the house, we do cast photos, and usually we don't have a challenge until like two or three days after we get settled in."
Darrell said that he was devastated to be eliminated so quickly.
"I was in tears. I quit drinking. I was so mad! I don't think you understand, it was like fresh off the plane, they put us in a holding place for like a good eight hours, but I was still pretty [drunk]. I was going crazy on that plane, drinking way too much of the free alcohol, way too much, ready to have a good time."
Darrell has yet to address his little apartment complex caper on his social media accounts.
RELATED STORY: MTV & Camila Nakagawa React After Leroy Garrett Opens Up About Camila's Racist Tirade During 'The Challenge: Dirty 30' & How Poorly MTV Handled It (Recap of Events)
(Photos: MTV; Instagram)