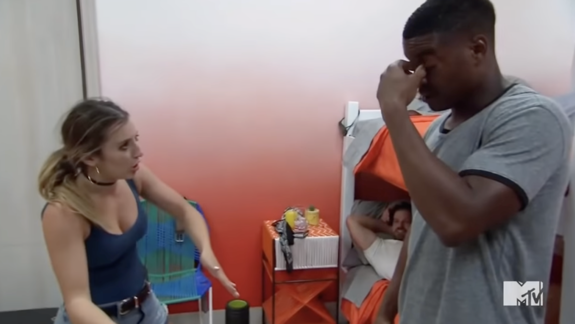 Longtime Challenge competitor Leroy Garrett is opening up about the horrible racist incident that occurred on The Challenge XXX: Dirty 30 involving fellow competitor Camila Nakagawa, and he— as well as other 'Challenge' competitors— are calling on MTV to change how it handles situations like this on future shows.
Days after Leroy came forward with his side of the story, MTV finally addressed the incident on its Twitter, admitting "it's clear we didn't do enough" in regard to supporting Leroy and disciplining Camila for her actions that night.
As fans of the show may recall, during the show's 30th season back in 2017, Camila called Leroy a "Black motherf****** p****" while intoxicated. She then went on to yell, "It's all about Black motherf****** like that piece of s**t!"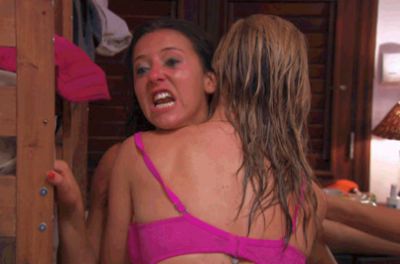 The outburst continued after Camila blamed Leroy for throwing a pillow at her–– which was actually thrown by Johnny "Bananas" Devenanzio– and she was ultimately sent to a hotel for the night by production. She later posted an apology for her "reckless words and abhorrent behavior" to social media.
Camila has not appeared on a full season of 'The Challenge' since 'Dirty 30'– a season in which she came in first place alongside Jordan Wiseley, with each competitor taking home $450,000 in prize money. (The cast did not learn the results of the Final until the 'Dirty 30' reunion, and while Camila's photo was used during the reveal, she was not in attendance.)
Despite her antics during that season, Camila was allowed to return immediately after 'Dirty 30' to compete on Champs vs. Stars, only to have a full-on breakdown during filming, consisting of "The Camilinator" allegedly stealing a golf cart, punching a crew member and leaving the set in handcuffs. Back in 2017, 'Challenge' insiders told The Ashley that Camila would not be asked to return (which she has not).
Leroy went on to compete on multiple seasons after the incident with Camila; however, he announced his retirement from the show following Season 36. In a recent Instagram video, he opened up about the way in which the 'Dirty 30' incident was handled by production, revealing the situation has been "weighing heavy on my conscience" for years.
"Drunken thoughts and verbiage is a sober heart, I'm sorry," he said in the video.
Leroy went on to explain that, during Camila's tirade against him, none of his cast mates, nor any production/crew member, put a halt to the attack or stood up for him. (He later remarked that Jemmye Carrol and Johnny Bananas, did, in fact, stand up for him, calling them allies.)
"And as Camila is singling me out for being Black and the color of my skin– it's not as if I don't already feel singled out because of the fact that I'm in a room filled with white cast members, that they're all just staring at me in the middle of this room and no one is saying anything. I feel embarrassed, I'm shocked, I'm upset.
"And I'm thinking to myself like, 'Can someone that's in a position of power please come in and help me?' Like, I'm literally being attacked right now in front of everybody who I work with and no one is doing anything to help," he continued. "And not even necessarily the cast members, because they're just as in shock, too. But producers or security at this point."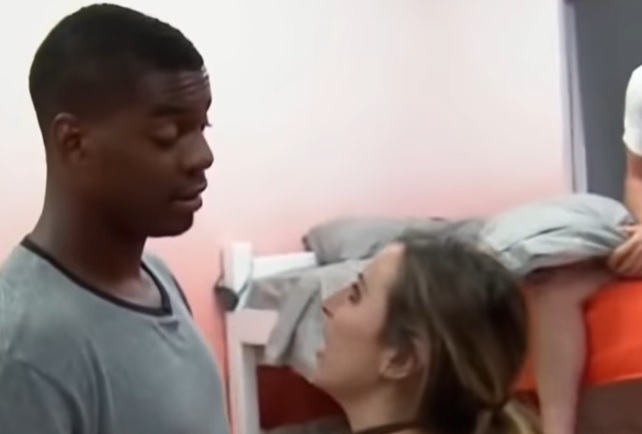 Leroy added that Camila's words were clearly "coming out of a place of hate," and that someone should have stepped in.
"That's so unacceptable, and the fact that no one did, I felt like MTV, you dropped the ball," he continued.
"You can tell she's out of control but [production] is just kinda letting it happen…she should have already been exited out. Where is the protection!? She should have been already escorted out of there once she started talking about the color of my skin, hit me with the pillow…"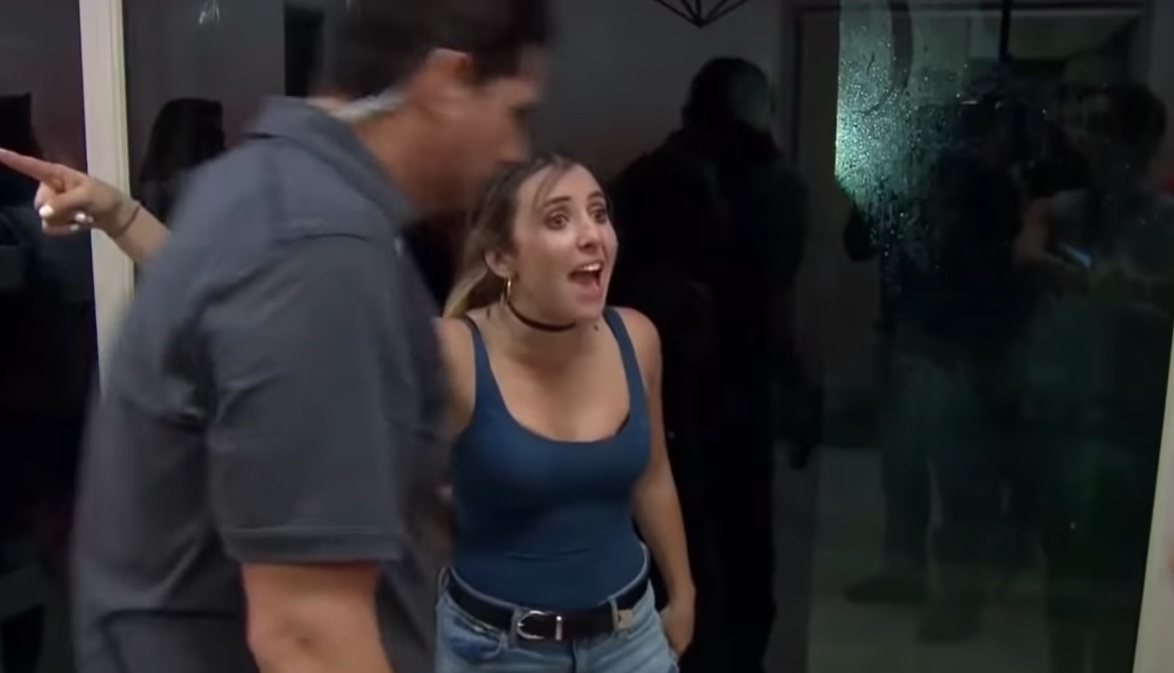 "This is the world that we live in, people. This is the stuff that Blacks have to deal with every day," he added.
Leroy commented that he knew he had to remain calm during the attack, because if he had started yelling back, he would have been viewed as "the angry Black man."
"That's what we always get when we express our feelings. They say we're aggressive," he said.
Later in the video, Leroy says he was shocked when the producers let Camilia stay on the show after the attack.
"A network who, at this point, I had given seven or eight years of my life, you guys are just recording. You're not doing anything to help me," he said, later adding. "Not only is Camila allowed to stay on the show but she actually wins the show.
"Do you know how much that burns me up inside? That fact that this girl went on a whole racist rant and was violent towards me. You guys allow her to stay on the show, which is a privilege… and she won all the money. So you basically rewarded her for being racist and being violent. That makes no sense."
In response to the video, the network posted a statement to social media apologizing to Leroy and admitting they had fallen short in handling the incident appropriately in 2017.
"MTV and Bunim/Murray were saddened by Leroy's recount of his experience on The Challenge in 2017," the statement read. "We apologize to Leroy, a beloved member of our family. While we sought to support cast and address the incident on air at the time, it's now clear we didn't do enough.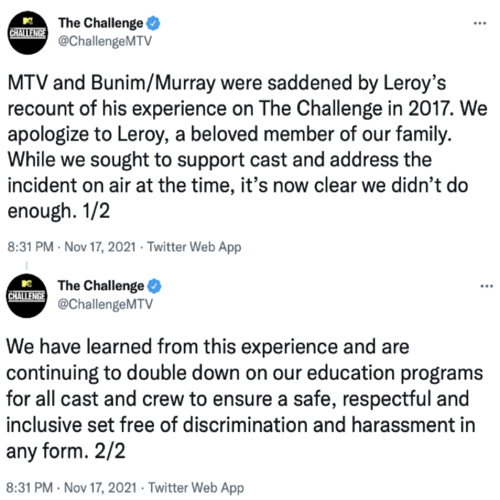 "We have learned from this experience and are continuing to double down on our education programs for all cast and crew to ensure a safe, respectful and inclusive set free of discrimination and harassment in any form."
Camila soon responded to Leroy's video, taking to Instagram Live to discuss her 'Dirty 30' behavior, assuring fans she does "not condone racism."
"If there's anything in your eyes that I can be doing better, I ask you to please tell me," she said. "Because you can judge me all you want, that's fine. That's everybody's choice, but I would actually like to take action and do something positive."
Camila later told viewers she was taking "anti-racism courses" in an attempt to educate herself. She also noted that she wanted to set a good example for her son.
'Challenge' cast members (current and former) have come forward to comment on the incident following Leroy's video, including Johnny who, as we mentioned above, was a witness to Camila's verbal attack of Leroy.

"It breaks my heart that you've had to live with this pain for so long," Johnny commented on Leroy's video. "I'm sorry I didn't do more for you in the moment."
Johnny may not have spoken up during the incident, but he did address it later that year, seemingly blaming MTV in an interview for encouraging Camila's often bad behavior.
"I think Camila for a long time was able to spin what we saw–- really sad and ugly behavior–- into a caricature of herself, by calling herself the 'Camilinator,'" he said. "And unfortunately, MTV kind of supported that and encouraged that."
Jemmye Carroll, who was also in the 'Challenge' house during Camila's racist outburst, also commented on Leroy's video.

"Forever an ally….& I'll forever regret not doing more that night," she wrote. "I love you so much fam and I'm so proud of you & the man that you are… ."
Longtime 'Challenge' competitor Aneesa Ferreira commented a message of support as well.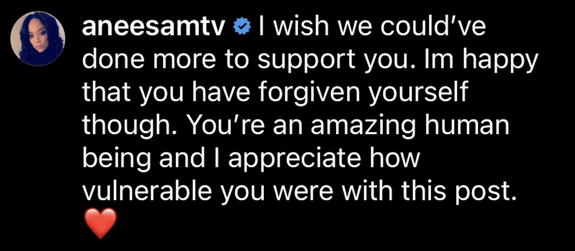 "I wish we could've done more to support you," she wrote. "I'm happy that you have forgiven yourself though. You're an amazing human being and I appreciate how vulnerable you were in this post."
As 'Challenge' cast members weighed in on Leroy's video, Tori Deal commented, "sending you love Lee"— only to then get called out by 'Challenge' fans for having a close friendship with the very person who wronged Leroy. According to the @challengeteaa Instagram page, Leroy's girlfriend and fellow 'Challenge' competitor Kam Williams "liked" a comment calling Tori out for continuing to follow Camila on social media and be friends with her. The fan also accused Tori of being a "performative activist."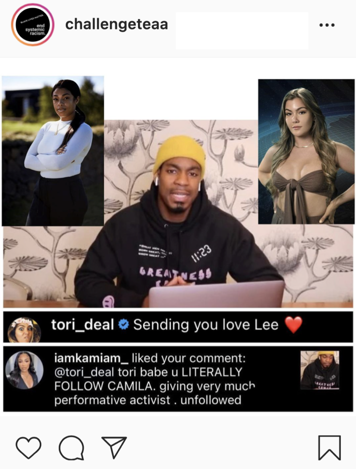 Tori reportedly "unfollowed" Camila on Instagram shortly after. Meanwhile, Kam shared her thoughts in a lengthy video of her own, calling Leroy's decision to speak out "brave" and demanding that MTV make a change regarding the casting of certain individuals.
" … I'm so proud that he was finally able to share his truth and inspire other people," she said.
Another individual who weighed in on Leroy's was Tyrie Ballard, who competed alongside Leroy in the past, though not on 'Dirty 30.'
"Happy to see this but I wanna make something clear…you were NEVER alone. You just should have been talking to the other Black cast members who experienced racism on this show," Tyrie wrote. "But I understand it's hard to secure the bag with one foot on the soapbox."
Happy to see this but I wanna make something clear…. You were NEVER alone you just should have been talking to the other black cast members who experienced racism on this show. But I understand it's hard to secure the bag with one foot on the soapbox https://t.co/FlgPV0GJi5

— Apocalyptic Autumn (@TripleBeees) November 16, 2021
'Challenge' newbie Corey Lay also commented on the situation, claiming "if Camila actually cared she would've said something years ago."
" … Black people always have to carry the burden when someone else is racist towards us," he added. "I'm glad Leroy was able to share his story and thoughts."
Leroy later thanked fans on Twitter for reaching out to him and expressed his hope for MTV going forward.
Thank you🖤 pic.twitter.com/rscDgekyOp

— Leroy "Roylee" (@Bruce_Lee85) November 17, 2021
" … I'm really hoping for change, and not just change in America, but change at that network," he said. "I'm really hoping that the network will finally start holding themselves accountable and holding cast members accountable for their actions. I think that's something that is very important.
"I've been able to forgive myself, with forgiving myself that means I've also forgiven all parties that's included, but that doesn't mean I forget. … So with that being said, I'm going to make sure that the network definitely puts the work in, not just with the PSA– actually getting in the community and doing things that's gonna embark change.
"They have a huge platform and they have a huge influence on people," he added. "So we're gonna make something happen … ."
Leroy went on to ask his followers not to send hateful messages or comments to Camila on social media.
"We can't beat hate with hate," he said.
You can watch how the attack during 'Dirty 30' went down in the video below.
RELATED STORY: 'The Challenge' Star Nelson Thomas Thanks Surgeon For Fixing His Broken Nose After He Was "Sucker Punched" By Man in Vegas: More Details of the Attack
(Photos: MTV; Twitter; Instagram)