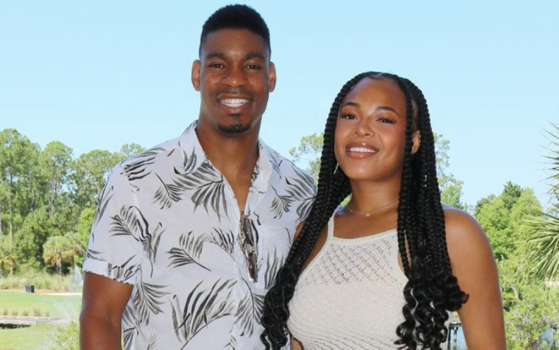 Leroy Garrett and Kam Williams of The Challenge are expecting their first child together!
The couple made their big announcement Wednesday on social media with a series of holiday-themed photos featuring the two of them in Christmas pajamas while holding a matching Christmas onesie. The photos also marked the debut of Kam's baby bump.
"We always give each other the best gifts that money can't buy, & this is by far the best gift we've been able to give & ever receive," Kam captioned her post. "Feels so good to be able to announce & share that we are becoming parents! Our journey never fails to surprise me! I love you so much @royleethebarber & can't wait to meet our new edition to our fam."
Leroy shared the same photos on his own Instagram page, calling his and Kam's baby "our greatest gift."
"Thank you God for this blessing, I'm beyond grateful," he continued. "His timing is always right. I can't wait to be a daddy. Coming June 2022."
Several MTV reality stars congratulated the expecting parents on social media.
"Awwww Mom and Dad … #FuncleBananas," 'Challenge' vet Johnny Bananas wrote.
"OH MY GOD I'M SO HAPPY FOR YOU!" wrote Jenna Compono.
"Congratulations!! You two will be the best parents," Floribama Shore star Nilsa Prowant commented.
Uche Nwosu of 'Are You The One?' fame wrote, "KAM IM SCREAMINGGGGGG… crying. CONGRATS TO TWO OF MY FAVORITE PEOPLE."
Kam and Leroy met back in 2016 and made things official in August 2019. The pair announced in November 2020 that they had signed a lease and were relocating from Las Vegas to Houston together.
Leroy recently announced that he has officially retired from 'The Challenge' following his Season 36 appearance. Meanwhile, Kam–- who appeared on Are You The One? before competing on 'The Challenge'-– stated during a recent Instagram Live Q&A that while people assume she has retired from the show as well, she's actually been busy focusing on her business, Kam Kollection.
"I just want my business @kamkollection_ to be at a certain place where I have a team that can run it before I take on anything else," she explained. "I'm still learning as I go and it's hard AF. I don't have it all figured out but still moving along."
RELATED STORY: MTV & Camila Nakagawa React After Leroy Garrett Opens Up About Camila's Racist Tirade During 'The Challenge: Dirty 30' & How Poorly MTV Handled It (Recap of Events)
(Photos: Instagram)