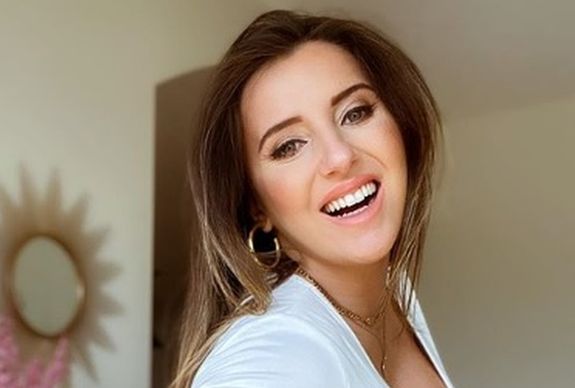 It's a boy for Camila Nakagawa!
The former star of The Challenge just announced that she welcomed her first child via emergency C-section.
Camila— who won three seasons of the MTV reality show over the course of her 'Challenge' career—- told E! News that she has named her son Kai Aiden, and that he weighed in at 7 lbs., 4 oz. and measured 20 inches long.
"[He] is the most perfect little human I have ever met," Camila told the site on Wednesday. "It was love at first sight and I cannot wait to get to know him and for all of the unforgettable memories we will create together."
View this post on Instagram
Camila announced her pregnancy back in February but has yet to reveal who the father is. At the time of her pregnancy announcement, she would only say that the baby's father "is someone that is in my life and that I admire and care for very much and he will make a great father." She admitted that the pregnancy was unplanned.
Baby Kai's delivery was also unplanned, according to Camila. She told the site that she had wanted to have a natural delivery but her son had other plans.
"Even though it was not a natural birth as I had planned and I had to have an emergency c-section after my water broke," she said. "I feel very happy that baby got to choose his own birthday.
"I never thought life could be this complete," she added. "Hearing his little cry when he came out was the best moment of my entire life and then seeing his little face just changed my life forever. It feels like nothing can ever go wrong again, life is simply perfect."
Camila's life has changed dramatically in the three years since she's been on 'The Challenge.' The last couple of times fans of 'The Challenge' saw Camila on TV, she was verbally attacking cast mate Leroy Garrett in a racist tirade on Dirty 30 only to then have a breakdown while filming Champs vs. Stars that consisted of "The Camilinator" stealing a golf cart, punching a crew member and leaving the set in handcuffs. Back in 2017, 'The Challenge' insiders told The Ashley that Camila would not be allowed back on the show following her 'Champs vs. Stars' incident, and she has yet to be cast on any more seasons.
Her last full appearance on 'The Challenge' was during "Dirty 30." She went on to win the season alongside Jordan Wiseley, with each of them taking home $450,000 in prize money.
Since then, Camila has kept a relatively low profile, but was very active in posting photos to Instagram throughout her pregnancy.
"Even though it has been such an unpredictable time in our world, I am so blessed to have had a wonderful pregnancy and a safe and healthy delivery," she told E! News.
Camila received plenty of well wishes from her former 'Challenge' cast mates.
"Ohhhhhhhh myyyyyy god congrats Camila and baby Kai!!! What a perfect name," Tori Deal wrote in the comment section of Camila's announcement Instagram post.