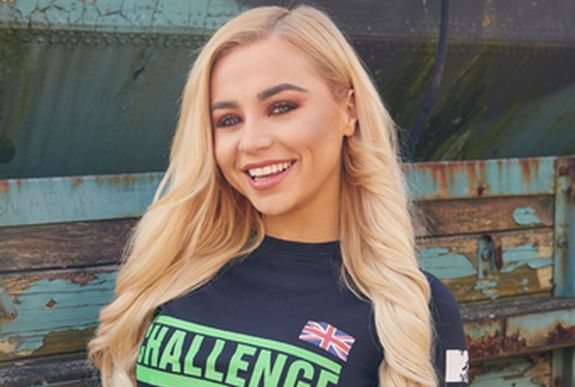 It's a girl for The Challenge star Melissa Reeves!
Melissa welcomed her first child on Sunday, May 24. Her baby girl weighed in at 8 lbs, 11 oz., according to a post on Melissa's Instagram account announcing the birth.
"24/05/2020 My world changed forever," Melissa wrote on Monday. "My baby girl arrived right on her due date. Words can't describe how in love with this little angel I am. I feel so happy and blessed."
Melissa stated that she did not have an easy labor and delivery.
"I was in labour for 3 days, then we had to opt for a C section because it turns out she is one big baby, she's 8lb 11!" she wrote.
Melissa's baby— whose name has not yet been released— is unique, as she technically participated in the "Total Madness" season of 'The Challenge' with Melissa. Back in March, Melissa— who got her start on Ex on the Beach UK 2— did a Instagram Q&A session, revealing she was pregnant (but didn't know it) while competing on "Total Madness." (She denied some fans' claims that she got pregnant while on 'The Challenge.')
"I did not conceive this baby whilest filming 'The Challenge,'" Melissa told her fans. "I was pregnant before I got to the 'Challenge' I just didn't know. I also didn't know I was pregnant whilest we were filming." (She also assured everyone that her co-star Kyle Christie is not the father.)
Contestants on 'The Challenge' endure intense physical and psychological challenges, which was incredibly difficult for Melissa, who at the time was in the early stages of pregnancy.
"It was really, really tough. It was basically borderline torture." She added that, despite this, her baby was not affected.
"I have had checks on the baby and as far as they can see, there is not harm to her, because I didn't really do anything that would have harmed her," she wrote in March.
(Melissa has yet to be eliminated from the "Total Madness" season, which is currently airing.)
In the comment section of her birth announcement, Melissa received plenty of congratulatory messages from her 'Challenge' cast mates.
"Congratulations," Aneesa Ferreira wrote. "So happy for you!"
"Congrats Mumma! You're going to do great," Dee Nguyen wrote.
Melissa has yet to reveal who the baby's father is.
RELATED STORY: 'The Challenge' Star Melissa Reeves Answers Fans' Questions About Being Pregnant While Filming Season 35, If the Baby is Kyle Christie's & More
(Photos: MTV, Instagram)