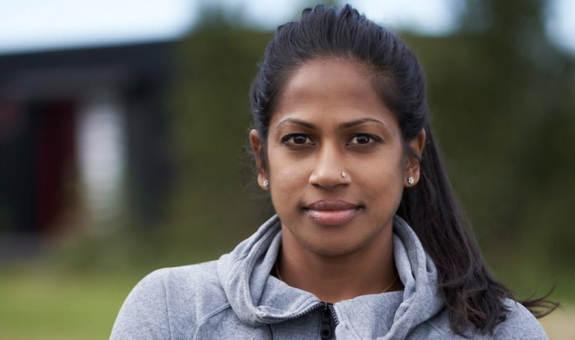 After scoring a gold skull to secure a spot in the final, Natalie Anderson made a sudden exit from Wednesday's episode of The Challenge: Double Agents, leaving viewers and her castmates confused.
While host T.J. Lavin disclosed that the former Survivor champ had been "compromised" and would be leaving the game, Natalie only added that she was exiting due to "a personal matter."
The 'Challenge' rookie opened up about that "personal matter," revealing to People that she left 'Double Agents' early after finding out she was pregnant.
Natalie and her boyfriend Devin Perez were reportedly not trying to conceive, but Natalie was asked by production to take a pregnancy test after revealing to her twin sister and Amazing Race partner Nadiya over FaceTime that she had missed her period – something Natalie said she didn't think much of due to the stressful circumstances of the competition.
"On all my reality TV shows I'm always really irregular, especially on 'Survivor,' because I'm starving," she said. "I never got my period the entire time I was out there. So I just chalked up the differences in my body to the stress of the situation."
After finding out her pregnancy test was positive, Natalie knew she could not continue in the competition, even though she would have liked to, admitting she would have kept going if the show would have allowed her to sign a waiver to compete pregnant.
"I literally said, 'I think I can do this pregnant. Let me stay and compete.' And production just looked at me like, 'This girl is crazy,'" she recalled.
(As 'Challenge' fans may recall, Melissa Reeves competed pregnant on The Challenge: Total Madness before viewers saw her quit in the final last season. However, she was unaware that she was pregnant at the time. She went on to welcome daughter Vienna in May 2020.)
As for Natalie, she said the news of her own pregnancy seemed like a "really unfortunate thing at a really bad time," given that she had already earned a gold skull and "was sitting pretty for the final."
"The check was already written for me," she said. "I was ready to win. I couldn't feel happy about it because I was out there for one reason and that was winning."
After leaving Iceland, albeit reluctantly, Natalie returned to the U.S. and learned she was eight weeks pregnant. She soon started looking forward to motherhood and having a family with her boyfriend.
"I said, 'You know what, maybe I didn't get to win half a million dollars, but everything happens for a reason,'" she said. "My boyfriend is already a father and he's somebody I could see myself having a family with. We were like, 'let's do this.' I was ready for this new chapter."
Sadly, a week after she returned home in September, Natalie suffered a miscarriage.
"I had to digest losing the pregnancy and being like, 'Now I have no 'Challenge' win under my belt and I don't have this new journey I was looking forward to,'" she said. "It was really difficult."
Natalie focused on working out and relying on her boyfriend for support as she worked through the healing process. She also found strength in her Survivors: Winners at War experience, during which she missed out on a $2 million prize.
"Losing $2 million, it seemed like the hardest thing I would ever have to do until this happened to me," she said. "And this was even harder because the $2 million, I had to take responsibility for it playing out the way it did. I never thought I would lose something that would be as hard as losing $2 million. But this was even harder."
Natalie said she "really did do the work necessary" to get back to a healthy head space and her goal in opening up about her experience now is to help others.
"I want anybody who is going through something hard to remember: the last thing you need to do is be hard on yourself," she said. "Be kind to yourself and embrace all the difficult stuff that happens in a way that you can grow and become a stronger person on the other side."
She's also considering a 'Challenge' return in the future.
"I feel like the universe owes me $2 million from 'Survivor' and half a million from 'The Challenge,'" she joked.
Still, Natalie told EW she hasn't made any commitments to compete on another season of 'The Challenge' just yet.
"I told MTV, and myself to be honest, I'm just giving myself my last episode as a way to go through everything and then check in on how I feel about returning to this show, because it is super-strenuous mentally and physically," she said. "So I just have to make that decision once I'm done watching my episode, depending on how I feel and where I am in my life then. So TBD, not decided yet."
RELATED STORY: 'The Challenge' Star Jordan Wiseley Speaks Out After Ex-Fiancé Tori Deal Does Interview About Their Split
(Photos: MTV; Instagram)