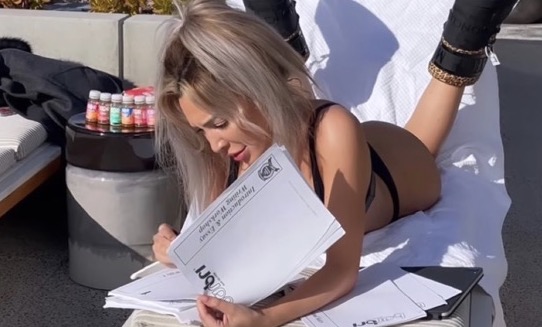 Well, it only took 48 hours for Farrah Abraham to commit her first WTF? act of 2022.
The former Teen Mom, who spent much of 2021 talking about her law school aspirations, announced on social media over the weekend that she will continue focusing on becoming a lawyer in the New Year. In the video, the Backdoor Teen Mom claimed that she was studying for her bar exam (which someone must pass in order to become a lawyer.) However, Farrah claims to be studying for the bar exam, despite never having completed the two very important previous steps: taking the LSATs (law school admission test), and going to law school.
And, because this IS Farrah we're talking about, she chose to share the news while sitting poolside wearing a thong bikini and Moon Boots.
AS YOU DO.
"I am studying for my bar exam…I love that I can focus on my legal stuff and kiss this little guy," Farrah says as she desperately tries to kiss her dog, who is trying his best to escape her clutches.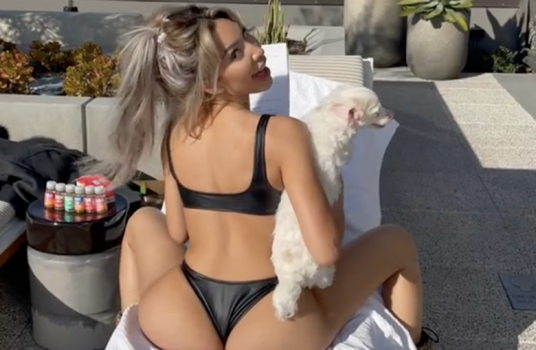 Farrah then informs us that her 12-year-old daughter is the person behind the camera, recording Farrah's bikini 'n' boot "study" session.
"Thanks to Sophia recording this. She's going to work on her own mental health as well. I am studying, having fun!"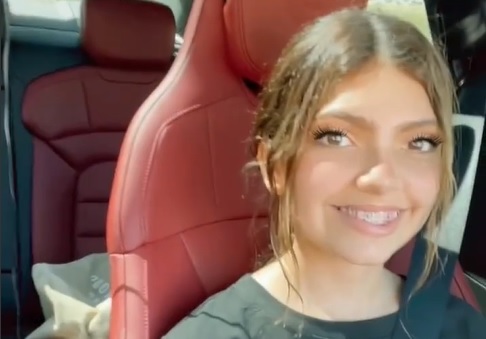 Farrah's video was met with harsh criticism, from people who were appalled that she made her pre-teen daughter film her shaking her scantily clad backdoor, and those who were dumbfounded that Farrah claims to be taking her bar exam, despite never having done any of the prerequisites. (Many also pointed out how many grammatical and spelling mistakes Farrah made for someone who says she's so educated.)
(As always, The Ashley has left Farrah's words in-tact to preserve the "Farrah Speak" qualities.)
"My study buddy for #2022 the sun is shining on new levels this #newyear," she captioned the video. "Go for your goals & build your resilience Always a cheerleader for others studying law & making the world a better place! Your born with rights! USE THEM! #JdStudent…"
Naturally, people took to the comment section of Farrah's video to express their concern over Farrah (once again) using Sophia as her own personal documentarian.
"I would never be posing like that and telling my daughter to record me like wtf," one person commented, resulting in Farrah chalking the whole thing up to a mother and daughter just "having fun at a pool."
Farrah then explained that, because Sophia "came out of my vagina," it's fine for her to film Farrah and her body parts. She also randomly accused the person commenting of making her kids fetch her booze (despite the fact that the commenter's page has no photos or info that would indicate this.)
" … you & I live in way different worlds but my daughter like most kids came out of my vagina so having fun at a pool is nothing new … but you wouldn't mind asking your kid to get things they shouldn't like alcohol etc WHICH I would never do … I recommend you don't," Farrah replied, in her typical Farrah Speak way.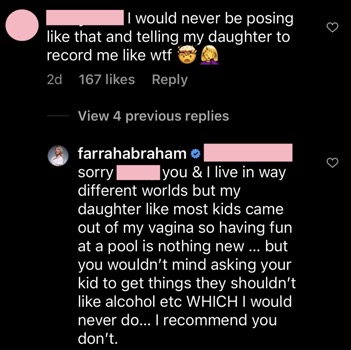 Other comments questioned how exactly subjecting Sophia to be Farrah's "camera crew" was beneficial to the child's mental health, with another suggesting Sophia was "brainwashed."
Speaking of brains– or rather, lack thereof– in addition to her parenting, Farrah's basic understanding of law school was also called into question.
One individual who claimed to work "in the legal community" told Farrah it's "very concerning when those who know very little about law start acting as if they do."
The individual went on to inform Farrah that by using the hashtag "jdstudent" (Juris Doctor) Farrah is claiming to have already been accepted by a law school and currently pursing a doctorate of law. The individual also told Farrah that before taking the "bar exam," she would need to complete certain courses, and before that, pass the LSATs– the test administered to students prior to admission to law school.
Farrah was also told she was reviewing "the wrong material for the wrong exam and calling yourself a jdstudent when you haven't gotten into law school yet."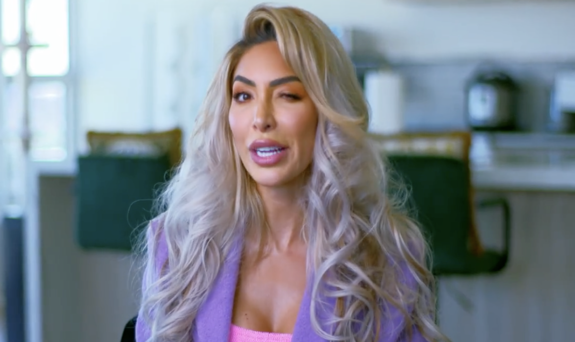 "Let's stop glorifying how easy it is to become a [California] lawyer when it's actually the hardest bar exam in the nation," the person added.
It should be noted that California— where Farrah lives—is one of four states that allows potential lawyers to become lawyers without going to law school. However, Farrah would have to be enrolled in the "Law Office Study Program" because she's not in law school. Farrah would have to pass the First-Year Law Students' Exam (aka "BabyBar"); work in a practicing attorney's office or judge's chambers for 18 hours a week for four continuous years; pass the Multistate Professional Responsibility Exam and be deemed to have positive moral character by the State Bar of California.
According to the State Bar of California website, "good moral character" includes but is not limited to "qualities of honesty, fairness, candor, trustworthiness, observance of fiduciary responsibility, respect for and obedience to the law, and respect for the rights of others and the judicial process."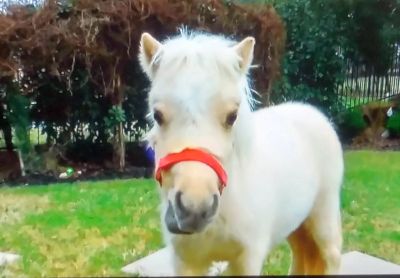 Naturally, Farrah was not pleased by this individual's unwillingness to go along with her latest charade, so she attempted to fire back, calling the person an "out of date know-it-all" and accusing them of neither winning, fighting, nor understanding Farrah's own "legal battles."
Farrah then claimed to have already passed the LSATs (despite never having mentioned this on social media, which would be very unlike Farrah.)
" … I will say I've passed the LSAT, I will say JD law student it is & I will saw the Bar exam for multiple states for me is coming up," Farrah continued.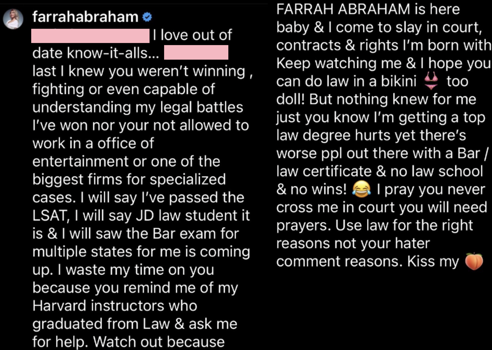 Farrah then accused the nay-sayer of being like her Harvard professors who, as you may remember, blocked her from the online course she had signed up for because they felt Farrah wasn't skilled enough to take the course. Farrah retaliated by threatening to sue the school, writing a negative review of Harvard on Yelp, and burning her Harvard sweatshirt.
AS.YOU.DO.
"I waste my time on you because you remind me of my Harvard instructors who graduated from Law & ask me for help," Farrah wrote. "Watch out because FARRAH ABRAHAM is here baby & I come to slay in court, contracts & rights I'm born with. Keep watching me & I hope you can do law in a bikini too doll!"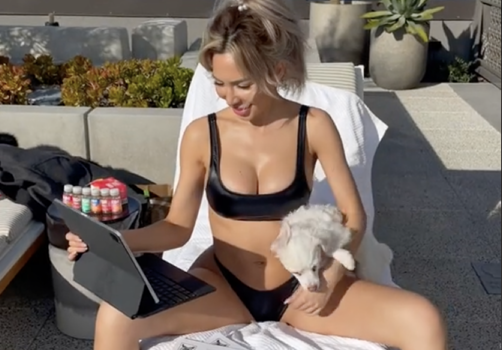 She finished up her rant with a heaping dose of "Farrah Speak."
"But nothing knew for me just know I'm getting a top law degrees hurts yet there's worse ppl out there with a Bar/law certificate & no law school & no wins," Farrah added. "I pray you never cross me in court you will need prayers. Use law for the right reasons not your hater comment reasons. Kiss my 🍑."
RELATED STORY: Farrah Abraham Talks About Upcoming Appearance on 'Teen Mom Family Reunion' & Being "Attacked" By Other Cast Members: "Do Not Gang Up on a Woman"
(Photos: Instagram; TikTok; E!; MTV)