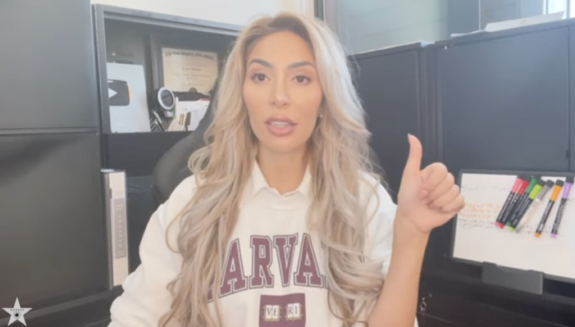 Farrah Abraham has been booted from an online course at Harvard, but the former Teen Mom star isn't going quietly.
According to TMZ, Farrah claims she's been the victim of "educational abuse" and is planning to take legal action against the Ivy League university.
" … basically an elder teacher in a position of power with a male dean blocked me out of a class and also said lies about my work," Farrah told TMZ. "So, nobody took a call, no one took a meeting."
Farrah went on to say that she had to tell her professor to "go get in line with all the other haters," before comparing herself to Lizzo, whom she said also has to deal with "haters." Unlike Lizzo, however, Farrah claims she has to "deal with haters in education."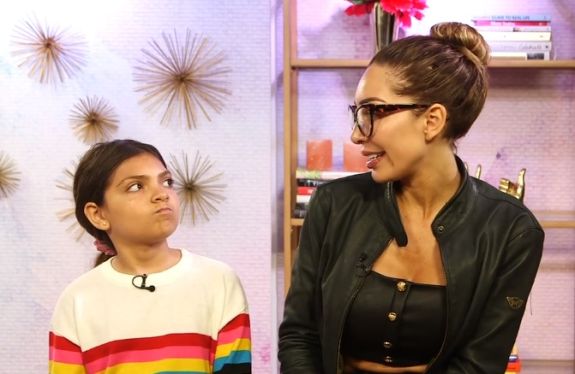 Farrah continued to work her new made-up phrase, 'educational abuse' into the conversation as many times as possible.
"Like, the educational abuse for all students," she said. "I'm in a masters program, I'm paying a higher rate and I still have sophomores in high school in my class. That's not a masters program."
" …Harvard is a joke, it's a scam," she continued. "That's my Harvard review."
Earlier this week, Farrah expressed her anger in an actual review, a scathing one on Yelp, slamming both her professor and the Harvard Extension School. In her Farrah Speak-filled slam of the school, Farrah called her professor "mentally unstable" and claimed the teacher told her she had a "neurological issue." She also deemed Harvard "educationally abusive."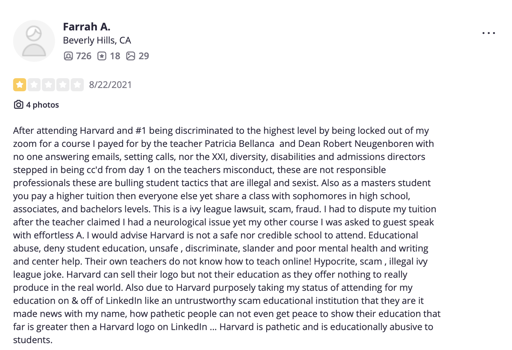 Farrah attached some photos with her Yelp review, including a screenshot of an email from her professor, who encouraged Farrah to "drop this course now and take a lower-level writing course instead."
Naturally, though, Farrah felt the teacher was out of line for telling her that her writing and reading skills weren't up-to-par.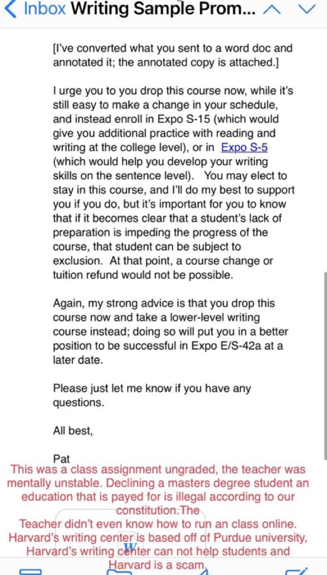 In the caption of the image, Farrah wrote "Patricia Ballencia mentally ill bi polar teacher education abuse."
Farrah revealed to TMZ on Thursday– while wearing a Harvard sweater, AS YOU DO– that she will be taking legal action against Harvard.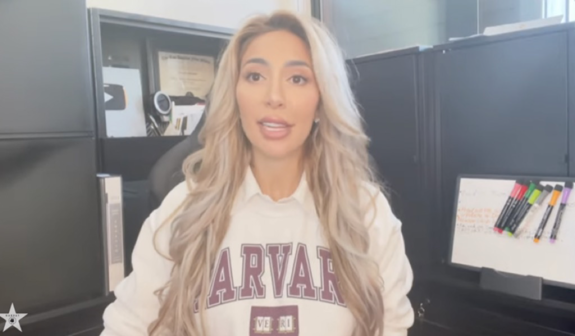 "I properly gave them time, I sadly had to write a review … because no one was getting back to me and I think if you want to silence someone's voice and not actually just respond back to them, reaching out for help to remedy the problem, like a normal, civilized citizen would do," Farrah said.
"I see that I'm not working with good people and Harvard is a very abusive Ivy League school."
For more Farrah Speak of Farrah's thoughts on Harvard, check out her new YouTube review of the university.
RELATED STORY: Farrah Abraham Says She Was Kicked Out of Her Online Harvard Class; Rants on Yelp About "Mentally Unstable" Professor: "The Teacher Claimed I Had A Neurological Issue!"
(Photos: YouTube; E!; Yelp)