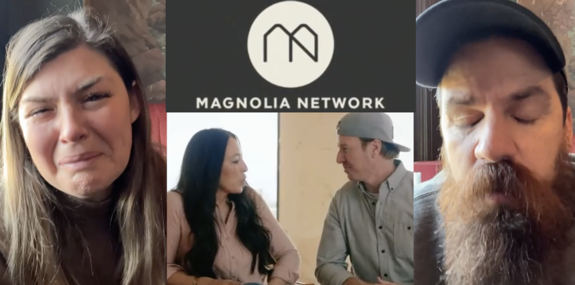 Chip and Joanna Gaines' Magnolia Network just launched last week, but one of the network's new series, Home Work, has already been canned.
According to Today, shortly after viewers were introduced to 'Home Work' hosts Candis and Andy Meredith on the former DIY Network, several Utah homeowners who received renovations from the pair began sharing horrific stories of ballooning budgets, additional work needed by outside contractors and other difficulties, ultimately leading the Merediths' show to be pulled by the newly-launched network.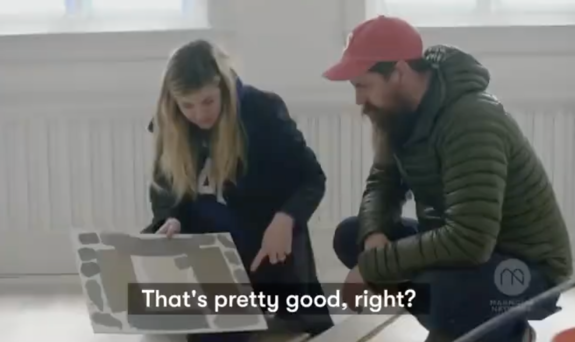 After the homeowners aired their grievances last week on social media, Andy and Candis addressed some of the claims in an interview with Today, admitting they outsourced a bulk of their renovation work to a general contractor and only served as consultants on the projects themselves.
The couple also released a statement to their joint-social media page addressing the stories circulating around their work, claiming they "have always tried to give everything we have to make anyone we work with happy."
The pair insisted there were "two sides to every story" and they were choosing not to go public with their own "because we know how hurtful this feels, we understand that only hearing one side can paint a negative picture."
They also told followers the homeowners' decision to take "this public seems to be the easiest way to harm us personally."
"We will always do our best to be kind, and we won't be running a similar smear campaign with our truth unless we are absolutely forced to do so," the statement said in part.
One of the homeowners that came forward last week said she and the Merediths agreed in January 2019 to an initial budget of $25,000 to renovate her kitchen; however, she was unable to get detailed expense estimates from the pair and was often unable to reach them. The homeowner also noted escalating issues within her home as the project continued, ultimately being told her renovation would now cost $40,000.
The homeowner also claimed in a 18-part series of recent Instagram posts that Candis chose to use undocumented and unlicensed workers, built a deck that had drainage issues and nearly flooded their home, and more.
View this post on Instagram
Both parties acknowledge that the Merediths contributed $32,000 of their own money towards the renovation; however, the homeowner claims during the kitchen reveal, she "feigned excitement while I dreamed of the moment they'd leave my house and never come back."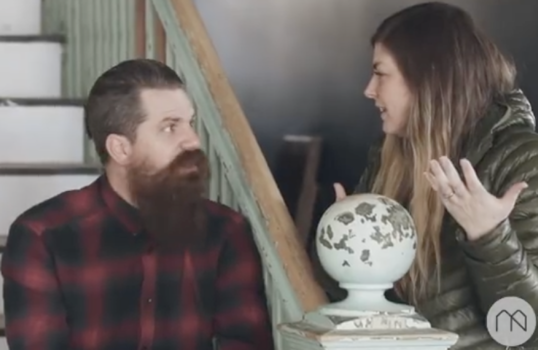 A couple who also worked with the 'Home Work' pair claimed they set a budget with the Merediths in 2019 for $45,000, only for Candis to later suggest a more expanded renovation with the reassurance that the project would remain in budget. The renovation allegedly took weeks longer than intended and in January 2020, the hosts informed the couple that they would need to double their budget to complete the project. The couple told Today they later had a family friend complete the renovation for the "deeply discounted" price of $25,000.
A second couple reportedly paid the hosts $50,000 as a down payment for their $100,000 renovation, which never even began. The Merediths confirmed they do in fact owe money to the couple, as a general contractor that was hired to do the work was unable to begin due to the pandemic. While some of this money has been repaid to the couple, the Merediths have yet to reimburse the full $50,000, with Candis admitting on social media, "it has taken too long [to pay them] and I admit that."
Though Andy and Candis initially said they did not plan to respond further to the allegations against them, they appear to have had a change of heart within the last 24 hours, choosing to share their side of what transpired in the form of multiple (lengthy) videos, raw footage filmed in one the disgruntled homeowners' kitchens, screenshots, and additional comments on the situation.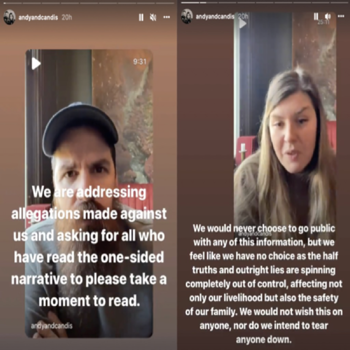 "While preparing these posts, we discovered that our children are being bullied at school," they claimed in one of their posts. "This is so extremely upsetting. We have received death threats, our home is under police surveillance for our safety … ."
As before, the hosts insisted only one side of the story was being told, while also calling out one of the unhappy homeowners for telling her story the night of the Magnolia Network launch-– a move they claim was "clearly calculated to hurt us the most."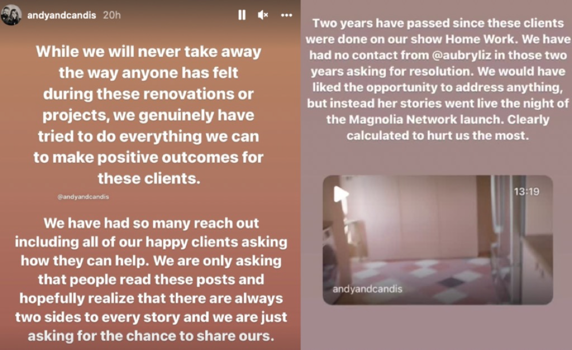 Andy and Candis said in addition to the complaints that have resulted from 'Home Work,' past clients have been "piling on" by sharing similar stories in an effort to "add spicy drama" to the situation.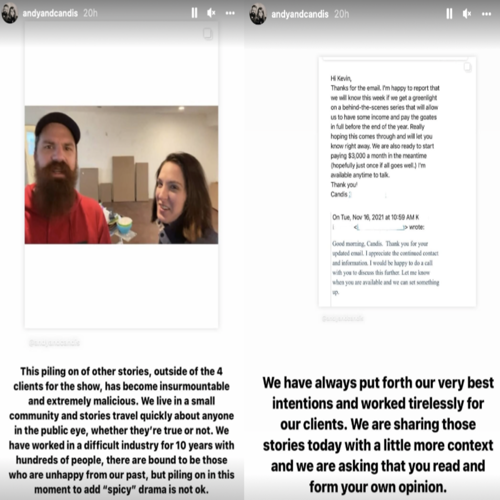 "We have always put forth our very best intentions and worked tirelessly for our clients," they stated. "We are sharing those stories today with a little more context and we are asking that you read and form your own opinion."
Andy and Candis went on in their Instagram rant to ask that "the lies" stop, ensuring they are "more than happy to do what is needed to make anything right with these clients."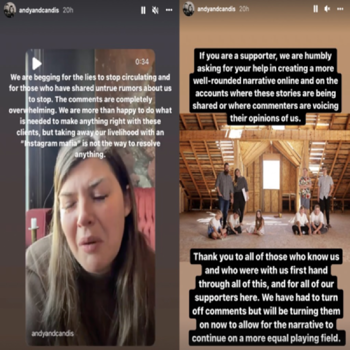 " … but taking away our livelihood with an 'Instagram mafia' is not the way to resolve anything," they continued.
RELATED STORY: Chip & Joanna Gaines' Magnolia Network Set to Launch in January: Get Details on the New Shows Coming
(Photos: Magnolia Network; Instagram)