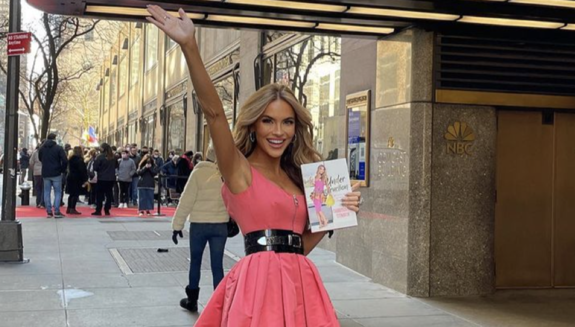 Selling Sunset Realtor Chrishell Stause is one of the latest reality stars to pen a memoir.
Written with Dina Gachman (who's also co-written with/ghostwritten for Love Is Blind co-host Vanessa Lachey, former Vanderpump Rules star Stassi Schroeder and Southern Charm star Shep Rose), Chrishell's book, Under Construction: Because Living My Best Life Took a Little Work follows the Kentucky native from rough childhood to soap opera starlet to reality television stardom, and sprinkles in "construction tips" on how to live your best life (example: "Sometimes the best way to clap back is to butter them up").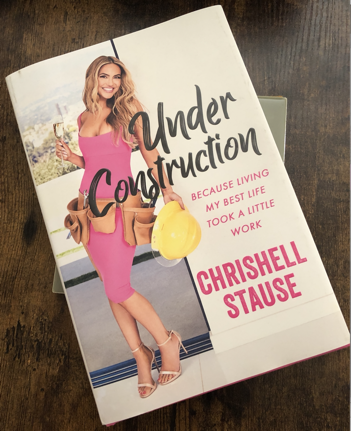 Though she doesn't dive too deeply into her personal life, glossing over her relationship with former husband Justin Hartley of This Is Us, and the true toughness of a childhood that included living in a tent for a year, Chrishell does offer some behind-the-scenes stories on her life as a reality TV star. Here are five things we learned about her career in reality TV.
1. She was dropped last-minute from being 'The Bachelorette.'
In 2007, Chrishell was starring on ABC's All My Children and was slated to join the network's top reality franchise.
"Several years ago I was actually supposed to be the next Bachelorette," she wrote. "It was all set to be announced!" In the meantime, season 11 The Bachelor finalist DeAnna Pappas appeared on The Ellen DeGeneres Show and the talk show host declared that DeAnna— who had been blindsided by then-'Bachelor' Brad Womack— should be the next Bachelorette.
"Fans rallied around, the network listened, and my announcement was pulled," Chrishell wrote.
2. She got bumped from reality diving competition & lost out on hundreds of thousands of dollars.
Back in 2013, ABC aired the Splash, which featured a variety of "celebrities" (including Keshia Knight Pulliam from The Cosby Show and Kendra Wilkinson from shows including The Girls Next Door) participating in a high-dive competition. Chrishell was slated to be one of those competitors and potentially earn six figures.
"But I never got the chance to sink or swim," she writes. "Back in 2013 when this happened, there was a literal beauty queen named Katherine Webb (Miss Alabama USA 2012) who actually did become an overnight sensation when audiences saw her on ESPN cheering her college football player boyfriend, quarterback A.J. McCarron."
Katherine caught the attention of the world, including 'Splash' producers.
"And guess what?" Chrishell writes. "The producers of 'Splash' decided to drop me and cast Katherine Webb in my place overnight. Talk about a humbling experience."
3. She did 'Dancing With the Stars' for her parents.
Chrishell had lost both her parents to cancer and was going through a divorce when she was cast on season 29 of 'Dancing With the Stars.' Though she describes herself as having two left feet, Chrishell joined the show for her mom, who loved to dance. She even dedicated a dance to her parents during her time on the show.
"Scores have never been more irrelevant to me as they were during that dance, and I'm so grateful to the show for giving me an outlet to honor them in that way," Chrishell wrote. "After such a brutal year, the feeling of knowing I was exactly where I was supposed to be, doing exactly what I was supposed to be doing, was freeing."
4. She pursued real estate after leaving 'Days of Our Lives.'
Chrishell was a series regular on the NBC soap opera for two years and was let go from the show before her contract was up.
"… I was devastated," she wrote. "Even so, I picked myself up, started thinking outside the box, and decided to try real estate. I figured you never know, maybe I'd end up with my own show on HGTV one day."
About a year after getting her license, Chrishell was approached to join the Oppenheim Group and be featured on 'Selling Sunset'.
5. She won't fake it for the cameras.
Since joining 'Selling Sunset,' Chrishell has earned headlines– and even a best fight nomination at the MTV Movie & TV Awards– for her relationship with Christine Quinn. The pair aren't friends on- or off-screen, so Chrishell was a little surprised when she was invited to Christine's engagement party.
"I hadn't spoken to her in nearly a year, I'd met her fiancé once for maybe five minutes, and it felt weird to me to jump from that to suddenly being at her engagement celebration, pretending that nothing had happened," Chrishell wrote. "It felt fake and inauthentic, which is ironic, because I feel like she kept calling me fake."
Chrishell declined the invitation and sent flowers.
Under Construction: Because Living My Best Life Took a Little Work is now available from Gallery Books.
You can order it using The Ashley's Amazon Associate link below!
RELATED STORY: 'Love Is Blind,' 'Selling Sunset' & More: Here Are the Most-Searched Netflix Reality Shows in Each State
(Photos: Instagram)