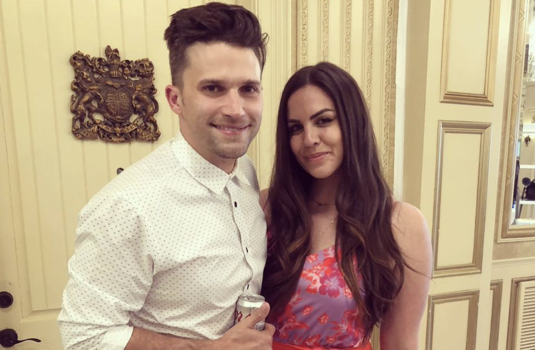 After 12 years together and five years of marriage, Vanderpump Rules couple Katie Maloney and Tom Schwartz are calling it quits.
The "Bubba" duo, who became engaged during Season 4 of 'Vanderpump Rules' and went on to tie the knot in front of cameras the following season, are currently spending time apart, The Sun reports.
"Katie and Tom have split and gotten back together and split and gotten back together," a source close to the couple told the outlet. "They're currently not together, no. She's doing her own thing right now."
The source noted that Katie and Tom remain cordial and continue to interact with one another due to their mutual friend group; however, they are both focusing on themselves.
While Katie hasn't filed for divorce yet, she allegedly "feels the fault is on [Tom]."
" … he had his chances to be better but he didn't step up to the challenge," a source added. "Now [Katie] is focused on her own happiness, something that wasn't prioritized in their marriage."
As longtime 'Vanderpump Rules' fans may recall, Tom previously cheated on Katie during a trip to New York City– two years after the pair said "I do"– and the aftermath of his transgression played out during Season 6.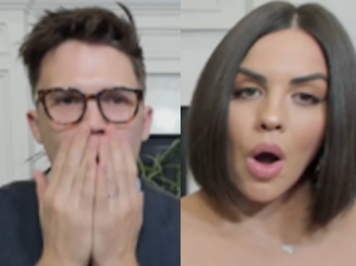 While neither Katie nor Tom have confirmed the rumors regarding their split, 'Vanderpump Rules' fans were quick to notice a photo Katie shared on Instagram last week, in which her left hand was prominently displayed sans wedding ring.
Katie and Tom will be the second 'Vanderpump Rules' couple to divorce after marrying on the Bravo reality series. (The first to do so were Scheana Shay and ex-husband Mike Shay, who married in 2014 and went on to divorce in 2017.)
UPDATE! On Tuesday, Tom and Katie confirmed their split via a statement posted to Instagram. In his statement, Tom made it clear that it was Katie who initiated the breakup, and that he was not happy about it.
"I never thought I would have to make an announcement like this," Katie wrote. "But I feel it's important that I'm open about my life with you. After 12 years on an adventure through life together, Tom and I are ending our marriage.
"This ending is not met with resentment or animosity, no sides to choose," she continued. "We have deep admiration for one another that will always remain and we cherish our friendship. Although we may be on different paths, we will continue to love and support one another's happiness. Thank you all for the kind words and support."
View this post on Instagram
In his statement, Tom was a bit more candid.
"Well this sucks. How am I supposed to capture 12 years of love in a f**kin canned Instagram caption?" he wrote. "What picture am I supposed to use? Is there a go-to breakup font? Wanted to clear the air on some rumors floating around. Katie & I are separating.
Tom said that, although he and Katie are splitting, he's not sure it will lead to divorce.
"I'm not quite ready to use the 'D' word bc it's too painful," he wrote. "Yes my heart aches but I'll be OK. Not looking to evoke any sympathy here. I'm not the victim. Not going to write too sad a song.
"Fully respect Katie's decision and we've had healthy, productive conversations about it," Tom continued. "It would be far sadder if she decided to stay with me whilst not happy."
View this post on Instagram
Tom went on to ask for privacy (while acknowledging that the request is kind of ridiculous, given that he and Katie are on a TV show). Instead, he asked fans to be kind, and not make snap judgements based on what they've seen of the relationship on 'Vanderpump Rules.'
"If I was watching us on 'VPR' for the last nine years, I'd be making them too," Tom wrote, later adding, "but I'm telling you we had some of the most blissful, romantic, fun times humanly possible over the course of our relationship. I'm talking heaven on earth level joy. She taught me so much about love and being a better partner."
Tom opened up about how the split has him feeling.
"It's hard not to feel like a statistic," he wrote. "Another failed marriage. I don't look at it as a failure. As sad as I am, still happy to say there's no anger or bitterness."
He stated that he still has "so much love" for Katie and her family, although he admits they were never a "model couple."
"So I'll shut up now and say it one last time, love you Bub. Always & forever you'll be in my heart. On my ass? Maybe not so much.
RELATED STORY: 'Vanderpump Rules' Star James Kennedy Says He "Dodged the Bullet" By Not Marrying Raquel Leviss After Raquel Posts Photo Celebrating Their "Unengagement"
(Photos: Instagram; Bravo)