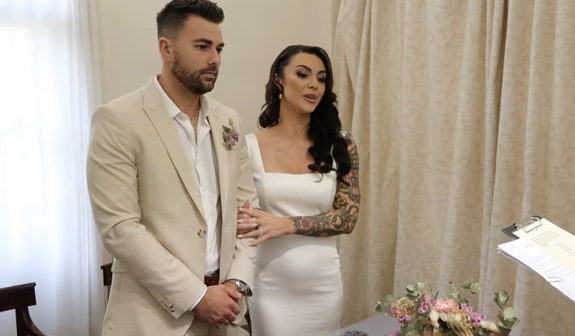 Kailah Casillas and her fiancé Sam Bird have tied the knot!
In a video posted to YouTube on Sunday, The Challenge star and former Ex on the Beach: Peak of Love star revealed to fans that they secretly wed at the beginning of the month in Gibraltar– a location Sam called "a really easy place to get married."
(The Ashley will save you the Google and tell you that Gibraltar is a British territory off the coast of Spain.)
"Everything was so smooth sailing," Kailah said in the video. "I couldn't have asked for a better day."
The couple stated at the beginning of their YouTube video that they didn't want a "big wedding." They did, however, want "somewhere with sun, somewhere we can party, somewhere with vibes."
Kailah— who has already added Sam's last name to hers on her Instagram bio– wrote that they were the only ones present for their ceremony, which took place on March 3.
"We eloped! I never dreamt of having a big wedding, so we decided to take a trip to Gibraltar and do it the most intimate way possible, just us," Kailah captioned a wedding photo posted on Instagram. "I can't wait to spend the rest of my life with you, @samrobertbird"
Though Kailah and Sam said their vows in a private ceremony, two of Sam's friends later joined the married couple for post-wedding celebrations.
Kailah and Sam announced their engagement in August 2020 after making things official in December 2019.
About a month before Kailah and Sam began dating, Kailah broke up with her longtime, live-in boyfriend Mikey P to go to the UK for a brief fling with her 'Challenge' co-star Stephen Bear.
Watch Kailah and Sam's elopement video below!
RELATED STORY: Oh Baby! 'Teen Mom OG' Star Cory Wharton & Girlfriend Taylor Selfridge Are Expecting Second Child Together
(Photos: YouTube; Instagram)