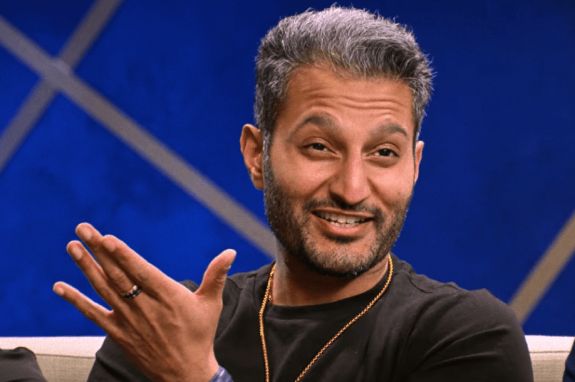 Shake Chatterlee is making the rounds— and likely making his former Love Is Blind castmates angry.
Shake— who quickly became a villain on the Netflix reality show's most-recent season— appeared on The Domenick Nati Show earlier this week to talk about his new girlfriend Emily Wilson, continue to shade his ex Deepti Vempati, and discuss why his 'Love Is Blind' Season 2 cast mates don't like him.
On the possibility of marrying his new girlfriend Emily: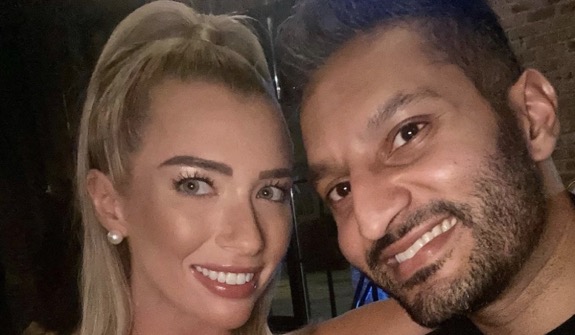 Shake said he and his new girlfriend Emily have already begun to discuss getting married, despite their relationship being very new.
"We've talked about it, yeah," he said. "I mean, not like when are we getting married, but more like, I'm not gonna be spending my time with someone who I'm not ready to, like, commit to big time now. Like, I'm not gonna make it official with somebody I'm not, like, ready to be serious with."
While on the topic of marriage, Shake insisted he went on 'Love Is Blind' "ready to get married," and even though it didn't work out that way, he's at a point in his life where that's what he wants.
" … I want a forever partner and basically [Emily and I] kind of cut to those points pretty quickly," he said. "Let me just say, this is the happiest I've ever been. I'm like, totally in love."
Shake added that he and Emily most likely won't tie the knot this year, calling the suggestion "a pretty aggressive move."
On his feelings that Deepti is playing the victim: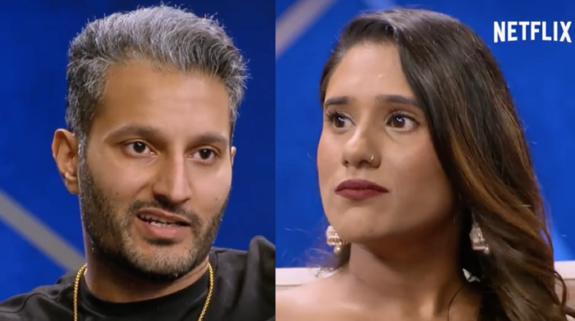 Shake also got into the details of his relationship with his almost-bride Deepti, revealing the two never had sex during their relationship, despite having "many opportunities where we could have."
" … I felt in my heart of hearts that I didn't want my body to make a promise to her body," the veterinarian/DJ said, before claiming sex is more meaningful to women than it is to men.
" … You know, as a scientist I'll say this: women release a lot of oxytocin when they have sex and oxytocin is a love hormone," he said. "So when you have sex with a woman, there's a chemical pair bonding that happens that is, like, very powerful and I didn't feel like it was right of me to do that when I was having such a tough time committing to the relationship."
Shake went on to say that as a man, having sex isn't "that big of a deal," because "if you're horny enough … you could have sex with someone you don't necessarily feel is going to be a long-term partner."
"I wasn't attracted enough to make that commitment to [Deepti]," he added.
Shake said he and Deepti haven't really spoken since the reunion and he's "hurt" that she's "playing up this victim thing so hard when we had so much fun and I took so good care of her."
On why he doesn't speak to the other 'Love Is Blind' cast members: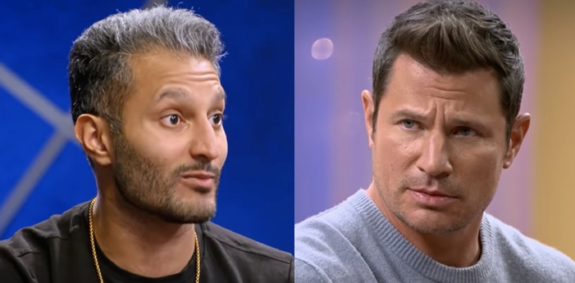 During the reunion, viewers saw multiple cast members (and hosts) express their frustration/outright disgust for Shake, so it should come as no surprise that he hasn't been spotted hanging out with anyone from the cast at Nobu since the show wrapped. Shake also accused the Season 2 stars–- aside from himself, of course–- of doing and saying anything to "protect their image."
"That was crazy to me and I started kind of seeing it and calling it out [on the reunion] and they did not like it," he said. " … People will just lie through their teeth to protect their image and align with whoever they need to align with … ."
Shake said the people who were speaking out against him on the reunion were the same people he had been hanging out with "literally a week before the show came out."
"They all knew all of this, but once they knew who was gonna be hated and who was gonna be loved, they jumped ship and aligned themselves [against me] … ," he said.
Shake also called out Kyle Abrams for revealing on the reunion that he should've proposed to Deepti instead of Shake.
"I was literally watching the Super Bowl with him and Deepti and Shayne [Jansen] one week before that," Shake said. "So to feel that, like now the cameras are on you're gonna say something like that. Like, why didn't you tell me the 50 times we hung out before? That was saved on purpose to be a dramatic statement, like, kind of at my expense, even though I didn't really feel hurt by it … ."
Shake confirmed he isn't friends with anyone from the cast, nor does he communicate with any of them.
"Why would I?" he said. "They revealed their character."
You can watch Shake's full interview with The Domenick Nati Show below!
RELATED STORY: Couples On the Verge of Tying the Knot Will Get Married or Move On in New Netflix Dating Series 'The Ultimatum': Watch the First Trailer!
(Photos: Netflix; Instagram; YouTube)