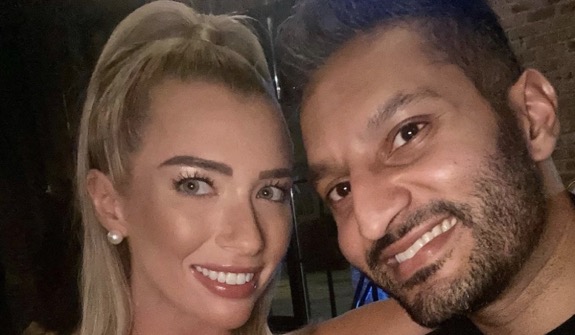 Abhishek "Shake" Chatterjee is off the market– again.
The veterinarian/DJ/undisputed villain of Love Is Blind Season 2 revealed on social media this week that he has a new love in his life nearly a year after Deepti Vempati made the wise decision not to marry him on their wedding day.
Shake debuted his new girlfriend in a carousel of photos and videos, along with a caption that seemed like a dig at Deepti.
"Good things come to those who don't settle."
As The Ashley told you last week, Shake posted an apology to Deepti on social media for "some of" the things he said on the show about her– "things that honestly just could've been left unsaid or could've been said differently. Things that never should've been on national television."
Shake said, although he knew his and Deepti's relationship wasn't going to end in marriage, he didn't want what they had to end either.
"I loved every second of it," he added. "I'm so, so sorry that I hurt you with my words. That's the last thing I wanted from all of this. I'm sorry, Deepti."
While Shake disabled comments on the post announcing his new girlfriend, he went on to share a follow-up post inviting followers to share their thoughts on his announcement.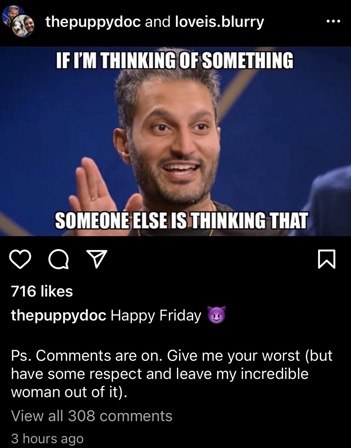 "Happy Friday," he captioned the post. "Ps. Comments are on. Give me your worst (but have some respect and leave my incredible woman out of it.)"
After watching Shake make multiple comments on 'Love Is Blind' about Deepti's appearance throughout his engagement to her, fans took full advantage of the open comment section on his post, with many sharing their thoughts on his new relationship, as well as the way he chose to announce it.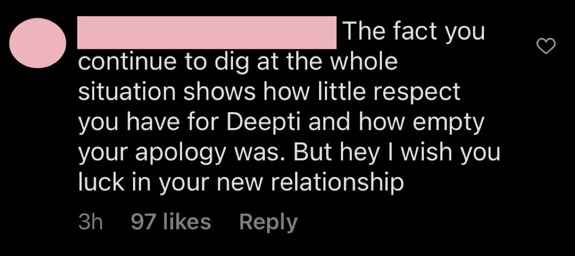 "The fact that you continue to dig at the whole situation shows how little respect you have for Deepti and how empty your apology was," one person commented. "But hey I wish you luck in your new relationship."
A number of comments called out the self-proclaimed "self esteem coach" for being insecure, while others expressed sympathy for his new girlfriend and even speculated the relationship was just another one of Shake's attempts to stay relevant.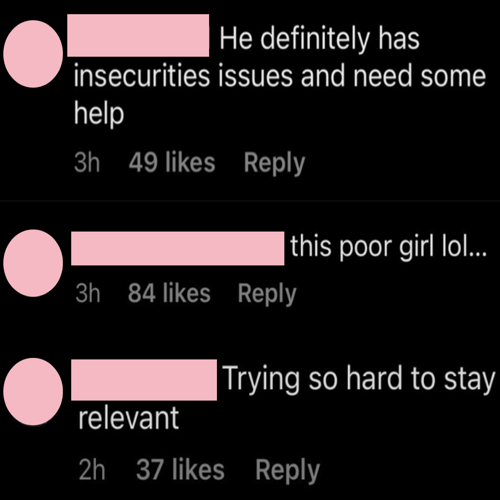 Publicity stunt or not, Shake's girlfriend– a woman named Emily Wilson who lives in Miami, according to her Instagram bio– appears to be on-board with Shake's decision to make things Instagram official, as proven by her latest Instagram Story.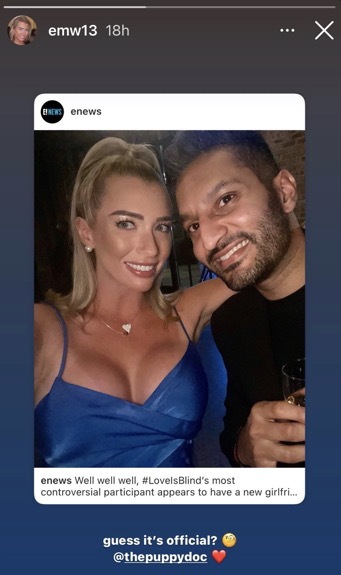 Earlier this week, Shake spoke with Us Weekly about Emily.
"We're both so in sync that we can't help but be excited," he told the magazine. "I'm an open book. I'm like a golden retriever — I'm wagging my tail. I'm just happy to talk to anybody about anything and I felt such a strong connection with her."
He also revealed that Emily has already met his parents.
"We had a fun little afternoon and it just felt natural, it felt right. I don't know where this is going to go but I can see it going the whole way," he said.
Emily is 27, and met Shake while they were at a hotel pool party. He claims that Emily didn't watch him on 'Love is Blind.'
"Her friends recognized me. She's never seen the show," Shake told Us Weekly. "She did not know who I was before meeting me. … She prefers I wasn't in the spotlight, which is tough for me because I love attention, but we are making it work."
RELATED STORY: 'Love Is Blind' Star Shake Chatterjee Apologizes to Ex Deepti Vempati for His Behavior On the Show: "I'm So Sorry That I Hurt You With My Words"
(Photos: Instagram)