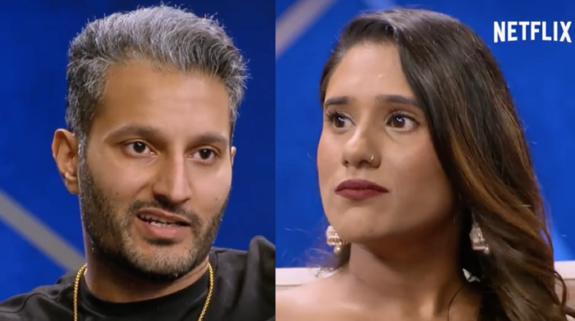 After making multiple comments about Deepti Vempati's physical appearance throughout Season 2 of Love Is Blind, Abhishek "Shake" Chatterjee is finally giving his ex-fiancée the apology she deserves.
As fans of the Netflix series may recall, despite a shaky rough start with the women in the 'Love Is Blind' pods, Shake managed to open up to Deepti and the two ultimately got engaged before ever meeting face-to-face.
While the couple's relationship appeared to be going well initially, Shake seemed to revert to his old ways after the show's engaged pairs arrived to Mexico, and he soon began expressing in confessionals and to other contestants that he wasn't physically attracted to Deepti. His comments only worsened after he and Deepti returned to Chicago to meet each other's families and begin planning their wedding.
Fortunately, Deepti ultimately decided to turn Shake down at the altar– a choice she later revealed was influenced by warnings she received from others on the show about the comments Shake was making behind her back.
In the weeks since the show began streaming, Shake has vehemently denied any wrongdoing on his part and appears to be leaning all the way in to his new-found reality TV villain persona. (Does this man really need his own podcast?)
While Shake maintains "the truth only offends those who live outside of it," he did take a moment to issue an apology to Deepti this week for the hurtful things he said behind her back during their engagement.
"I wanted to take this opportunity to really just say sorry to a woman that I know I hurt," Shake stated in his video. "Deepti, I am truly sorry for some of the things that I said. Things that honestly just could've been left unsaid or could've been said differently. Things that never should've been on national television.
"During the time that we were filming, you were my best friend and even though I knew our relationship wasn't going to end in marriage, I didn't want what we had to end either. I loved every second of it. I'm so, so sorry that I hurt you with my words. That's the last thing I wanted from all of this. I'm sorry, Deepti."
Shake's apology video comes just a week after he posted a very different video claiming he didn't "feel inclined" to feel "sad" or "sorry" about his behavior on the show.
" … I'm not sorry," he said. "I think I handled the situation as best as anybody in my situation could. And at the end of the day, I'm gonna live my best life going forward. You don't have to like me, only I have to like me– thankfully– and that's real life."
RELATED STORY: Couples On the Verge of Tying the Knot Will Get Married or Move On in New Netflix Dating Series 'The Ultimatum': Watch the First Trailer!
(Photos: Netflix; Instagram)