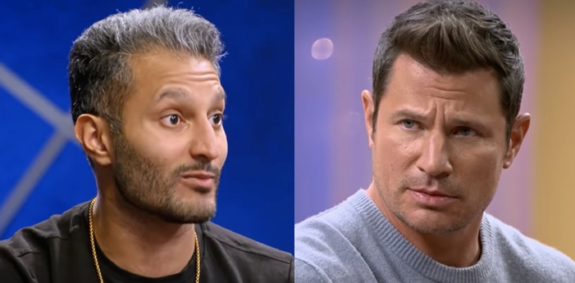 Love Is Blind Season 2 has ended, but viewers are still trying to wrap their heads around contestant Abhishek "Shake" Chatterjee's actions on the show, which were even called out by show hosts Nick Lachey and Vanessa Manillo Lachey during the reunion.
In the weeks since the show premiered on Netflix, Shake has begun trying to capitalize on the villain role he earned during Season 2. (He announced on Instagram that he recently signed with Alex Ion of Ion Talent Management, whose client list includes Damian Powers and Matt Barnett of 'Love Is Blind' Season 1.) However, a comment made by Nick during the reunion appears to have struck a cord with Shake causing the Tesla-driving veterinarian/DJ to unleashed on Nick in a rant posted to Instagram on Monday.
For those who haven't watched Season 2, Shake made a bad impression among many women in the pods right off the bat by asking them superficial questions in order to get a better idea of the women's appearance and weight. (We're personally still cringing over that "shoulder sit" question he asked multiple women in the pods…)
Despite the bad first impression Shake made with most of the women the pods, fellow contestant Deepti Vempati decided to give Shake a chance and try to get to know him on a deeper level. The two ultimately got engaged in the pods and upon their first face-to-face meeting, Shake appeared to be very attracted to his future wife.
Unfortunately, shortly after the six engaged pairs arrived in Mexico, Shake reverted back to his early-pod days and began expressing in confessionals and to other contestants that he didn't feel a strong physical attraction to Deepti. Shake's comments only continued (and worsened) after he and Deepti returned to Chicago to begin planning their wedding, and Deepti ultimately turned him down at the altar.
During an exchange with the co-hosts, Shake– in an attempt to once again explain his behavior on the show– made a statement about people being "animals" when it comes to being attracted to one another, which didn't sit right with the former boybander.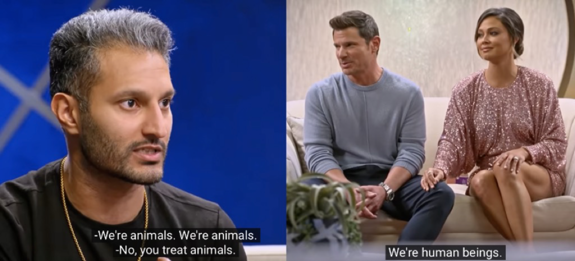 "You don't choose, it's nature, baby," Shake said. "We're animals. We're animals."
"No, you treat animals," Nick replied. "We're human beings. Now I see why you don't treat human beings."
Shake took Nick's comment as a slight on vets, so he headed to Instagram to fire back at Nick for making the dig about his career… but not before trying to justify his own behavior on the reunion. In the now-deleted post, Shake argued, "You put a doctor on the show… of course you were going to see some critical thinking."
"Speaking of which, @nicklachey you're a massive t*at for your comment dragging vets," he added. "You do realize that becoming a veterinarian [is] considerably more difficult than becoming a human doc right?"
Shake also insulted Nick's hosting skills and asked him to "say hi" to Vanessa for him– the latter referring to the inappropriate comment Shake made on the reunion that the only person on-set he was physically attracted to was Nick's wife and co-host, Vanessa.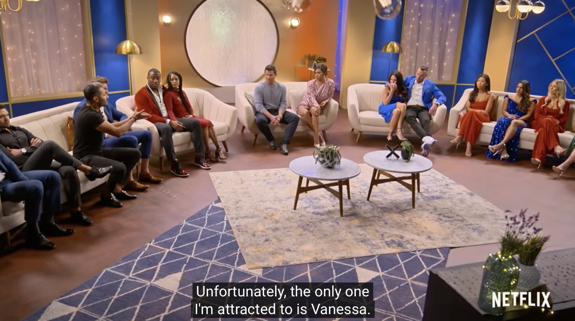 "Also, consider learning how to be an impartial host before the Season 3 reunion airs," Shake wrote. "Sorry I didn't play along with your narrative like the rest of these puppets. Say hi to @vanessalachey for me."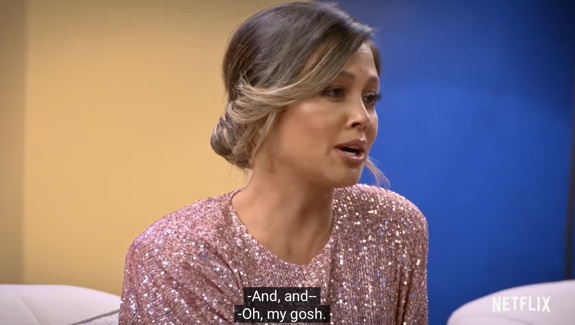 Watch Nick's Shake-slam below!
RELATED STORY: 'Love Is Blind,' 'Selling Sunset' & More: Here Are the Most-Searched Netflix Reality Shows In Each State
(Photos: Netflix; Instagram; YouTube)