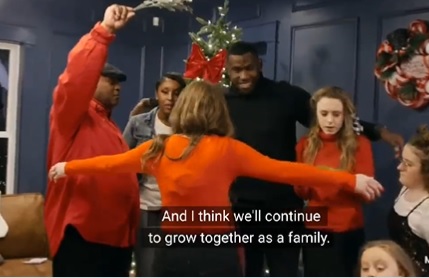 Gather 'round kiddies; it's time for another episode of Teen Mom 2! Things are about to get craaaazy (and by crazy I mean "barely watchable"). Hold on to your Lunchables!
We start up 'er in the holler with Leah. She's still reeling from not being able to take the "rill estate" exam last week. (Apparently we are still going to be blaming that 'technical error' for Leah not getting to take the test. Sure, Leah…. I believe you. There, now we're both liars!)
Anyway, Jaylan calls Leah up and has some good news for her. Somehow, he's made it so that he can move to Leah's holler, instead of the holler three hours away. Apparently Jaylan's planning to "do the Army" remotely, so he can work in whatever ding-dang holler he is banging someone in!
I think that's nice.
Naturally, Leah's super-excited to have Jaylan (and his ample man meat) within ticklin' range.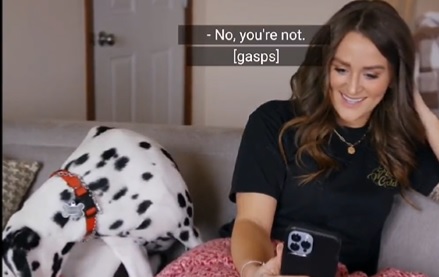 Jaylan and Leah— who, remember are "taking things slow" in their relationship— also make plans to visit Jaylan's family up 'er in Charlotte for Christmas.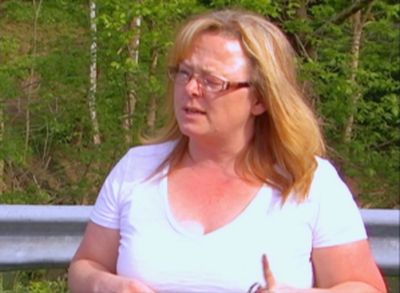 Over in California, Ashley's salon is open for business and Bar is still keeping up with his court-ordered job at the cannabis club. In addition to joining the working class, Ashley and Bar have also decided to get on board with the vaccination, despite Ashley's mom, Tea, being very much against it. Before breaking the news to Tea, Ashley meets up with her sister, Chris, to chat while sipping some "boozy smoothies."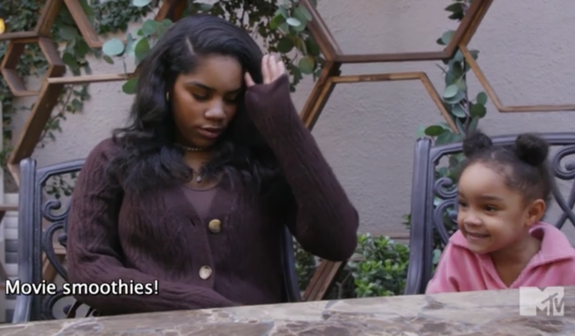 Ashley tells Chris how busy she's been since the salon opened and Chris is thrilled for her sister and eager to come in and take full advantage of that family discount. (#IfItsForFreeItsForMe)
Ashley goes on to tell Chris that she's made an appointment to get vaccinated. Chris tells Ashley she can be the "guinea pig" and depending on the outcome, she may reconsider getting vaccinated herself.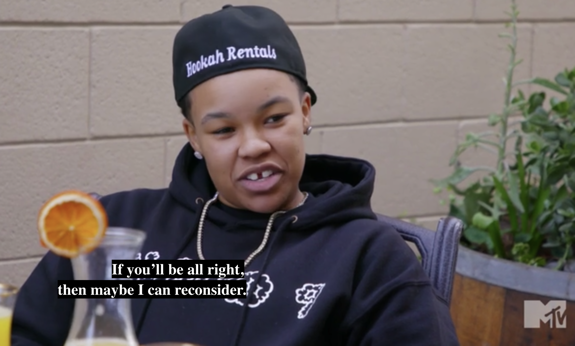 While Tea is very much against her daughter– or anyone, for that matter– getting vaccinated, Ashley feels like it's none of her mom's business.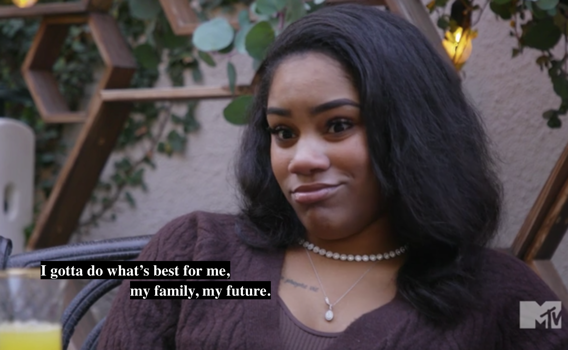 Meanwhile in Delaware, they kick things off with Kail one-upping her previous best in the "Petty Betty" department by taking it upon herself to announce that Chris and some other broad are having a kid.
While Kail is fine with spreading the news all over The Instagram, she tells the producers she can't discuss Chris' latest crotch dropping.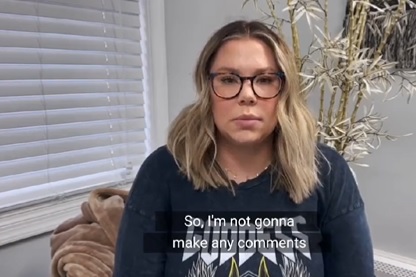 Producer Anne-Marie knows the higher ups ain't going to be happy with that "no comment" comment, so she heads to Kail's podcast office to try to talk her into spilling the beans about who Chris sperminated.
"How's it going with Creed and Lux…and Chris?" she casually mentions.
It doesn't take much to get Kail to start yapping about Chris and his new baby. Kail says that she hopes that when Chris' new kid comes he forgets all about Lux and Creed and doesn't want "anything to do with them."
W…T…F….
Kail says that, while she would want the boys to have a relationship with their half-brother, he'll live an hour away and it's tough to fit in that drive when you've got 1000 podcasts to host, three baby daddies to fight with, two producers to dodge and a lawsuit to file (and a partridge in a peartree?)
Kail then basically demands that Chris (and the chick he knocked up) move closer to her if he wants to see his kids. She then shuts down the conversation.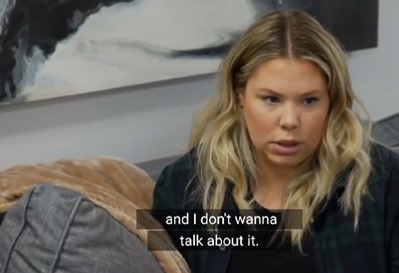 Over in Indiana, Jade and Cloughie return after visiting Sean at Case de Rehab in Texas. Jade is eager to get her new house renovated (i.e. get the triple deadbolts installed before Sean's street youth friends— or, you know, Christy– come a'knockin' for some of Sean's leftover pharmaceutical "remedies.")
Sean comes home in three weeks, so Jade only has a few weeks to hang the neon yellow "Live, Love, Laugh" signs she got off Wish.com.
Oh, and she still has to deal with "that kid" too…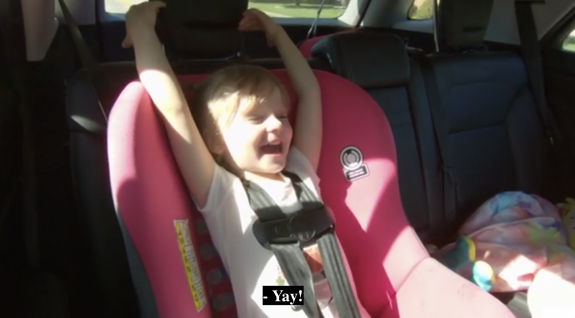 Until Sean comes home, Jade is still allowed to speak to him weekly on the phone and guilt trip him about how the distance is "weighing on" Klowee. Right on schedule, Jade's friend Chau pops up to serve as a contractually-obligated sounding board.
Jade tells Chau that when Sean comes home, she may have him stay in an Airbnb for a few days so they can ease back into everything, as she's gotten used to being on her own. After all, it's nice not to have to shovel a man-child over on the couch when you want to watch your "stories" after a long day of work and/or yelling at your kid.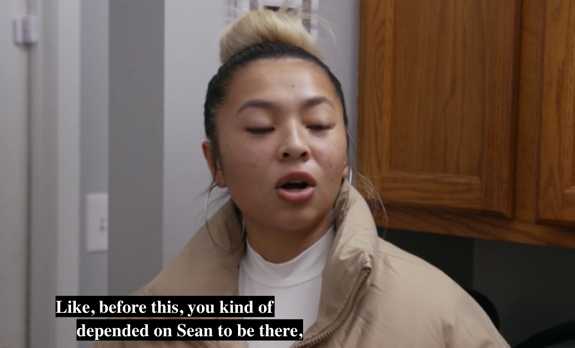 Jade says she and Sean haven't had a conversation about his post-'hab living sitch, but she plans to figure things out when the time comes.
Later on, Jade and Chlohee swing by their new house and talk about which rooms will be used for what (and who). Clougheeey insists that her dad have a place to sleep at the new place, but Jade seems skeptical.
I mean…what could go wrong? It's not like they've tried all this before.
Oh…wait…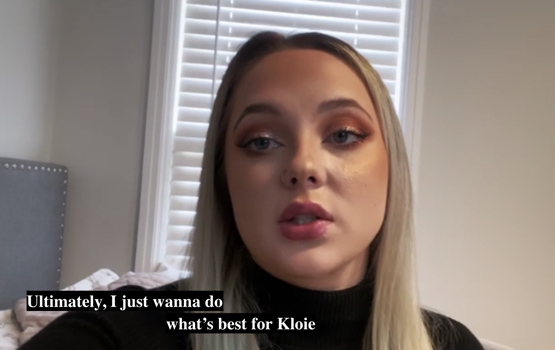 Back in California, Bar is at home with Holly lecturing her on the importance of eating vegetables, while Ashley heads to a nearby parking lot to FaceTime her mom to let her know she's getting vaccinated the following day.
"We're not doing that s**t," Tea responds, to which Ashley points out that she is no longer part of Tea's "we" and is now part of her own "we" with her family…or something.
Ashley tells her mom that the alternative to getting vaccinated is "giving up on my own salon." Tea explains that for her, vaccines are an "issue with God," and she doesn't support any sort of vaccinations, COVID or otherwise.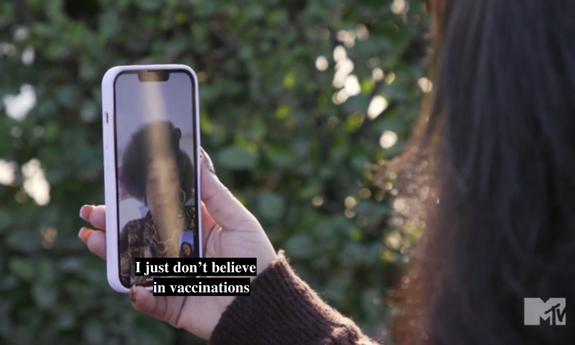 Ashley tells her mom that from a medical standpoint, vaccines "are proven to work." Tea says she's "saddened" by Ashley's decision, but Ashley isn't letting it change her mind.
Later we see Ashley and her friend head to the pharmacy to meet Bar so they can get vaccinated together.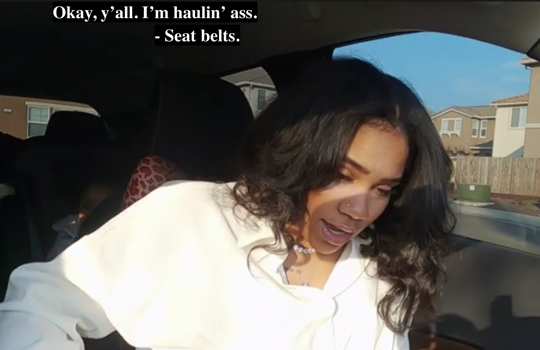 After leaving the pharmacy, Ashley tells her friend she feels "like part of the elite."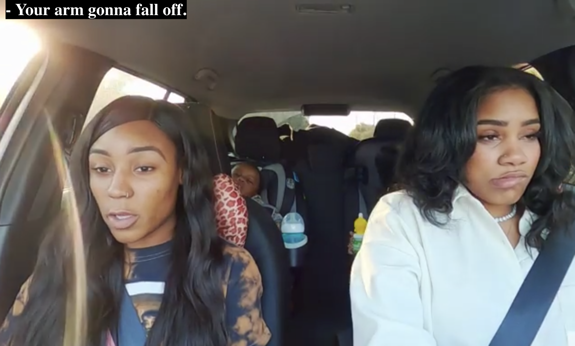 Back in Delaware, Kail lets Creed run wild through Lux's basketball practice (as you do), while we actually get to see a little bit of Chris this episode. He has his toasty friend Bread over for a chit-chat, confirming that he did, indeed, knock another chick up.
Chris says that he and his new spawn's mom weren't in a relationship, but that they knew each other for a while before they did the condom-less horizontal mambo. He says that this time is easier, since the baby mama lets him participate in the preparation for the new baby, unlike someone.
Bread says that anything will be easier than the s**tshow he has going on with Kail. He predicts it will be "more healthier."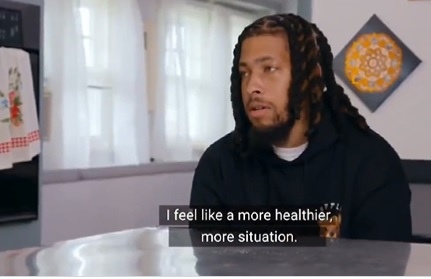 Chris promises to let Creed and Lux spend time with his new baby.
Later, Chris posts a photo of a baby head, so we can assume his latest offspring has shot out of his second baby mama's Spawn Chute.
Well, that's a line you don't get to write very often. Actually, scratch that…this is 'Teen Mom 2,' so that is something The Ashley gets to write quite frequently.
We get to hear some mumblings from Chris' podcast, where he talks about how "dope" it is to have three kids by two baby mamas.
Meanwhile, Kail is in Atlanta, feeding her podcast co-host Lindsie cookies…or something. Shockingly, Producer Anne Marie doesn't want to film the full segment about Kail and Lindsie shoving cookie dough into their food chutes, so she brings up the topic of the birth of Chris' baby.
Kail immediately shoots the topic down, only confirming that "it" had been born.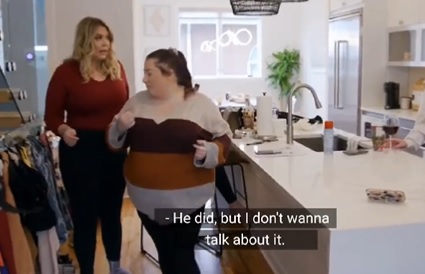 Kail then throws out the legal defense, saying her lawyer confirmed to her that she can't open her trap on TV about Chris' kid.
"That's in writing if you want to read it!" Kail shoots back.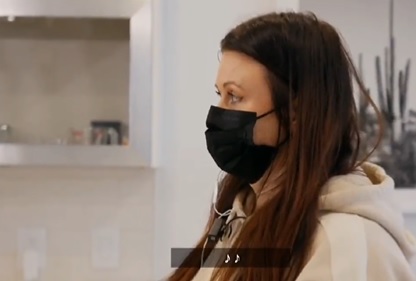 Meanwhile, Leah's shucked the girlseseses and is off to Georgia to help Jaylan pack up his stuff and move it on over to The WV. Leah tells us that she's not going to be moving Jaylan into her house (I mean, not yet…give it a month or two more), so he's renting a place near her.
Later, she collects all of the girlseseses and brings them over to Jaylan's rental home. The girlseses aren't exactly thrilled, but, hey, at least they don't have to have this on-camera conversation at a random park for once.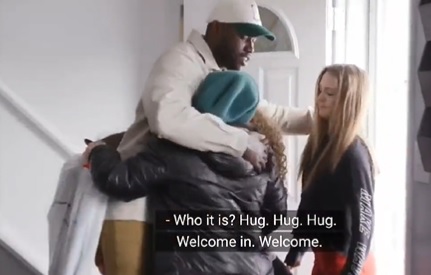 Jaylan has already hung up a "family" portrait that he, Leah and the girlseseses have taken.
Nope, nothing creepy about that…or the fact that they took "family" photos after just a few months…Nope, nothing at all…
Leah presents Jaylan with a housewarming gift…which is just a big portrait of…himself.
You guys… I can not…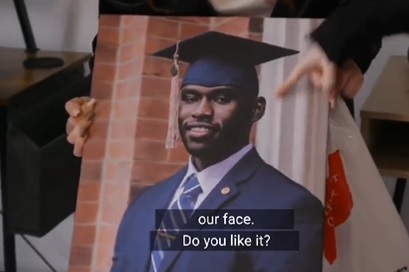 Jaylan takes them into the "working" room, where we see even more portraits of Jaylan…and Leah and the girlseses.
They make all of the plans– to celebrate the upcoming twinseseses' birthday, Thanksgiving, Christmas, everything! (Somewhere deep in the holler, Mama Dawn just threw her cast iron skillet full of vittles at the wall after hearing this.)
Later, they celebrate the twinseseseses' birthday at a fancy restaurant—one that doesn't even get their meat supply from whatever dies out on the highway the night before! They invite Victoria and her litter to join in on the ritzy cuisine. There's also a bunch of randos there who are just happy to be feedin' on something that didn't come from the gas station.
Of course, Jaylan decides he needs to make some big ol' toast, proclaiming himself to be "part of the family." Victoria hilariously shuts him down, telling him, "Not yet!"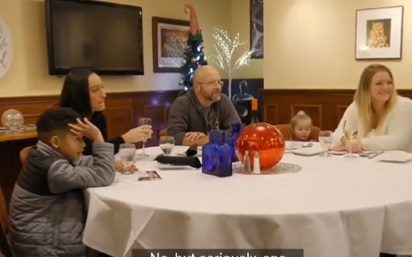 Jaylan basically makes the speech about himself, but does mention "happy birthday to the twins" at some point. Ali and Aleah look over it.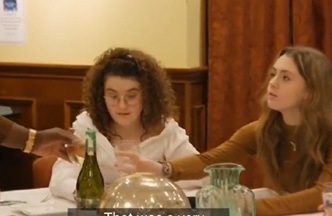 Victoria asks the girlseseses how they feel about Jaylan being in the picture. They both grunt out a one-word answer, and Victoria teases them for being all "teenage" and having an attitude.
Um…I think they're just trying not to say anything rude about the annoying, robot dude their mom's about to be shackin' up with….
The next day, Leah and her litter drive to Jaylan's family's home in North Carolina. They meet Jaylan's twin sister, his dad, and some other family members.
"Everybody looks like Jaylan!" Addie exclaims awkwardly.
Jaylan again launches into a speech, and Ali is not having it. Every time this dude opens his mouth, Ali looks like she'd like to throw Mama Dawn's skillet at him.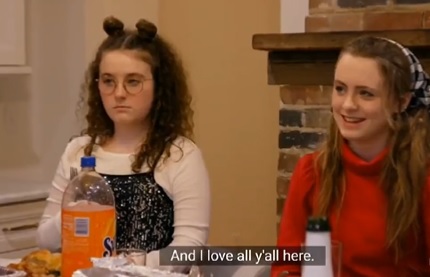 Jaylan later asks his dad and sister (on-camera, naturally) if they like Leah. While it would have been hilarious if they said no (and/or asked why her kid is always mad-dogging Jaylan) they confirm that she's "solid."
Jaylan robotically thanks them for their support. He then calls Ali a grinch, and she denies being Grinchy; she says she simply tells the truth and that no one wants to hear the truth. (Perhaps her "truth" was that it's weird to be playing "happy family" with a dude your mom met a few months ago?)
That's all for this episode. To read The Ashley's previous 'Teen Mom 2' recap, click here!
P.S. The Ashley just realized that she skipped Briana's segment. She will force herself to listen to hours of Luis' DJ remixes as punishment.
(Photos: MTV)