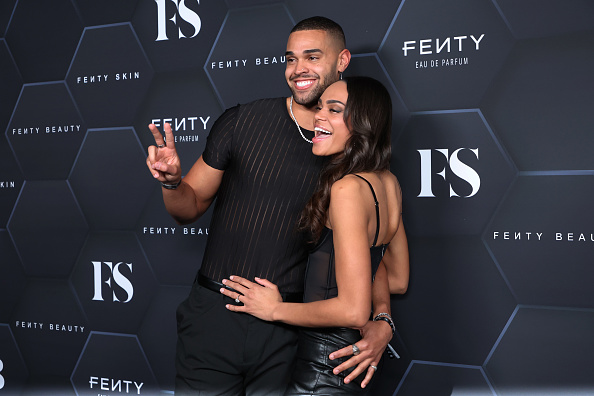 Six months after getting engaged in front of millions of fans on the season finale of The Bachelorette, Michelle Young and Nayte Olukoya have split. The former pair shared the news in separate Instagram Stories.
"I'm struggling to say that Nayte and I will be going our separate ways but I stand with him in knowing the heaviness that is present in both of our hearts as this relationship has been very real for us," Michelle wrote in her Instagram Story Friday. "To you, Nayte, you quickly became my best friend and the love I have for you is incredibly strong. I will never stop wanting to see you succeed."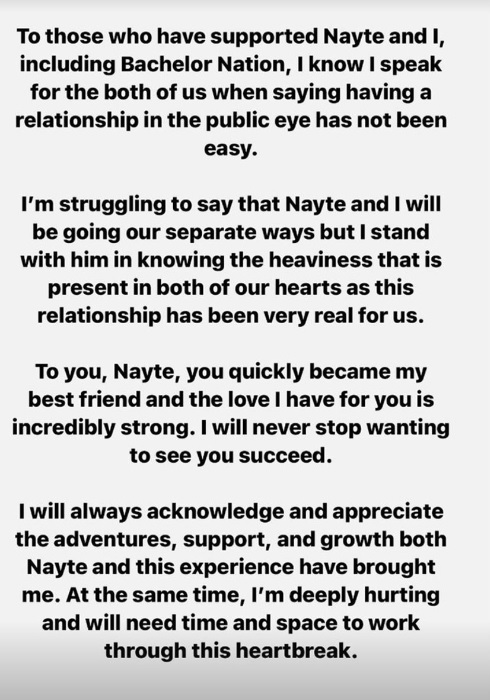 Michelle added that she's "deeply hurting" and will need time to "work through this heartbreak" caused by the split.
Nayte shared a similar sentiment in his Instagram Story Friday.
"When we both started this journey, we were looking for our Soulmates. Our forever. Our best friends," he wrote. "However, as we grow and learn, we also realize that sometimes somebody that you hold dear to your heart isn't somebody that you're meant to spend the rest of your life with."
He asked fans to respect his and Michelle's privacy in the wake of their split.
"Michelle and I are naturally private people, and when it comes to this breakup, we will continue being so," Nayte wrote. "What I do want to share with you all is that this was real. We genuinely fell in love, and we genuinely became each other's best friends."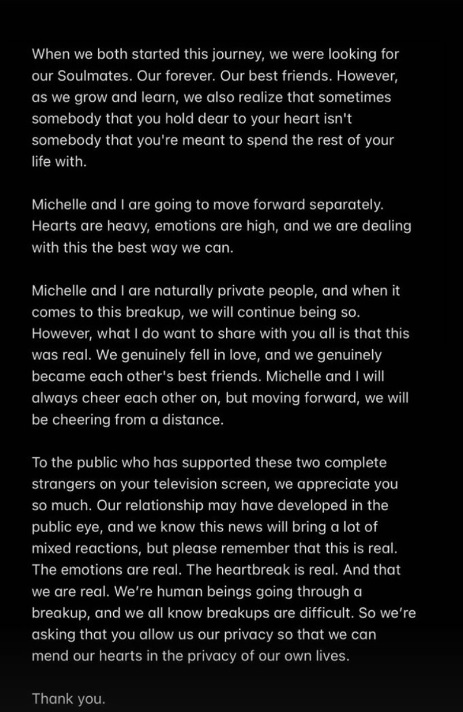 "We're human beings going through a breakup, and we all know breakups are difficult," Nayte wrote. "So we're asking that you allow us our privacy so that we can mend our hearts in the privacy of our own lives."
The split comes less than a month after rumors spread on social media that Michelle and Nayte had broken up because she was seen without her engagement ring, according to People. At the time, Michelle took to Instagram to defend her relationship.
"There is a video circulating of me on a rooftop this weekend and I'm not wearing my engagement ring," she wrote. "And what I will have to say is to the person who is paying close enough attention to catch that moment, you also had to be paying close enough attention to see one of my friends briefly remove my engagement ring to try it on and then place it back on my finger."
Michelle and Nayte are just the latest in a long line of 'Bachelorette' couples to split after their season finale. In the show's 18 seasons, just Trista Rehn and Ryan Sutter (Season 1), Ashley Hebert and J.P. Rosenbaum (Season 7), Desiree Hartsock and Chris Siegfried (Season 9), JoJo Fletcher and Jordan Rodgers (Season 12), and Rachel Lindsay and Bryan Abasolo (Season 13) married. (Ashley and J.P. divorced in 2021 after nearly a decade together.)
The next season of 'The Bachelorette— which features both Rachel Recchia and Gabby Windey as co-leads—is set to premiere July 11 on ABC.
(Photos: Getty Images; Instagram)