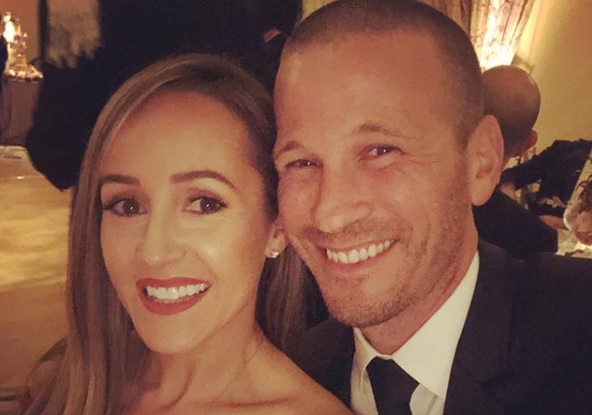 A Bachelorette love story has come to a shocking end.
Seventh 'Bachelorette' Ashley Hebert and her husband JP Rosenbaum — whom she met on the show back in 2011— announced on social media on Wednesday that they are ending their marriage after nearly seven years. The couple married in December 2012 in an elaborate made-for-TV wedding and now share two children, son Ford and daughter Essex.
This marks the first time a married couple from 'The Bachelorette' has split. (Several married couples from Bachelor in Paradise have divorced but none from 'The Bachelorette.')
"It is with a heavy heart that I share with you that, after months of separation, JP and I have amicably decided to go our separate ways," Ashley's post on Instagram began. "We created the most beautiful children and shared memories that will never be forgotten. Our differences have taken a toll on our relationship and after years of attempting to repair the damage, we've decided that it is in our family's best interest to create new and separate lives for our children.
"Please respect our privacy as we move forward with the newness of our lives. Our ultimate focus is to create stable and healthy lives for our children. Thank you for your love and support throughout the years. Wishing you all love, happiness, and good health."
JP also announced the breakup on social media, adding his own verbiage to Ashley's post.
"I have written and rewritten this post dozens of times and each time I feel the same level of disbelief and extreme sadness," he wrote. "While I realize that this will come as a complete shock to everyone, I can assure you that this is something that has been developing in our relationship for quite a while. It is with a heavy heart that I share with you that after months of separation, Ashley and I have amicably decided to live our lives apart from one another.
"Please please please know that there is no one to blame, that there's no event that triggered this decision, that no one is the victim, and that we've done absolutely everything we possibly can to try to salvage this marriage," he continued. "I think we've both come to realize that we are just two very different people, with very different personalities and perspectives, who just don't see eye to eye on a lot life fundamentals, those which are the building blocks for a happy and healthy marriage."
Ashley and JP— who appeared on Marriage Boot Camp: Reality Stars back in 2017— are one of four couples matched on 'The Bachelorette' who have married. (The other couples are Season 1's Trista and Ryan Sutter; Season 9's Desiree Hartsock and Chris Sigfried; and Season 13's Rachel Lindsay and Bryan Abasolo. JoJo Fletcher and Jordan Rodgers are still together but have not tied the knot yet.)
Ashley and JP's split shocked plenty of the franchise's fans, and even 'Bachelor' guru Reality Steve.
"There is very little that shocks me in Bachelor Nation. This does," he tweeted Wednesday night after the news was announced.
"I no longer believe in anything. Everything is awful," one fan wrote in the comment section of JP's post.
The couple's social media accounts did show signs of trouble in the marriage. Ashley had not been featured on JP's Instagram since June, and even then it was for a sponsored post. Before that, though, he frequently sang Ashley's praises on social media. In his Mother's Day post from May, he professed his love to her.
"That pretty little number all the way on the right, her name is Ashley, but around these parts she's known as Super Mommy. #happymothersday to the woman who does it all for this family. I'm grateful beyond words. I love you @ashleylynnrosenbaum," JP wrote.
JP had not been featured on Ashley's Instagram since February.
Ashley and JP are just the latest couple to split from the 'Bachelor' franchise. Last month, Season 14 'Bachelorette' Becca Kufrin confirmed she had split from her fiancé Garrett Yrigoyen. In May, former Bachelor Colton Underwood and his pick from the show, Cassie Randolph, broke up. (Cassie later filed for and was granted a restraining order against Colton.)
Clare Crawley's season of 'The Bachelorette' is currently airing on ABC.
RELATED STORY: Former 'Bachelorette' Becca Kufrin Confirms Split with Fiancé Garrett Yrigoyen
(Photos: Instagram)