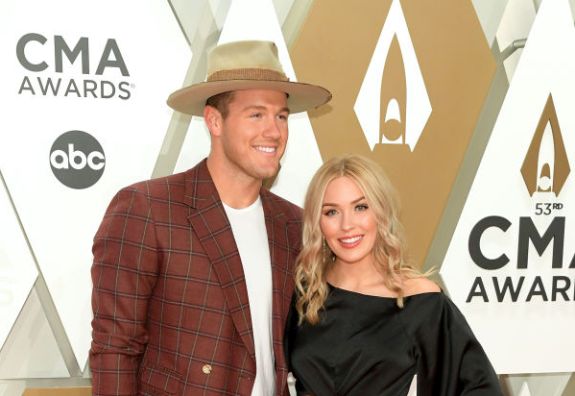 Another couple brought together on The Bachelor has parted ways.
Season 23's Colton Underwood and Cassie Randolph announced their split in synchronized Instagram posts on Friday.
The announcement comes after 'Bachelor' fans noticed that, for the past few weeks, neither Colton nor Cassie had mentioned the other on social media. Both had not responded to fans' comments asking if they were still together.
https://www.instagram.com/p/CAyUCgJnCzv/
"It's been a crazy few months to say the least, Cass and I have been doing a lot of self-reflecting. Sometimes people are just meant to be friends – and that's okay," Colton shared in a caption accompanying a black-and-white shot of the former flames looking out on the water. "We both have grown immensely and been through so much together – so this isn't the end of our story, it's the start of a whole new chapter for us
Cassie's own post announcing the split went live at the same time as Colton's.
https://www.instagram.com/p/CAyUCMIHAey/?igshid=lhaa3cluo070&fbclid=IwAR1JMohPbi8mFsh5wgHTfSpXg-gQC6pfWN_gF4FewEyLpzBFwC8kGdtBqgU
"First off, I want to say this is one of the hardest things I have had to share as neither one of us is quite ready to talk about it yet," Cassie wrote. "However, because our relationship is such a public one, our silence on the matter has been speaking for us. Colton and I have broken up, but have decided to remain a part of each other's lives. With all that we have gone through, we have a special bond that will always be there.
"I love Colton very much and have an enormous amount of respect for him. We have both learned and grown so much these past couple years, and will always have each other's back. Always."
Per his Instagram, Colton has been back in Colorado with his family — and newly adopted German shepherd puppy Zooka — since early May. He last posted about Cassie to celebrate her 25th birthday on April 27. Cassie, still in Southern California, last posted about Colton on April 19 when she shared a promotion for his Coffee With Colton online talk show.
Colton chose Cassie as the winner of 'The Bachelor' in the fall of 2018, but didn't propose. The pair had a brief breakup last summer, but had recently been quarantining together with her family in Southern California. On March 20, Colton revealed he'd tested positive for C0VID-19 in an IGTV video. He later credited Cassie and her family for caring for him during his illness.
https://www.instagram.com/p/B-rzbWjHPAO/?igshid=1uftu3cn7u94c
"I just want to take a second and thank this beautiful woman and her family for taking such good care of me. Not only physically, but mentally too (and I'm probably the most high maintenance patient). She's hardworking, passionate, understanding, kind and has the biggest heart. Her family opened up their doors to us while we were in quarantine and through everything we stuck together," he posted back on April 7.
With Cassie and Colton's relationship over, that leaves only four former 'Bachelors' (out of 24) who are still with a woman from their season. Currently, only Sean Lowe is still with the original woman he chose on his season. However, Peter Weber, Arie Luyendyk Jr. and Jason Mesnick are still together with someone who appeared on their season. (Peter is now dating fifth-place-finisher Kelley Flanagan, while Arie and Jason are each still married to the runners-up from their seasons.)
This is only for 'The Bachelor,' not The Bachelorette or any other 'Bachelor' spin-off show, each of which have garnered more successful relationships than 'The Bachelor' has.
RELATED STORY: Former 'Bachelor' Peter Weber Makes His Relationship with Kelley Flanagan Official; His Mom Barbra Gloats on Instagram
(Photos: Photo by Jason Kempin/Getty Images; Instagram)