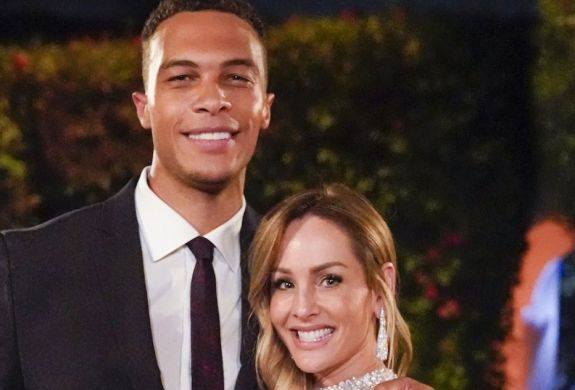 Dale Moss has ended his relationship with Clare Crawley, but he maintains that he and The Bachelorette "will be cool." Clare, on the other hand, seems to disagree.
When asked how he was feeling after calling off his engagement, the former football player told E! News it was "obviously not the greatest situation, but Clare and I have a lot of love for each other and you know, this is the healthiest thing for us right now."
This statement echoes the statement posted to Instagram earlier this week, informing the world that he and Clare were splitting. However, it appears that he forgot to inform Clare that. In a post to Instagram, the former 'Bachelorette' said she read the "joint statement" at the same time the rest of the world did.
"I was made aware of a 'mutual' statement at the same time you all were, so I've needed some time to really digest this," she wrote. "Speaking for myself, my intentions with this relationship have always been very clear, so the truth is I am crushed. This is not what I expected or hoped for and am still trying to process this."
Clare went on to call 2020 "one hell of a year," citing COVID, severe anxiety that she suffered from after the show, balancing a new (and public) relationship, "all while slowly losing my mother." Though things haven't been ideal, Clare said she has "been looking forward to the light at the end of the tunnel."
"Our relationship was not perfect, but I can say that I was genuinely invested with all of my heart," she continued. "I may not have all the answers, but I do know this– I will continue to show up, stand by my word, and be committed to love."
A source told E! News this week that Clare has been "trying to focus on herself right now but is completely devastated." The source went on to claim that Dale officially called things off after realizing he wasn't ready for the level of commitment Clare was asking for.
"Clare and Dale were taking time apart and were working it out, but it led to a definite split," the source explained. "Dale felt that he is not ready for marriage and was not ready to move to Sacramento for Clare. They were making a lot of plans that Dale could not commit to."
As you may remember, Clare wrapped up her run as 'The Bachelorette' early because she was so smitten with Dale, at which point Tayshia Adams stepped up to become the new lead for Season 16. Dale proposed to Clare during the show and the two left together.
When Dale was asked after announcing the split why he and Clare parted ways before ever walking down the aisle, Dale provided little detail.
"Honestly, we've just got a lot going on in our lives right now," he said. "This is just the healthiest thing for both of us."
Still, Dale expects things to remain friendly with his ex, adding "Clare and I will be cool."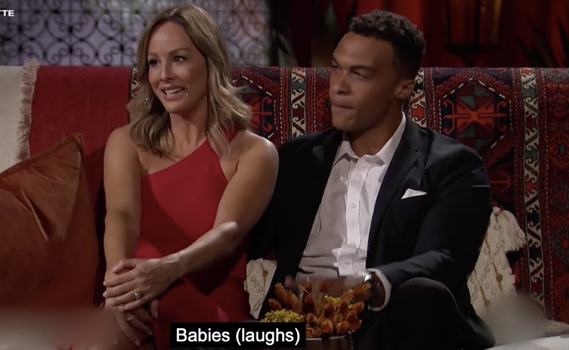 While Dale and Clare are allegedly "in different places in life right now," Dale said he has no regrets about being on 'The Bachelorette.'
"None whatsoever," he said. "I met Clare, you know? That's why I went on the show."
In a new bombshell report posted on Thursday, though, E! News stated that Dale's motives for going on the show were not all about Clare.
We'll give you a moment to get over the shock…
"Multiple sources familiar with the situation tell E! News they believe Moss has been cheating on Crawley throughout their engagement," the site reported, adding that their sources believe Dale has been in contact with a woman in New York City.
"He and the woman in question (E! News has chosen not to name her at this time) have been in communication since at least late 2019, but Moss insisted to Crawley, 39, that theirs was merely a business relationship," the site reported, adding that Clare was always skeptical of Dale's relationship with this woman.
"The first source tells E! News the woman 'has been talking to her friends about sneaking around with Dale,'" the site reports.
Clare reportedly saw proof that Dale was hanging out with this woman whenever he was in NYC. E! News reports that Dale and the woman were seen on what appeared to be a dinner date in NYC in November, leaving the restaurant hand-in-hand.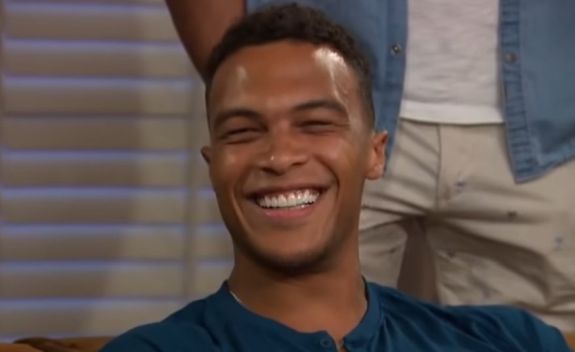 Dale has not commented publicly on these new allegations.
RELATED STORY: First 'Bachelorette' Divorce! Ashley Hebert & JP Rosenbaum Announce They're Separating After Nearly 7 Years of Marriage
(Photos: Instagram; ABC)