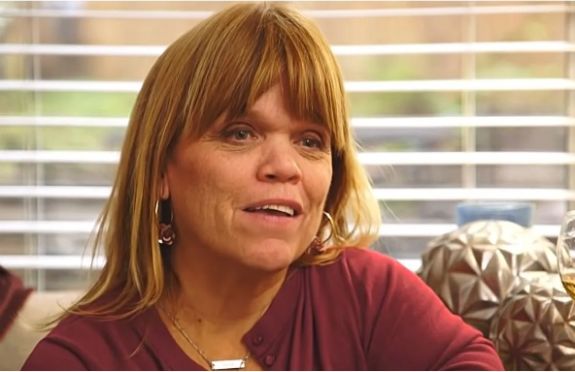 Amy Roloff is assuring fans that she and other celebs "do our best" when they are approached in public, though certain interactions can be "difficult."
The Little People Big World star spoke on the topic when commenting on a video posted by actress Candace Cameron Bure this week in response to So You Think You Can Dance? judge JoJo Siwa revealing that Candace had been rude to her at a premiere party years ago.
After discussing the "rudest celebrity" title she received from the former Dance Moms star, Candace reminded followers that even a TikTok trend– such as the one JoJo was participating in when she made the comment about Candace– "can do damage because our words matter and our actions matter."
"We all influence the people around us," she added.
Candace's message was met with many supportive comments from other celebrities and public figures, including Amy, who spoke about her own experience interacting with fans.
" … sometimes when we're in our element, working, in public, out with friends, family… we may not be able to stop for every single person," Amy wrote. "We do our best. Like [Candace], I so enjoy meeting others, hearing their stories, taking photos… sometimes there's just not enough time to take a moment for everyone and we don't intentionally not do it. It happens though."
Amy went on to mention how difficult it is being out with friends and getting interrupted by fans who expect her drop everything instead of waiting a few moments until she has more time to talk to them.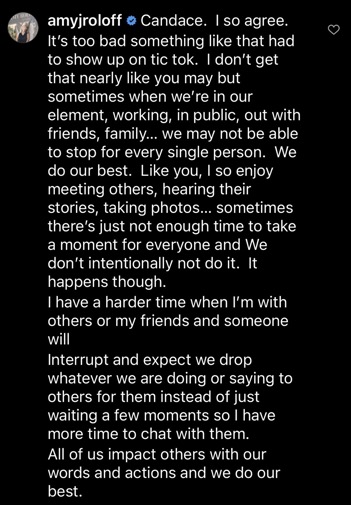 "All of us impact others with our words and actions and we do our best," she added.
Amy's daughter-in-law Tori Roloff also showed support for Candace in the comment section.

"This makes me respect and love you even more," she wrote. "Well said!!"
Amy's comment garnered quite a few comments from 'LPBW' fans— and some haters— who spoke out about their interactions with Amy and her family.
"I met you a few yrs ago on the farm & you were by far the nicest person to both me & my daughter, Hannah… you spoke such encouraging words to her … I will never forget that … thank you!" one person wrote to Amy.
"You have always been so sweet at the Pumpkin Patch… knowing that it's very exhausting and the longest day for you to do those things. Thank you," another person wrote.
"Amy. You are BARELY famous and you are notorious for being rude af lmao. Nice try tho," someone else wrote.
Another person— who appears to live near the family in Hillsboro, Oregon– did not have kind things to say about Amy and her family.
"Equally it's annoying to live in the same town as a reality personality and have to deal with a camera crew and 'don't go near them' while they are shopping at Fred Meyer [grocery store] in Hillsboro like they are some God," the person wrote. "Thanks I didn't want to go near your family. I just wanted my groceries…I assure you the Roloffs act far more entitled than anyone."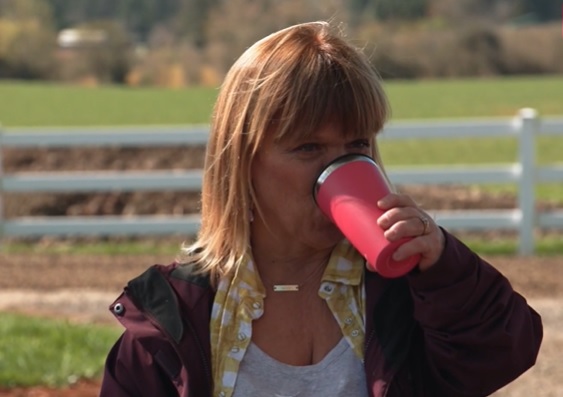 Amy and Tori did not respond to those comments on the thread.
RELATED STORY: Amy Roloff Reveals If There Will Be Another Season of 'Little People, Big World' & If Roloff Farms Will Have a Pumpkin Season in 2022
(Photos: Instagram)